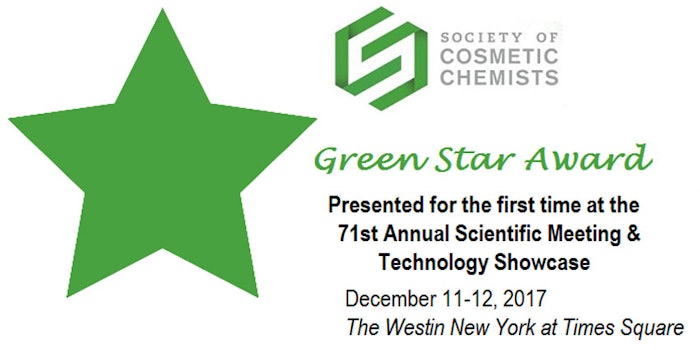 The 71st Annual Scientific Meeting and Technology Showcase will play host to the inaugural Green Star Award.
The Society of Cosmetic Chemists (SCC) recently announced the new award that will be presented to the formulator who has done the most to accomplish green formulations during the past 12-month period. The award is being sponsored by Colonial Chemical, Inc.
Along with winning the award, the winner will receive a scroll, a $2,000 honorarium and a complimentary SCC membership for one full year.
How to Apply:
Applicants must submit a sample of the product in its commercial package
Provide a complete list of ingredients
Disclose the testing done on the product for efficacy and marketability
Show complete documentation for agency approvals
The deadline is May 15, 2017
According to the SCC, "Submissions will be reviewed by a committee who will make their determination based on the Green Star Rating, a classification system developed by industry professionals designed to allow the formulation chemist the ability to maximize the natural component in products. The higher the Green Star Rating, the more 'green' the product." 
The SCC also invites applicants to submit an abstract for the Call for Papers where green chemistry is scheduled for discussion. 
For more information visit www.scconline.org