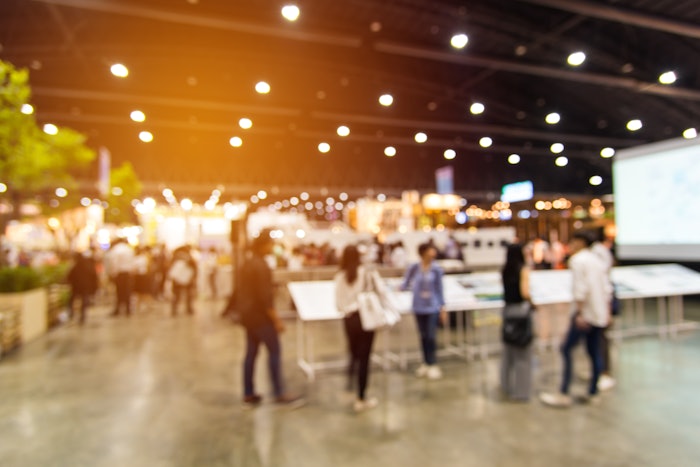 The SCC77 annual meeting registration is now open. SCC77 will convene December 11-13, 2023, at the Sheraton New York Times Square, NY.
The showcase will feature more than 125 posters and tabletop exhibits from companies who drive the innovation and ingredients behind some of the most successful products in the market. 
Related: The SCC Announces 2023 Madam C.J. Walker Scholarship Awardees and Finalists
In addition to the keynote lineup, the concurrent technical education sessions offer scientific information on the latest topics and trends. Day one of the SCC77 scientific session topics include:
Modernizing Hair Care  — Moderated by Liyuan Ji, these sessions discuss:

Formulation Science: Evaluating the Effect of Ingredient Composition on the Structure, Stability, and Performance of Conditioners presented by Marni Dexter, Croda.

Industrial Production and Potential Application of Recombinant Type XVII Collagen in Hair Care presented by Fu Shengwei, Trautec.

Celebrating Textured Hair: Bridging Science and Beauty presented by Ernesta Malinauskyte, TRI Princeton.

Future of Skin Care — Moderated by Paul Lawrence, these sessions discuss: 

Combination of methods Including Metagenomic and Droplet-based Microfluidic Technology to Study Sensitive Skin Microbiota presented by Manon Gault, BASF France SAS.

Tripeptide-85: A New Peptide Acting by the Unusual MC5R Mechanism for the Control of Sebum at Any Stage of Life, presented by Lilian Mussi, Chemyunion, Inc.

Decoding Cellulose  — Understanding Critical Attributes for Formulation Efficacy presented by Clementine Fabre, Anomera.

Dynamics of a Skin Care Emulsion with Massage presented by Alicia Roso, Seppic.

Immuno-Cosmetics & Skin Microbiome presented by Morgan Drohan, Active Concepts)

All-Inclusive Beauty — Moderated by  Krupa Koestline, these sessions discuss:

A Smaller and More Relevant Palette for Foundation Makeup presented by Kathy Cruz, Kobo Products, Inc.

Physicochemical Properties of Frizzy Hair presented by Roger L. McMullen, Ashland, Inc.

Understanding Cross-cultural Variation in Perceptions of Female Facial Appearance presented by Remo Campiche, DSM-Firmenich.

Triple Temperance Strategy to Address Oily Skin presented by Philip Ludwig, BASF France SAS.

Skin Care Advancements — Moderated by Sarah de Szalay, these sessions discuss:

Plant-based Human Timp2: An Integrative Molecule to Delay Dermochronology Caused by Photoaging presented by Silvia Pastor, Lipotrue.

Improving Face Skin Surface Damage Induced by Cutibacterium Acnes Activity presented by Richard Leroux, Ph.D., Sederma, Inc.

Understanding the Immunoevasion Process of Senescent Cells to Propose Innovative Solutions presented by Laurie Verzeaux, Silab.

An Innovative Light-biomimetic Solution Stimulating Feel-good Hormones and Cognitive Relaxation to Tackle Lack of Sunlight Exposure and Dull Skin presented by Mathilde Frechet, Clariant NI. Metaproteomic Analysis: Gentiana Lutea

Fermented Extract (GfE) is a Natural Solution to Reverse the Slow-down of Skin Holobiont Functions Occurring in Skin Dehydration

 p

resented by 

Lauriane Imbert-Roux,

Greentech.

Day two of scientific session topics include:

Color & Photoprotection — Moderated by Tao Zheng, these sessions discuss: 

Color Cosmetics with SPF and FDA/EU Regulations — Overcoming Challenges in Developing Ranges with a Globally Compliant Formula presented by Sarah Yuro, L'Oréal.

Use of Cryo-SEM and EDS for Sunscreen Characterization: Observation of the Mineral UV Filters in W/O and O/W Emulsion Systems presented by Abhijit Bidaye, Croda.

Bio-inspired Photonic Material that Creates Soft-focus Optical Effects for Cosmetics presented by Rupa Darji, BASF France SAS.

From Lips to Lab: Exploring Lipstick Performance for True-to-Life Characteristic Testing presented by Xuzi Kang, TRI Princeton.

Accelerating the Design of Sunscreen and Sunscreen Formulation using Computational Methods presented by Jeffrey M. Sanders, Schrödinger.

Claims & Regulatory — Moderated by Rick Presti, these sessions discuss:

Next Generation Risk Assessments: Advancing Safety Assessment of Cosmetic Ingredients without Animal Testing presented by Christopher Krueger, Beiersdorf.

ISO 16028 presented by Shannon Hess, Burt's Bees.

The 17-Year Cicadas Cycle and the Emergence of New US UV Filters on the OTC Sunscreen Monograph presented by Carl D'Ruiz, DSM-Firmenich.

The Convergence & Divergence Between MoCRA and CSAR presented by Zhi Li, Ph.D., Chinese American Cosmetic Professionals Association.

MoCRA Update presented by Craig Weiss, Consumer Product Testing Company.

Formulation Design & Sustainability — Moderated by Jacob Sessions, these sessions discuss: 

Comparative Study of Commercial Polymeric Biobased Surfactants and Biosurfactants presented by Scott Curtin, BioMimics.

Carbon in the Supply Chain: A Case Study on Methodology Development for Measurement of Impact presented by Cara Eaton, Croda.

The Degradation of Silicones in the Environment presented by The Dow Chemical Company.

Optimizing the Skin Penetration of Caffeine from Eye Creams using Hansen Solubility Parameters presented by Roanne Bogrow, Gattefosse and Gabriella Baki, University of Toledo.

Water Thin Phase Inversion Emulsions with High Naturality Emulsifiers presented by John Goffredo, Zschimmer & Schwatrz Interpolymer.

Beauty By AI  — Moderated by Dennis Abbeduto, these sessions discuss:

Twenty-five Years of Beauty Imaging: Macro to Micro, IA to AI presented by Kukizo Miyamoto, University of Cincinnati.

Employing Machine Learning to Identify Villain and Hero Ingredients presented by 4Sight Advantage.

Cosmetics in the Digital Age: Harnessing Molecular Modeling for Rapid Development presented by Haidong Lu, Schrödinger.

Ferroptosis- A New Perspective for Physiologically Relevant Antioxidant Activity of Natrual Products in Skin Protection: A Case Study of Cannabinoids presented by Hang Ma, University of Rhode Island.

With over a thousand in attendance, from top cosmetic/personal care brands, manufacturers, suppliers, academia and regulatory organizations around the globe, attendees will be able to connect with peers, customers and potential clients.