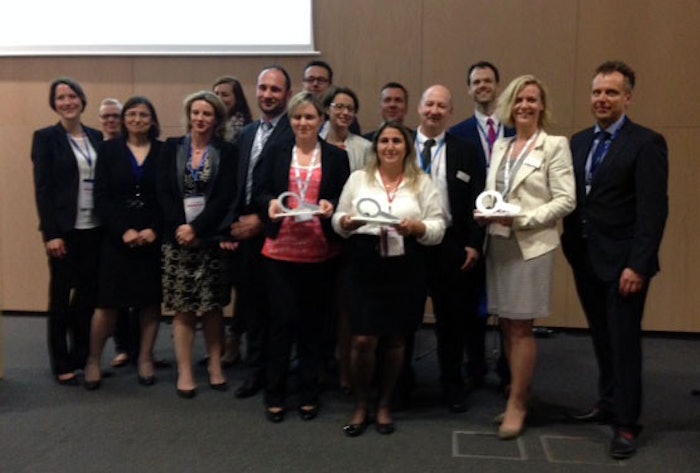 in-cosmetics announced the winners for several ingredient awards, presented during the April 14-16, 2015, event in Barcelona. (View Gallery)
For the Beiersdorf Innovation Pitch Awards, Azelis (first place), Silab (second place) and Symrise (third place) won over the judges with their original ideas, which potentially could be implemented in the company's brands. May Shana'a, PhD, presented the awards. The Beiersdorf Innovation Pitch is an extension of its open innovation initiative Pearlfinder, which aims to increase the company's innovation power by integrating external knowledge into its research and development.
For the in-cosmetics Innovation Zone awards, in the "Actives" category, bronze went to Codif R&N for its Neuroguard product, which takes a neurocosmetic approach to treat wrinkles in consumers 60+ years old. Silver went to Lucas Meyer's SWT-7 ingredient, which activates adipose-derived stem cells to promote the production of growth factors and improve epidermis thickness. Lastly, gold was awarded to Induchem's Brightenyl ingredient—the first generation ingredient designed to be activated, upon application, by the skin microbiome.
In the "Functionals" category, bronze went to Tagra Biotechnologies, Ltd., for its SunCaps encapsulated organic and inorganic UV filters. Silver was awarded to Lucas Meyer's "Happiness in a Jar!" concept, in which its Lecigel ingredient is used to form unique and sophisticated textures. Lastly, gold went to Dow Corning for its 3901 Liquid Satin Blend; a thick, stretchy fluid that creates a long-lasting feel of intense lubricity while delivering a stringy yet novel texture.
For the Green Ingredient Awards, bronze went to Lessonia for its Celluloscrub product to replace non-biodegradable polyethylene beads in skin and personal care products. Silver went to Marinova Pty. Ltd., for its Maritech Reverse ingredient derived from wild harvested Wakame seaweed. This high-purity fucoidan extract was developed specifically for anti-aging formulations. Lastly, gold went to Laboratoire Expanscience, for its Aqualicia product—a natural "3 in 1" active ingredient to entrap water, distribute it and limit its loss.
Finally, new this year was the in-cosmetics 25 Years of Innovation Award, which was awarded to Sederma for its Matrixyl ingredient. This matrikine, INCI: Palmitoyl Pentapeptide-4 (Palmitoyl Pentapeptide-3 before 2006), is defined as a small endogenous molecule composed of a short sequence of amino acids, a peptide, derived from the surrounding extracellular matrix proteolysis and constituting a signal in order to regulate cell activity.
In the case of Matrixyl, its 5 amino-acid chain linked to a 16-carbon chain improved its biodisponibility to the skin, constituting a natural messenger that triggers collagen synthesis. By creating an active ingredient dedicated to act on an identified target to stimulate the synthesis of a specific molecule, Sederma entered a new era for cosmetics. Thousands of cosmetics products around the world contain an active ingredient from the Matrixyl range, and its name and efficacy are recognized by consumers; indeed, many brands mention the name Matrixyl on their packaging, as it has become a guarantee for efficacy with the label "Matrixyl® Inside."
Congratulations to all of this year's winners!