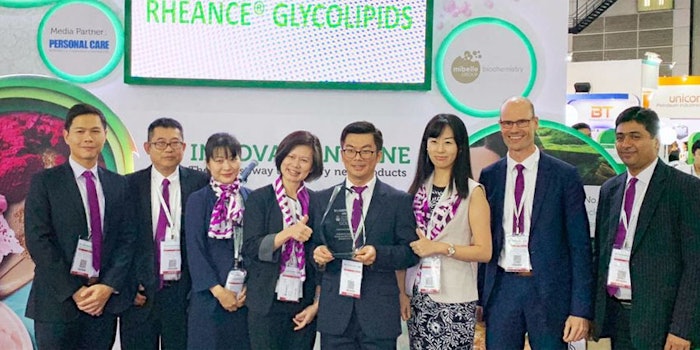 Targeting biological processes, Evonik's latest innovations for skin and hair include an all-natural glycolipid for skin and hair cleansing, a Lactobacillus extract for skin care, and more. Six ingredients and two product concepts were highlighted during in-cosmetics Asia, held Oct. 30-Nov. 1, 2018, in Bangkok.
Featured Ingredients
NeoPlanta Withania (INCI: Not Provided) is said to harness the power of the Ashwagandha plant, native to the Himalayas. Through cultivation of plant organ cultures, the ingredient provides protection against solar pollution and inner rejuvenation.
Hairflux (proposed INCI: Olea Europaea (Olive) Fruit Oil (and) Ricinus Communis (Castor) Seed Oil (and) Ceramide NG) is a ceramide blend, designed to regenerate damaged hair and soothe irritated scalp. The skin-identical ceramide also is suitable for skin care.
Skinolance (INCI: Lactobacillus Extract Filtrate (and) Propylene Glycol (and) Water (aqua)) is Evonik's first microbiotic skin care product, answering the demand of growing consumer interest in solutions to address the skin microbiome. The product uses cell-free Lactobacillus extract to promote the natural balance of the skin flora, which, in turn, benefits skin's barrier function.
TEGO enlight (INCI: Morus Alba (White Mulberry) Fruit Extract (and) Sodium Phytate (and) Water (aqua) (and) Glycerin (and) Alcohol) is a blend of natural components such as phytic acid salt from rice bran and white mulberry extract. It is an effective skin brightener to even out skin tone and treat age spots.
TEGO Smart Polymers (INCI: Not Provided) are new additions to the company's sensory ingredient portfolio. They provide SPF boosting in sun care and enhanced pigment dispersion in color cosmetics.
Finally, Rheance One (INCI: Glycolipids) demonstrates the company's expertise in sustainable chemistry. This product is manufactured exclusively from sugar using a natural fermentation process and enables gentle but effective cleansing performance.
Award-winning Rheance One
The design and functionality of Rheance One apparently impressed in-cosmetics Asia's Innovation Zone judges, as the ingredient won gold in the functionals category—for the second time this year; it won the same award at in-cosmetics Global in April 2018.
Being both natural and sustainable, the ingredient hits the target on key consumer drivers while providing a dense, creamy foam and pleasant, natural feel on the skin. The glycolipid is also completely biodegradable and offers extremely good environmental compatibility. 
Product Concepts
Besides ingredients, the company addressed what it refers to as the skinification of hair care with two concepts focused on the hair and scalp, and modeled after approaches in skin care.
The "Micellar Evolution for Hair Care" extends Evonik's micellar technology from facial cleansing into the hair and scalp category. The concept includes a mild, purifying micellar shampoo and damage-restoring micellar jelly conditioner.
In addition, the "New Texture for Hair Care" series comprises five formulas designed to give users new reasons to enjoy daily hair care routines.
For more information on these and other innovations, visit the company website.