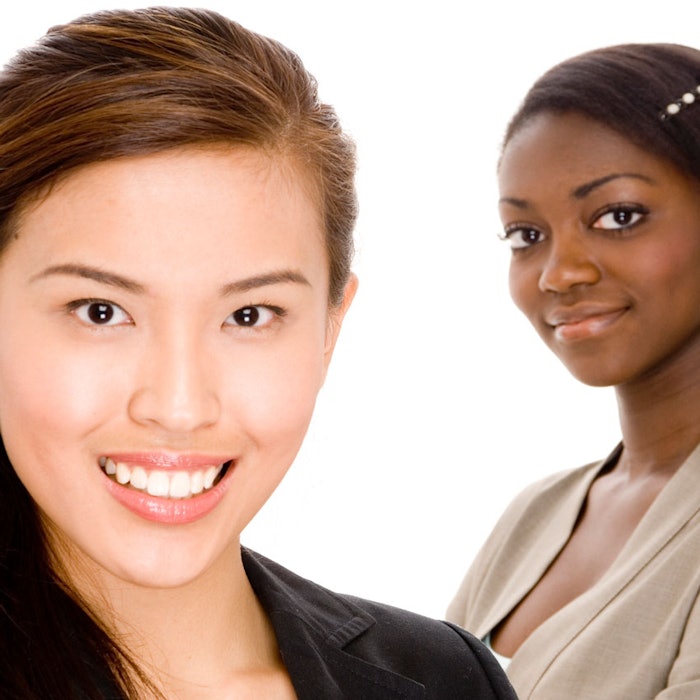 The hottest trends and latest data in the cosmetics and personal care products industry will be revealed in the Marketing Trends Theater at In-cosmetics, which is being held April 12–14, 2016, at Porte de Varsailles in Paris, France. Featuring speakers from leading research agencies and consultancies, the Marketing Presentations sessions will touch on a wide variety of topics, from doing business in the digital era to anti-aging, naturals and much, much more.
Top of the agenda is the ever-popular global personal care market overview and outlook from Euromonitor, and Mintel's vision on the four key trends set to impact the beauty and personal care industry over the next decade. Trends in the U.S. beauty market will come under the spotlight, which will tie in with the new In-cosmetics North America show launching in September 2016. And that's just the tip of the iceberg.
Digital Strategies for Beauty
Burgeoning opportunities within the digital world can also prove a hindrance to brands. Richard Stacy, founder and social media consultant, Social Media Architecture, will provide insights into the key areas that beauty brands need to concentrate when venturing online.
First and foremost, beauty brands need to recognize that the digital space is a connection environment, not a distribution environment. "It is very difficult to reach large numbers of people, or an entire audience, within it," Stacy said. "Rather it is about extracting much higher value from a much more restricted reach."
Traditionally, brands promote messages, but Stacy believes they need to put themselves in their customers' shoes by responding to what they want from the brand.
"As a connection environment, brands must recognize that forms of community are key. These can either be ones that are being created to help consumers interact with brands or those that brands create to help consumers interact with them; usually forms of service community," he said.
"Algorithms have the power to completely change our idea of marketing, mostly because they mean we don't have to target groups of people anymore," Stacy added. "But, (we) can use them to filter potential consumers and develop totally relevant approaches in terms of actual product design, selection or aspects such as pricing."
Beauty brands could do better by observing business-to-business (B2B) organizations, simply because they must treat their customers as individuals and because it is easier to develop high-value relationships in a B2B environment. Value can be created by listening, responding and developing greater market intelligence.
"It is better to find individuals who can be consumer or customer ambassadors representing the market or the brand, rather than trying to find 'influencers' who can represent the brand to the market," Stacy said.
Benefiting from Consumer Diversity
The market for multicultural beauty has become a complex one, given the growth in different ethnic and religious groups. For example, halal beauty products have been gaining ground largely due to Muslim women looking for products that adhere to their beliefs. However, it goes much further, for the market in halal-certified cosmetics has a broader appeal with consumers who regard these products as a mark of purity, produced by cruelty-free processes.
Euromonitor's presentation will look at how multicultural beauty should be defined and why it is gaining ground now, particularly given that grooming is universal and solutions have been made available to all in various forms. What is new is the practice of carrying multiple solutions for multiple groups, based on their cultural and physiological traits as opposed to the traditional practice of targeting the majority in the home markets. Euromonitor will question how brands are segmenting a complex market, identifying the needs of such a diverse group and developing solutions and communicating benefits.
Opportunities in Anti-aging
Anti-aging is a well-used term by skin care brands as short-hand for products that address the appearance of aging skin. When using words such as anti-aging, anti-wrinkle, anti-sagging and age-defying, brands infer that the aging process is something that can and should be delayed, or even halted, in pursuit of everlasting youth. Jamie Mills, associate analyst, Canadean, will examine these associations and present consumer research data covering attitudes and usage of products targeting aging skin.
Recent Canadean research shows that when choosing anti-aging products, consumers expect to see visible signs that they work. However, fewer than 10% of global consumers are completely convinced by such claims, so many are likely to be disappointed in the results.
"While many mature consumers want to look younger, a significant proportion also just want their looks to reflect their age, and to look good for their age," said Mills. Canadean research bears this out, indicating that many older women are less concerned with minimizing wrinkles and looking much younger. "The desire for looks reflecting age increases across older cohorts; for example, 38% of European women aged 45 to 54 versus 51% aged 65-plus."
Perception of age varies by geographic region and poses interesting issues for brands looking to sell anti-aging products in different markets. For example, Canadean research shows that consumers living in North America, Europe and Asia Pacific cite looking old as the skin care issue they are extremely concerned about. In the Middle East and Africa, looking old is the second most important concern, but it does not feature at all among Latin American consumers, who cite dry or flaky skin and sunburn as two leading issues.
Mills will look at how brands are seeking to differentiate their offerings by identifying key factors that contribute to the aging process and addressing them in a more specific way. A key trend, first spotted in Asia, is anti-pollution products.
"With UV exposure increasingly accepted as a key factor in aging (64% of Europeans agree that spending less time in the sun can be effective in making them look younger, according to Canadean's Q4 2014 global consumer survey), the exploration of the impact of other external aggressors creates a unique way to approach anti-aging, particularly given the urban lifestyle of many European consumers," Mills said.
The Marketing Trends Theater is sure to be a busy space during the in-cosmetics trade show. For more information on the program, including a full agenda, visit:
www.in-cosmetics.com/en/Education/MT-Timetable.