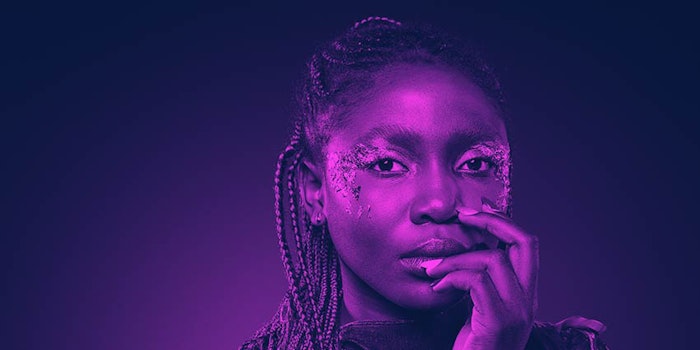 The Society of Cosmetic Chemists' annual meeting in New York City highlighted some of the innovation hotspots in the industry, as well as its challenges. Below are some key highlights from the presenters and exhibiting companies. To get our full coverage, see also:
3 Key

CBD

Challenges
The annual meeting of the Society of Cosmetic Chemists in New York City highlighted the promise and challenges facing CBD, beauty's hottest ingredient.
1. The science gap
Does CBD work? Why is it in my skin care? These are the most common questions posited by journalists and the public on social media.
Anna Langerveld, Ph.D, chief science officer of Genemarkers, noted that the CBD skin care sector could be valued at $1.6 billion by 2025, with 700% projected market growth. This expansion is driven by anti-inflammatory, anti-aging, wound healing, anti-acne, analgesic and other claims often associated with CBD.
However, Langerveld warned, the 2019 ramp up in product launches was met with a rising tide of skeptical media stories focused on efficacy. Therefore, 2020 will be all about backing up the promise of CBD with scientific proof.
Langerveld conducted a review of available CBD skin care research on popular online platforms and found about 300 papers, compared to more than 4,000 for retinol and nearly 2,000 for vitamin C. Worse, only about 60 of those CBD articles included original research and just 20 articles specifically tested CBD and its effects in the skin. Most of the original research studies involved 2D models, she added.
CBD's benefits manifest over longer periods of time.
Given the widespread nature of endocannabinoid receptors in the skin, hair follicles and elsewhere, as well as the complex behavior of CBD as an agonist and antagonist, not to mention potentially unknown receptors, the dearth of original public research is notable.
Langerveld's own group undertook research of CBD products by measuring gene expression resulting from topical CBD product treatment. Testing both formulated products and CBD isolate, the researchers found that hundreds of genes were expressing and that, depending on the concentration and vehicle, one could modulate which genes were expressed.
This comports with the research shown separately by Sanam Fazilova (see below), which argued that CBD's effectiveness can be greatly enhanced with certain encapsulation techniques.
Langerveld noted that 163 genes appear to be involved in a range of biological processes for skin such as pigmentation, hydration, would healing /growth factor, acne regulation, cell renewal and more.
About 48 genes are commonly regulated by CBD isolates, impacting acne, pain and inflammation, wound healing, skin hydration, epidermal barrier, antioxidant/stress response, melanogenesis, and more. The higher the quality of the raw material and the formulation, the higher (generally) the positive impact.
Gene expression is a dynamic process, with results surfacing at 48 hours in the epidermal tissue layers. Therefore, Langerveld concluded that it is important to run CBD topical studies across 72 hours.
2. Safety questions
Is CBD safe? Under certain conditions, yes. Lex Pelger, director of education at CV Sciences, noted that while there is relatively little skin care research regarding CBD, there are many that examine endocannabinoid sensors in the skin.
Further reading: FDA Issues CBD Warning Letters
He noted that 120 phytocannabinoids and a range of fatty acids and proteins have so far been found in the hemp plant. While the materials contained within hemp offer some promise, Pelger noted that there are reasonable concerns regarding drug interactions, particularly with ingested CBD, which can boost the levels of liver enzymes, which in turn can spark liver toxicity in those taking anti-cancer drugs such as methotrexate.
He added that research has shown that daily recommendations could vary for men and women.
3. The stability challenge
As Langerveld mentioned, CBD appears to be a highly effective ingredient—under the right conditions. Sanam Fazilova of Active Concepts noted that while CBD continues to be a hot ingredient in beauty, lingering stability issues remain.
CBD is applied to cosmetic formulas to address skin redness, inflammaging and other well-aging concerns. Research has shown, said Fazilova, that hemp oil has improved stability when encapsulated, particularly because the concentration of CBD in a formula can change over time due to degradation.
Fazilova suggested that liposomal delivery in topical formulations could potentially enhance the delivery of actives like CBD and displayed data that showed encapsulated cannabis oil exhibiting dramatically more anti-inflammatory effects on lipopolysaccharide (LPS)-treated fibroblasts compared to unencapsulated purified CBD oil.
Previously: Jojoba Oil for CBD Stability
According to the speaker, encapsulated cannabis oil decreased the pro-inflammatory interleukin IL-6 concentration by almost 84% at a 0.5% use level, and by more than 99% at a 1.0% use level in a test formulation.
This decrease in inflammation minimizes the signs of aging by reducing the appearance of lines and wrinkles.
Despite the opportunities facing CBD beauty, Fazilova posited that the ingredient would follow the same regulatory path as retinol, giving the pharma industry a strong advantage over OTC products.
For more insights on CBD stability, see JW Fairbairn et al., "The stability of cannabis and its preparations on storage," J Pharm Pharmacol. 1976 Jan;28(1):1-7, and David C. Steinberg, "Cannabidiol (CBD): The Coming Crisis," www.fda.gov/media/128536/download.
4. Look out for

CBG
Pelger noted that among the many compounds found in hemp, CBG—cannabigerol—a parent compound from which many other materials derive, offers promise for skin care.
In 2019, Precision Plant Molecules launched a range of CBG products for wellness products. In skin care, CBG can reportedly offer anti-fungal and anti-microbial properties to treat psoriasis, eczema and other skin disorders.
While CBG can be derived from botanical sources, Pelger noted that biotech production could potentially provide more stability of supply and product.
Get Your Claims Straight!
During the Society of Cosmetic Chemists' annual meeting, Trefor Evans, director of research and institute fellow, TRI Princeton, noted that brands should have in their possession all of the data to back up their claims. He warned that beauty and personal care brands cannot simply rely on supplier data, which cannot offer the "cover" of in-house consumer and instrumental testing. 
Evans also cautioned attendees that the translation of consumer feedback into scientific language can lead formulators and brands stray. Sometimes, he said, taking consumers' words literally on needs such as moisturization can take projects off target.
For instance, technical personnel would reasonably interpret "moisturization" as a desire for higher water content in the hair. However, said Evans, "dry damaged hair" is an oxymoronic concept because often damaged hair can retain more water than healthy hair.
He added that high humidity often leads to "bad hair days" for consumers, despite the relatively high levels of available moisture. In that case, is moisture truly what the consumer seeks?
Evans posited that, in fact, lubricant from conditioner is what consumers tend to perceive as moisturization, as well as "strong healthy hair." He added that shampoos and conditioners don't truly boost the tensile strength of hair.
Rather, the lubricating impact of conditioner reduces snags and fatiguing of hair caused by over-grooming/brushing (which often occurs when consumers try to enhance the appearance of unconditioned hair).
In light of these examples, Evans concluded that it is critical for product development teams to set their claims goals before formulating. 
Now Trending:

Chaga
Chaga has appeared as a featured material in a range of products, including Dr. Andrew Weil For Origins Mega-Mushroom Relief & Resilience Soothing Treatment Lotion, which highlights fermented chaga to offer "28% more anti-irritant power" per an in-vitro study.
BASF's Inolixir (INCI: glycerin (and) water (aqua) (and) Inonotus obliquus (mushroom) extract) is a subcritical water extract of the chaga mushroom. The material is sustainably harvested from the wild in Canadian birch forests, leaving the tree fully intact and the mushroom partially intact to support regeneration. The extraction method for the ingredient is reportedly optimized to extract high levels of polyphenols for improved anti-inflammatory properties.
Previously: Mushroom Beauty Trends
The ingredient purportedly reduces dark circles, skin fatigue and dullness after just seven days of use. Inolixir has been featured in a demonstrational multifunctional leave-on mask, which brightened the complexion, left wrinkles tightened throughout the day and soothed sensitive skin at the same time. According to the company, chaga is a more potent antioxidant than vitamin C.
Philip Ludwig of BASF noted that a clinical study of the material conducted by the company showed 76% fewer dark circles, 54% less dull skin, as well as 71% fewer fine lines and wrinkles from fatigue.
Another clinical study among 33 women age 35-51 years old who self-declared themselves tired and stressed showed that the chaga ingredient helped prevent damage to vessels, resulting in fewer dark circles. It also reduced fine lines and wrinkles associate d with fatigue and stress.
The Key Elements of Successful

Startups
Sergio Rattner, CEO of FitSkin, noted that it is difficult for leaders to simultaneously perform daily tasks and engage in parallel thinking about the future/inventing new things. He pointed out that Google teams spend 20% of their time (one day a week) focused on moonshot ideas outside their daily responsibilities, which has birthed products like Gmail.
Rattner explained that founders need to pursue ideas that are disruptive and radical in order to truly stand out. That said, he also highlighted the key elements for a successful startup company/brand: 1) you are paid for it (product or service), 2) the world needs it, 3) you are great at it and 4) you love it.
If you can answer the "why" of a new launch, then it's time to launch.
Startups often collaborate with outside entities, including partners and investors. In these cases, Rattner suggested that companies nominate a referee to act as a single decision-making contact. While this individual can consider feedback and opinions, they must be granted the ability to make the ultimate decision on key points.
The executive noted that decisions made by consensus truly only work for mature products, not new ideas. While debates and discussions are healthy, ultimately the referee will have to make the "call."
Other key elements for success include setting a launch date to avoid project drift and delays, development of teams that are multi-skilled to support work across several tasks simultaneously, and the appointment of a company "visionary" to avoid consensus-led decision-making. Multi-skilling in particular will allow a company to move quickly.
Finally, he said, if you can answer the "why" of a new launch, then it's time to launch.
An Easier Route for Natural Hair Care Formulations
Coralie Alonso, Ph.D, global R&D manager, hair care, Ashland Industries BV Nederland, presented the concept of rheology fingerprinting, which leverages Lissajous plots to illustrate the influence of materials' properties (including molecular weight and chemical structure) on texture.
Furthermore, she said, cellulosic (organic compounds) rheology modifiers (which Ashland produces) can have a significant impact on the rheological properties of conditioners. She concluded that the proposed plotting, paired with cellulosic rheology modifiers, could make the creation of consumer-accepted natural hair care much simpler.
HFOs

: Eco-friendly Aerosols?
Barry Setiawan MSc., senior scientist, personal care application, Honeywell, discussed the evolution of aerosol technologies, including hydrofluoroolefins, or HFOs, which reportedly provide a solution to reclaim the greenness of aerosol by presenting a negligible global warming potential.
Honeywell's personal care HFO trade names are Solstice Propellant and Solstice Enhance, which are reportedly non ozone depleting. HFOs are non-flammable while still offering a strong propellant for personal care, Setiawan added. 
Natural Texture, Shine and More
Natural Plant Products Inc. highlighted meadowfoam seed oil from Oregon's Willamette Valley. The material, derived from water-efficient crops, can extend shelf life of natural oils, boost oxidative stability and provide a silky feel in hair, face, body and lip care applications.
The CP version of the oil is Ecocert- and COSMOS-approved. According to the company, meadowfoam seed oil is present in about 4,000 beauty/personal care products on the market. The material is available in mechanically extracted and cold-pressed versions.
The company also offers daikon seed extract from the same region, which can act as an alternative to silicone and be applied for shine and strength in skin and hair care. The material is vegan, COSMOS- and Ecocert-approved, odorless and offers a velvety feel.