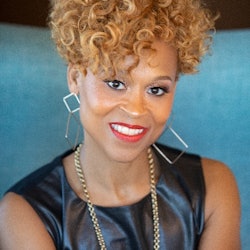 The Personal Care Products Council (PCPC) has announced its second annual Madam C.J. Walker Award for Excellence in Diversity, Equity and Inclusion (DEI). Presented at the PCPC Leadership Summit 2022 opening reception, the selection committee awarded this distinction to Esi Eggleston Bracey,  president of Unilever U.S. and CEO of Unilever personal care North America, in recognition of her dedication to advance DEI.
The award recognizes individuals in the beauty and personal care products industry who demonstrate an outstanding commitment to DEI through strong leadership and sustained efforts with a focus on workplace culture, program and policies, or through external engagement with consumers and communities. 
The award honors industry pioneer Madam C.J. Walker who started her hair care business at the turn of the century, during a time when women of color had few rights and little opportunity. Nominees are judged on areas of achievement based on predetermined criteria.
Bracey leads efforts like Dove's founding of the CROWN (Create a Respectful and Open World for Natural Hair) coalition to foster beauty inclusivity and eradicate hair discrimination through the support of the CROWN Act legislation.
In response to the award, Bracey commented: "This award means the world to me because the business of diversity is a team sport. Madam C.J. Walker knew that it wasn't just about her own financial success, it was about the success she bestowed on others." Bracey continued: "The work that we do changes the narrative around beauty. So, let's embrace it as a team sport."
A'Lelia Bundles, event mistress of ceremonies and Madam Walker's great-great-granddaughter, said: "Madam C.J. Walker, Elizabeth Arden and Helena Rubinstein were among the women who started this industry when nobody else was paying attention... And it turns out that this is not just about products, but it is about empowering people. Making women feel confident, but also giving people economic opportunity. And that's very much what Madam Walker was about."