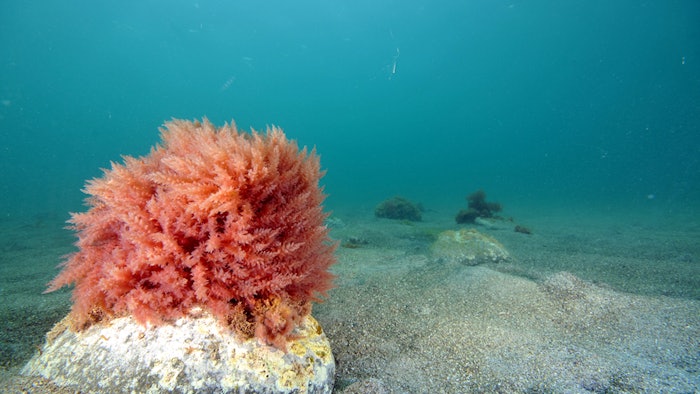 BASF Venture Capital GmbH, the corporate venture company of BASF SE, Germany, and Aqua-Spark, a Dutch investment fund focusing on the global aquaculture industry, are investing in Sea6 Energy Pvt. Ltd. (the company) as part of a series B round. Sea6 Energy is a leader in the production and processing of tropical red seaweed, which can be applied to cosmetics. Sea6 Energy is also working on the development of bioplastics and biofuels based on red seaweed. 
Red seaweed grows mainly in farms in tropical waters in Asia, which have constant, high temperatures conducive to year-round growth of seaweed. Biomass from the fast-growing red seaweed is suitable as a raw material for a variety of applications, for example in animal feed and crop protection products, as a gelling ingredient in the food industry or as an ingredient in cosmetics.
Related:  BASF Strengthens Nutrition, Flavor and Fragrance Divisions
Sea6 Energy is headquartered in Bangalore, India though its seaweed farming subsidiary is based in Bali, Indonesia. Sea6 also operates plants in Tuticorin, India, for the further processing of red seaweed for different applications. 
Markus Solibieda, managing director of BASF Venture Capital GmbH, is looking forward to further developments with Sea6 Energy. "With its extensive experience in the field of biotechnology, the team has created very good upstream conditions for cultivating red seaweed as biomass on a large scale while also demonstrating success downstream through its biorefinery. This opens up opportunities for transitioning traditionally crude-dependent industries such as the chemical industry to renewable feedstocks."
Shrikumar Suryanarayan, CEO and co-founder of Sea6 Energy, hopes to expand the red seaweed industry: "Our vision is to be able to offer red seaweed biomass and products on a large scale sustainably and reliably ... We look forward to having experienced partners at our side in BASF and are happy about the renewed commitment of Aqua-Spark."
Aqua-Spark managing partners Mike Velings and Amy Novogratz,  whohave been investors in Sea6 Energy since June 2021, said, "Sea6 has made great progress over the past year, and we are excited to continue to support the company. We believe Sea6's seaweed cultivation technology is a real game-changer in the industry, making a variety of applications of red seaweed possible on a commercial scale."