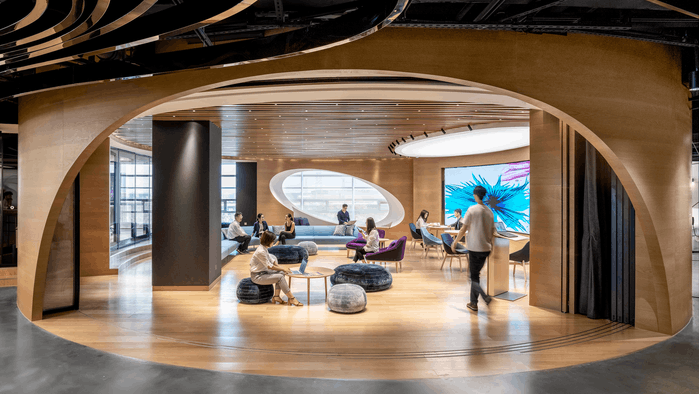 JLABS @ Shanghai
Haut.AI—an expert in AI-driven research tools and autonomous digital recommendation systems to maximize the health and longevity of human skin—announced it has joined Johnson & Johnson Innovation (JLABS) @ Shanghai. JLABS is a global network of open innovation ecosystems across the health care spectrum, e.g., pharmaceutical, medical device, consumer and health tech sectors, whose aim is to accelerate the delivery of life saving, life-enhancing health and wellness solutions to patients around the world. The network achieves this by supporting emerging companies by opening them to vital industry connections, delivering entrepreneurial programs and providing a capital-efficient, flexible program to catalyze growth and optimize their R&D.
This addition to JLABS builds from the momentum of Haut.AI's collaboration with Ulta Beauty."
Building Momentum
This addition to JLABS builds from the momentum of Haut.AI's collaboration with Ulta Beauty, a partnership with the goal to co-create innovative digital skin care tools and enhance skin analysis technology with enriched data, algorithms, simulations and improved recommendations.
"Our teams are laser focused on imagining–and reimagining–the most engaging guest experiences across every Ulta Beauty touchpoint," said Prama Bhatt, chief digital officer, Ulta Beauty. "As industry leaders, we are thrilled to bring forward innovative solutions that serve our guests and cannot wait to see how our partnership with Haut.AI will deliver for guests as we marry our passions for personalization, data-driven technology and beautiful possibilities."
Ulta Beauty and Haut.AI's technical teams reportedly share a vision to help beauty enthusiasts achieve short-term skin care goals, in addition to preserving and improving skin in the longer term. Together, the teams aim to co-create "disruptive, exciting ways to hyper-personalize daily skin care routines."
"An AI-based system that can identify skin issues is not a novelty today. We recognize the next big step is how consumers experience these systems," said Anastasia Georgievskaya, chief executive officer, Haut.AI. "Our solution is highly accurate and with Ulta Beauty, we will create an AI engine to address consumer skin needs early to prevent deterioration, while tailoring recommendations to individual preferences spanning texture, smell, brand values and preferred ways to shop. Who said science-backed, AI-powered skincare can't be fun?"
As part of the partnership, Haut.AI will build new capabilities and utilize its inclusive skin scan technology that has been rigorously tested and validated on a curated image dataset. In turn, Ulta Beauty will enrich Haut.AI's recommendation engine with consumer insights and product preferences to create a next-generation omnichannel shopping experience.
Hyper Personalization
According to Haut.AI, today's skin and personal care markets are science-driven and based on continuous innovation. To keep pace with changing consumer expectations and preferences, cosmetic manufacturers and brands are embracing shifts toward hyper-personalized, inclusive and claims-supported products. This puts pressure on R&D teams to create products and formulations tailored to a range of different skin and hair types. Moreover, the pandemic has drastically stalled consumer studies and product testing. All of these factors have contributed significantly to the growing demand for tools to support the data collection process.
Computer Vision, AI and Consumer Studies
Established in 2018, Haut.AI is a skin research organization focused on image-based methods for skin evaluation. It utilizes a proprietary, inclusive artificial intelligence and computer vision technology for the analysis of skin, hair and nails, with more than 100 image-based visual biomarkers. This technology was developed in collaboration with data scientists, skin scientists and industry leaders in dermatology. It has been validated on a diverse dataset of more than three million images to ensure it performs equally well on a wide spectrum of people.
Haut.AI's digital platform allows beauty and wellness brands to conduct various types of consumer studies remotely, reportedly without loss of efficiency or accuracy. The platform is also secured with end-to-end encryption and has been shown to increase the number of high-quality pictures and amount of survey data collected from 32% to 81%.
Eastern Expansion
The JLABS initiative supports the company's goal to expand its presence in the Asian market—a market currently valued at more than $62 billion, with facial skin care accounting for 74% of total revenue, per Statista (November 2021). This market is expected to grow annually by 7.42% to reach $89 billion by 2026.
According to Haut.AI, in terms of skin care product sales, four of the five top countries are based in Asia, including Japan, China, South Korea and India, and while the U.S. is currently the global skin care market leader, Japan is not far behind; the latter is expected to outperform the former in 2024.