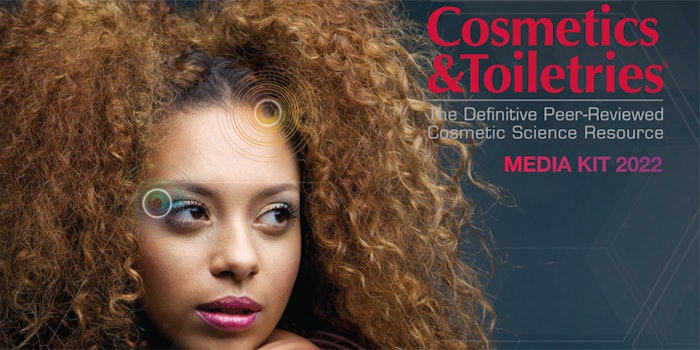 Led by our esteemed scientific advisory board, and entrusted by 55,000+ cosmetic scientists, R&D influencers and allied professionals, Cosmetics & Toiletries (C&T) delivers first-rate content on formulating, research, regulation and testing insights to empower and advance product breakthroughs.
The industry is feeling new energy, shifting from survival to revival mode. While we're still finding our way, the difficult lessons we've learned over the past 18+ months have created opportunities that never previously existed. Maskne care, transfer-proof cosmetics, ultra-soothing skin repair and "feel good" beauty are just a few examples. Time for self-reflection also gave rise to a new consumer mindset for health, wellness, safety and responsible beauty—all of which have forced us to think differently, innovate and reinvent.
C&T aims to inform and inspire cosmetic innovators as they navigate these new market directions. While recent trends may have spun off of COVID-19, beauty is always dynamic. Check out our 2022 media planner below to see where it's headed, and join us in empowering product breakthroughs by:
Submitting articles and abstracts

* (see our editorial portal), and
Building paid marketing campaigns. For more information, contact Jolly Patel.
January
Clinical Skin Care: Biology-based, soothing and safe, anti-inflammation
Reviving/Restoring Beauty: Vitamins and minerals, nutricosmetics, humectants/emollients

February
Hair Health: Scalp care, repair and growth, textured hair
Ethical Beauty: Circular/sustainable, socially responsible, lab-cultured care

March
Skinimalism: Mild cleansing, simple formulas, microbiome-friendly
Color Cosmetics: Lips and eyes, radiance, vegan pigments

April
Sun Protection: UV and blue light, SPF, efficacy boosters and antioxidants
Skin Detox/Purification: Anti-pollution, exposome, anti-acne

May
Feel-Good Beauty: Well aging, anti-stress and aroma, next-gen CBD
Antiperspirants & Oral Care: Microbe-balancing, natural, flavor and fragrance

June
Hair & Scalp Care: Nutritive care, masks, anti-dandruff
Tech in Beauty: Personalization, AI and AR

July/August (combined issue)
Sustainable Naturals: Phytonutrients and superfood, upcycled and fermented, conscious beauty
Care Cleansing: Imparting moisture, sensitive skin, microbiome

August (online)
Body Care: Antiperspirants, anti-cellulite
September
Anti-aging: Brightening, firming and toning, hydration and SPF
Color + Care: Moisturizing makeup, cruelty-free, inclusive beauty

October
Compromised Skin: Dryness and eczema, reducing redness, barrier care
Next-Gen SPF: Eco-friendly, esthetic protection, ingestibles

November/December (combined issue)
Psychodermatology: Mood-boosting beauty, tired skin, circadian care
Anti-Acne: Sebum reduction, microbiome balance, facial cleansing

December (online)
Hair Care & Repair: Strengthening, softness, protection
*Article Submissions: 4 Key Points
1. Reach out early. Technical articles are scheduled several months in advance, so please reach out early if you are interested in writing.
2. Four- to five-month lead times. Completed manuscripts are due four to five months ahead of the anticipated publication month to allow for our peer-review process.
3. Peer review. Submitted papers are reviewed for scientific accuracy and novelty, and must be accepted by reviewers before being officially scheduled for publication.
4. Original and copyrighted. All authors must sign a copyright assignment ensuring the article they have submitted is unique to C&T and granting Allured Business Media the copyright.
Additional Links
Please reach out to Rachel Grabenhofer, managing scientific editor, at 1-630-344-6072 or rgrabenhofer@allured.com if you have any questions.