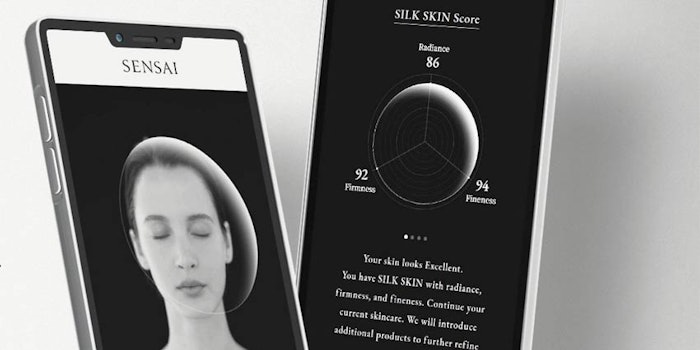 Kao Corporation has announced the opening of a flagship store for Kanebo Cosmetics' Sensai brand in mainland China and the launch of Sensai's Silk Skin Checker, an AI-powered skin analysis tool on its website. The new store sells Senai products on Tmall, China's largest B2C online shopping mall.
Kao Corporation intends to expand Sensai's consumer base into China after the success of the Japanese brand in Europe. Along with the new store, Kao launched a pop-up called the Experience Room in Shanghai for the month of September to promote awareness of the newly arriving brand.
Related: Kao to Open Duty-Free Cosmetic Counter in China
The company plans to install future pop-up spaces to continue to promote the brand through a multisensory experience. Kao also announced intentions to open Sensai's first downtown store in China by 2022. 
During a press conference at the pop-up display in Shangai, Xu Jingbo, a professor at the  Center for Japanese Studies at Fudan University, gave a lecture on Japanese aesthetics.
"The cultures of China and Japan are joined by an essential and inseparable connection," Jingbo said. "It is especially important to remember the strength of this connection as we celebrate the 50th anniversary of the normalization of diplomatic relations between China and Japan."
In addition to a growing presence in China, Sensai is expanding its virtual counseling offerings with the AI-powered Silk Skin Checker. This launch follows Sensai's virtual make up and foundation finder options.
The Silk Skin Checker tool uses data collected by the user's smartphone camera or webcam to measure the skin condition in five categories: moisture, spots, wrinkles, texture and dark circles. It applies a score for the three properties that Sensai defines as an ideal silk skin: radiance, firmness and fineness.
The tool then proposes a skin care routine with supplementary items according to the user's current skin care habits and silk skin score. A tutorial movie included demonstrates the correct ways to use the proposed products.
Yoshiko Sakurai, senior marketer at Sensai, says, "When developing the Silk Skin Checker, we stayed faithful to the elegant brand style to express a Sensai worldview that customers will enjoy. Technologically, Sensai has unique abilities to measure moisture, a property that can be difficult to measure visually. With the elegant interface and sophisticated AI analysis behind it, we can provide more personalized communications and optimal care and product suggestions for every customer."