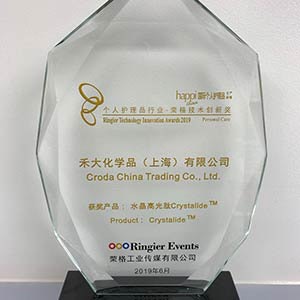 Sederma's Crystalide has taken home another recognition: the cosmetic peptide received the 2019 Ringier Technology Innovation Award, in the skin care category.
Crystalide is a RSPO mass balance bio-highlighter peptide, developed specifically to achieve long-term glass-like skin. It belongs to a third generation of cosmetic peptides that offer the optimal relationship for increased bioavailability and efficiency, and induces the chaperone protein a-crystalline to preserve skin transparency while a soft-polish effect produces a uniform glow.
"This award is a fantastic recognition of the intense efforts our teams make to conceive distinctive and high-quality concepts while minimizing social and environmental impacts," said Olga Gracioso, Sederma marketing director.
In early 2019, the ingredient received the PCHi Fountain Award for moisturizing/hydration active ingredient.
Bestowed by Ringier Trade Media, the award recognizes "individuals and companies who have introduced and developed a new idea, a new methodology, a new product or a new technology for manufacturing production efficiency, cost effectiveness, user convenience, which might result in energy saving and more responsible clean manufacturing in the industry."