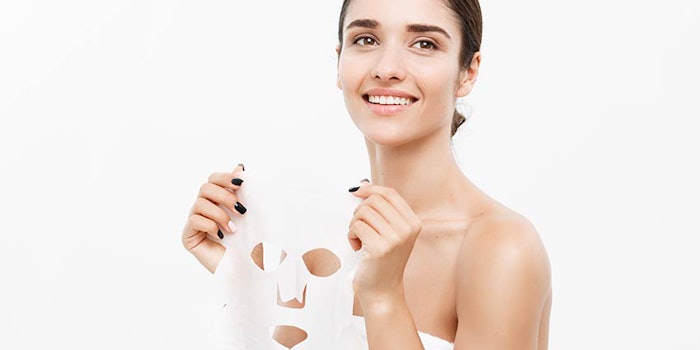 Strand Cosmetics Europe, MS Swiss Cosmetics and the French subsidiary of Japan's Taiki Group have collaborated on a range of full-service masks.
The modular and customizable solutions are based on a selection of fabrics and formulas exclusively made in France and Switzerland. The packaging capacity for the masks will be between 10 and 12 million units per year, and production will be broken down between the French, Swiss and Czech sites of Strand Cosmetics Europe, MS Swiss Cosmetics and Marvinpac. All three sites comply with European Good Manufacturing Practice regulations.
The full range of options includes automated cutting from reels of nonwoven fabric for supports and reels of aluminum complex for sachets; folding; packaging in preformed sachets; filling; sachet sealing; and printing of batch numbers, with end-of-process weight and airtightness inspections.
Properties include:
Nonwoven fabrics selected for their attributes, which include: softness, weight, impregnation, restitution and stretching capacity, biodegradable, etc., compatible with the desired formula;
Varied designs, some patented for their ingenuity and ergonomics: intuitive unfolding, reinforced firming effect, etc.; and
Packaging sachets designed with opening systems adapted to specific shapes.
Brands may also take advantage of additional copacking and international logistics services operated by Marvinpac, whose design office also develops secondary custom packaging with a view to point-of-sale product promotion.
The three sites have been the focus of an investment program aimed at building industrial facilities dedicated to the filling and packaging of impregnated masks since 2017. Each is designed to allow for considerable creative latitude, enabling the production of the full range of masks.