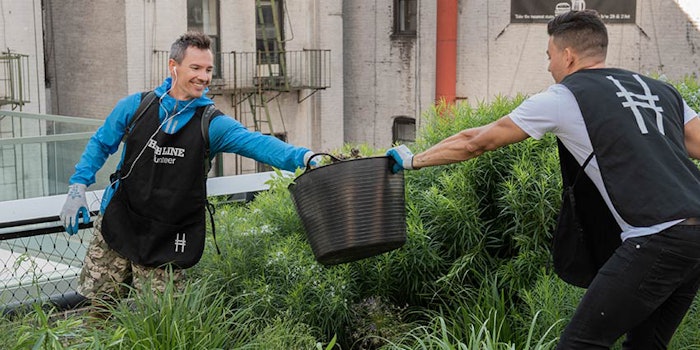 More than 5,000 employees participated in L'Oréal's annual Volunteer Day, according to the company.
Together, the volunteers contributed 24,000 hours to more than 200 organizations in their local communities in Arkansas, Florida, Illinois, Kentucky, Minnesota, New Jersey, New York, Ohio and Texas. Employees selected organizations and non-profits aligned with L'Oréal's corporate missions; projects included environmental stewardship, local youth efforts and professional coaching to empower women in the workplace.
Employees at the L'Oréal USA headquarters in New York City worked on projects and with organizations including:
Hudson River Park Friends—An organization dedicated to summertime maintenance and beautification projects throughout the park
Friends of the High Line—Employees worked on a horticulture project to improve the park's ecology; the High Line runs alongside the L'Oréal USA headquarters on Manhattan's west side
WOC: Bottomless Closet—L'Oréal USA's Women of Color Think Tank partnered with Bottomless Closet for a job readiness workshop and career panel; Bottomless Closet provides professional clothing, employment training and coaching services to women in need
Makedo Imagineering Build with PS 18—L'Oréal USA employees led an interactive workshop with second and third grade students, constructing inventions with Makedo toolkits, cardboard boxes and household items
Ali Forney Center—In partnership with OUT@L'Oreal, L'Oreal's LGBTQ Think Tank, employees participated in painting and beautification projects at Ali Forney centers around the city
Throughout the month of June 2018, L'Oréal USA employees around the country will hold local Volunteer Day events, benefitting a variety of state and local organizations.
Volunteer Day is an extension of L'Oréal's global Citizen Day initiative, the company's ongoing effort to support communities worldwide. L'Oréal employees in nearly 70 countries all over the world contribute to Citizen Day, which reached a record 30,000 participants and 166,000 service hours in 2017.
"At L'Oreal USA, each and every one of our employees believes that we can add value to the communities where we live and work," said Frédéric Rozé, president and chief executive officer of L'Oréal USA. "Our annual Volunteer Day is a beautiful expression of our personal and professional values in action. Together, we are working to make a positive impact on society and the environment."