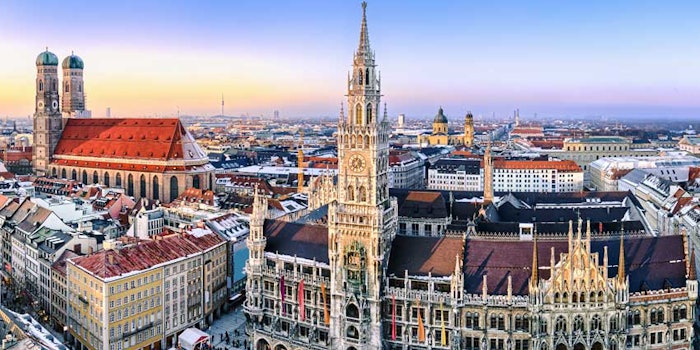 Rainer Voegeli of DSM was announced as the IFSCC 2016 Congress' Applied Research Award Winner and plans to donate the full amount of his award, 7,500 Swiss Franc for travel grants to students or young scientists under 35 years old to attend future IFSCC Conference and Congresses. DSM also plans to support this travel grant for the future.
This award is progressing as it will be available to young scientists from least developed countries—as listed by the Committee for Development Policy of the United Nations—without the need of an IFSCC membership starting in 2018.
The IFSCC Congress 2018 will take place in September 2018 in Munich, Germany. Young scientists interested in applying for the award should submit an abstract to the IFSCC Munich Congress by Feb. 28, 2018. Afterward, those submitting should email a CV and a copy of the submitted abstract to the Swiss Society of Cosmetic Chemists (Swiss SCC) at message@swissscc.ch with the subject line, "2018 Travel Grant submission."
The goal is for the winner of the travel grant to present his or her work as either a poster or a paper at the Munich Congress. Therefore, the winner of the travel grant will be chosen from those applicants who had a paper accepted by the Munich Congress Science Committee. The final decision on the award winner will be made by the board of the Swiss SCC together with Voegeli.
The award will pay for a roundtrip coach/economy class flight, the Congress registration fee and four nights at a hotel in Munich.
"Some of our recent research has been performed in Africa and our African colleagues significantly contributed to the winning of the 2016 IFSCC's Applied Research Award," said Voegeli. "Thankfully, I not only could locally monitor these studies, but I was also able to learn a lot about skin of different ethnicities in the region and the circumstances under which the research is conducted there. Thus, our aim is to use the prize money of the 2016 IFSCC's Applied Research Award for travel grants to enable young talented scientists to attend and contribute at IFSCC events. We think this will increase the diversity of the audience on the IFSCC events and in the long term the one of the IFSCC itself."