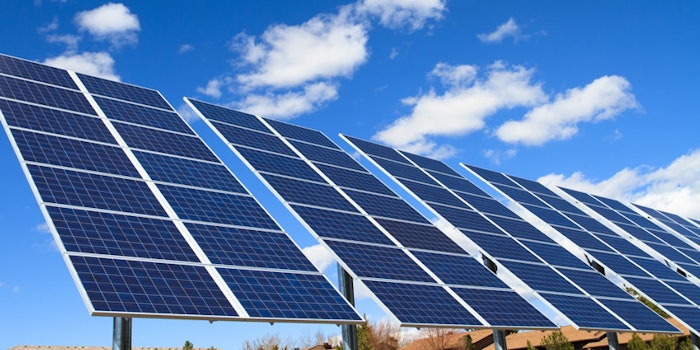 L'Oréal USA has big sustainability plans under way to reduce carbon emissions, in part by building two large-scale solar projects at the company's manufacturing facilities in North Little Rock, Arkansas, and Florence, Kentucky. These are a part of its larger "Sharing Beauty with All" campaign.
These constructions will support the company's goal to reduce carbon emissions by 60% from its 2005 baseline; in fact, they are projected to surpass this goal for an 80% reduction. Furthermore, strategies are in place to reach 100% renewable electricity for all of the company's U.S. manufacturing.
The Florence plant, in partnership with Scenic Hill Solar, will house the largest commercial solar array in Kentucky at 1.5 MW. Construction of the Florence project will start in late 2016 and will consist of approximately 5,000 solar panels. This array is projected to cut CO2 emissions in Kentucky by approximately 1,195 metric tons per year—equal to eliminating more than 2.8 million miles driven by passenger cars each year, according to EPA Greenhouse Gas Equivalencies.
The North Little Rock plant, also in partnership with Scenic Hill Solar, will house a 1.2 MW array that will be the third largest commercial solar array and the fourth largest solar project in Arkansas. The 4,000-solar panel installation is scheduled to be operational by mid-2017 and will reduce carbon emissions in Arkansas by 1,326 metric tons per year, equal to eliminating nearly 3.2 million miles driven by passenger cars each year.
L'Oréal first installed a solar array at its North Little Rock plant in 2012, which now supplies almost 100% of its outdoor lighting needs (18,000 kWh/year). The 446,691-ft2 factory has operated in the state for more than four decades.
"We are very excited to continue on our site's sustainability journey" said Eric Fox, L'Oréal's North Little Rock Plant Manager. "This next phase of our on-site solar installation not only paves the way for expanded low-carbon manufacturing, but also can serve as a catalyst for continued investment in renewable energy technology in the Natural State."