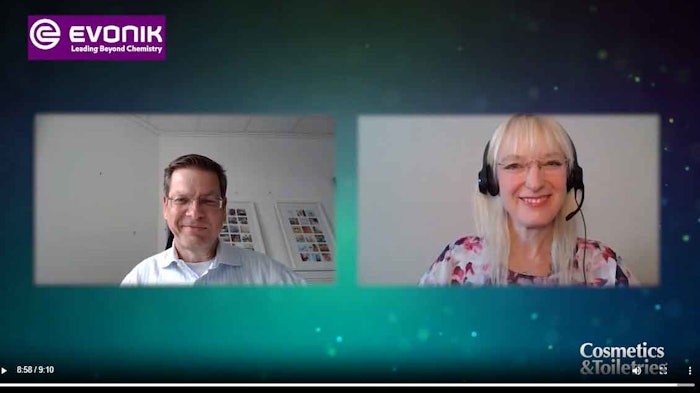 This video is sponsored by:
Evonik Operations GmBH
Sustainability in terms of green, natural and eco-friendly solutions has dominated the cosmetics and personal care market in recent years. To move sustainability to the next level, Wolfgang Goertz, Ph.D., vice president of cosmetic solutions for Evonik, believes it will take reconnecting each link along the value chain holistically to this greater purpose.
"Green is good but maybe not good enough. Future aspects will focus on more and additional aspects of sustainability, ... taking a look at the entire product lifecycle [and] ... value chain, and all the stakeholders, ..." he says.
In this sponsored video, Goertz describes how Evonik has re-examined each link in the value chain and developed a new ingredient platform to achieve next-level sustainability: Ecohance. The first product in this line, Ecohance Care PS 3 (INCI: Polyglyceryl-3 Distearate), was launched at in-cosmetics Global this year (2023).
"[This] emulsifier is made from glycerin and fatty acids ... taken from a side stream of olive oil production," he says, noting that it performs equal to benchmarks. Additional launches are planned from various other sources.
Goertz also shares insights on the future direction of sustainability and areas Evonik is exploring further. Register now to watch and learn more; it's free.