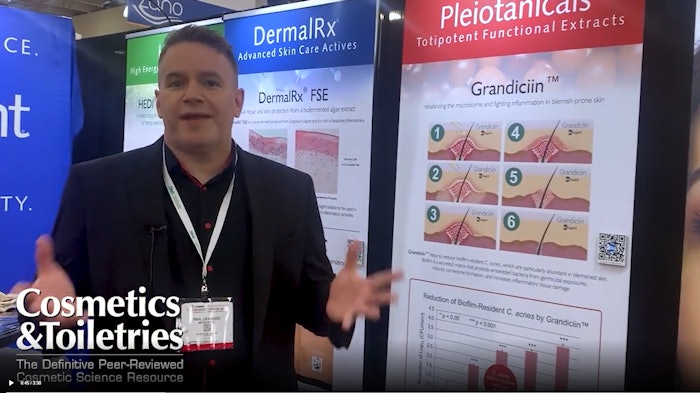 According to Paul Lawrence, Ph.D., director of bioscience research and product development at Biocogent, clean beauty continues to drive product innovation, and this translates in the lab as clean science—i.e., that which is transparently and ethically conducted. Biocogent utilizes this approach, and recently developed two clean beauty-inspired botanicals described in this video recount from NYSCC Suppliers' Day. 
See related: Responsible R&D; Tips to Make Cosmetic Labs and Manufacturing More Sustainable
Grandicin (INCI: Propanediol (and) Epimedium Sagitattum Leaf/Stem Extract) is microbiome modulator taken from the TCM ingredient horny goat weed. It has been shown to effectively treat blemish prone skin by disrupting the biofilm created by Cutibacterium acnes, and by subduing inflammation.
DermalRx Acetygen (INCI: Water (Aqua) (and) Butylene Glycol (and) Agrimonia Eupatoria Extract (and) Ampleopsis Grossedentata Leaf Extract) is rich in bioactive flavonoids including dihydromyricetin. It is said to enhance gene expression for broad anti-inflammatory, antioxidant and anti-aging benefits. It acts by removing senescent "zombie" cells to prevent their accumulation and subsequent aging effects in skin.
Watch now to learn more.