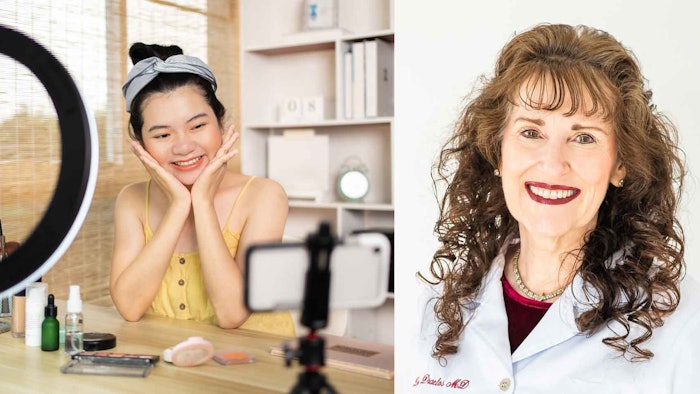 Skin care is arguably the most popular market in the beauty industry with an estimated value of U.S. $30.5 billion in 2021, according to Grand View Research. It is also no stranger to the influence of social media.
In fact, per Statista, when buying beauty products, 74% of Gen Z has been swayed by influencers; this was also the case for 66% of millennials and 34% of the baby boomer generation. The staggering percentile increases between generations is an upward trend that implies the growing control of social media influencers over the market.
As a result, the industry has never experienced such a churn in trends; from slugging and flooding, to cycling, dopamine beauty and more. But how do these practices affect skin? And how should brands respond to this moving target?
Zoe Diana Draelos, M.D., clinical and research dermatologist, Dermatology Consulting Services, will consider these questions during the session, "How Influencers Influence Skin - and How Brands Should Respond," featured at the 4-day Beauty Accelerate Virtual event.
This session will delve into trends such as slugging/flooding, cycling, dopamine beauty, retinol sandwiching, reverse skin care, skin-deep health, microbiome care/immunity, salmon sperm, Jello skin, red light masks, baby Botox and the like. Attendees will come away with new insights on the influence of social media trends on both skin and product development.
>>>REGISTRATION IS NOW OPEN FOR LIVE/ON-DEMAND ACCESS.<<<
Attendee pricing is designed to be accessible for indie and major brands alike. Contact us for special group rate discounts.
About Our Expert
Zoe Diana Draelos, M.D., is a board-certified dermatologist in private practice and a primary investigator for Dermatology Consulting Services, a company she founded in 1988 to provide education, develop formulation technology and conduct clinical studies in association with the pharmaceutical and cosmetics industries. A national and international speaker, she has been the recipient of numerous research grants and served as principal investigator on more than 200 clinical trials. She has also authored some 200 articles, 25 book chapters and two books, and has edited and served on the editorial boards for books and journals including Cosmetics & Toiletries.
Draelos is a fellow and past board member of the American Academy of Dermatology and holds membership in the American Dermatological Association, the Society for Investigative Dermatology and the American Society of Mechanical Engineers, among others. A former Rhodes Scholar, Draelos has been the recipient of many awards and honors in recognition of her professional and academic accomplishments. She also was recently presented a Lifetime Achievement Award for her research from Health Beauty America, a professional skin care and cosmetics industry organization.