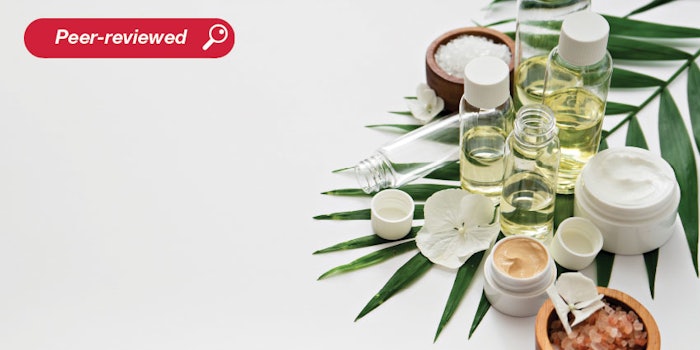 Read the complete article in the C&T July/August 2023 digital edition.
Sustainability represents a commitment from the present to the future. Guided by the United Nations' (UN's) 17 Sustainable Development Goals, many companies in the cosmetic sector have designed their commitments1 for 2030 to permeate the three fundamental pillars: environmental, social and economic, which has inspired growing research and industry adaptation to provide increasingly sustainable solutions, especially in the environmental aspect.
Sustainable cosmetic products are designed to minimally impact the environment; however, their development requires a broader vision of the production chain. The Life Cycle Assessment (LCA), for example, is a tool that provides information about the sustainability of each product, measuring its possible environmental impacts.2 It considers the extraction of natural resources as well as a product's formulation, manufacturing, use and final disposal. One of the fundamental steps in the LCA process is formula design, as it considerably influences the other phases.3
This article provides an overview of the fundamental aspects of formulating sustainable cosmetics. It also highlights the challenges manufacturers face when developing products for this scrutinizing market, along with tips and ideas to meet these challenges.
Aspects of Sustainable Cosmetics
Minimalism: Minimalism is the first aspect to consider in the creation of sustainable cosmetic products. As one of the biggest trends in 2023, skin minimalism, or skinimalism, came about associating the sustainability of skin care routines with the promotion of more natural beauty.4 The objective of this movement is to use fewer products during skin care routines by choosing multifunctional options that achieve the same benefits.
Similarly, the cosmetic formulator must choose formula ingredients strategically to reduce the number of components as much as possible while still maintaining the effectiveness and attributes of the product. Minimalist formulas also have shorter production processes and require less energy; in some cases, cold processing is also an option, which is even better. In addition, simplified formulas can save on cost since the portfolio of raw materials to be managed is reduced.
Good examples of minimalist products are solids. These help to save water, which can also reduce cost since water may correspond to 60-80% of a product's composition, generating a greater volume of product to be transported. Minimalist thinking also applies to packaging, with solutions using less material and a simpler design.
Raw material origins: A second aspect is the origin of raw materials, which must prioritize renewable sources and protect animal welfare.5 Sustainable products often incorporate natural, organic and vegan ingredients, many of which have been previously evaluated and certified for their origin, toxicity and/or biodegradability. Currently, there are several certifying agencies for natural and organic materials, such as Cosmos, Natrue, Ecocert and IBD, and each one establishes specific criteria for certification. As such, it is important to pay attention to labeling, as many ingredients are identified with a seal to prove their certification6 and indicate which guidelines they follow.
Different sustainable labels include:
Natural cosmetics: In general, these are products composed of natural materials or naturally sourced and processed materials. Natural ingredients are harvested, extracted or collected and processed without chemical reactions to produce the raw material. Naturally sourced ingredients involve processing natural ingredients using chemical reactions.6
Organic cosmetics: These consist of natural ingredients from organic agriculture where the use of synthetic fertilizers, pesticides, growth regulators and additives is not allowed. The use of genetically modified organisms (GMOs) and radiation also is prohibited.6
Vegan cosmetics: Vegan products omit ingredients of animal origin and are not tested on animals. Here again, labeling identifies these aspects. For example, in 2013, the Brazilian Vegetarian Society (SVB) created a seal that identifies commercially available vegan products.7 To develop vegan products, it is also essential that the manufacturer obtain proof from suppliers that ingredients have not been tested on animals.
Sustainable Alternatives
The replacement of certain traditional ingredients used in cosmetics for more sustainable alternatives is urgent and can be achieved through research and innovation. Microplastics provide one example.5 Normally, these are water-insoluble particles, smaller than 5 mm and used as exfoliants in cosmetics or teeth polishers in oral hygiene products. Due to their small size, they can easily accumulate in rivers and oceans, posing a potential threat to the environment and health.2 A such, many brands are replacing microplastics with inorganic minerals or vegetable derivatives, such as cellulose beads and seeds.
However, microplastics may not only be solid particles. Liquid and semi-solid polymers in cosmetics such as rheological agents, film formers and emollients may also be considered as such. This is a highly debated issue but it opens opportunities to innovate technologies that offer these functions more naturally.
In the growing search for sustainable alternatives for cosmetic formulations, partnerships between companies are encouraged, as is the case of Henkel, which signed a five-year partnership with Shell to replace the fossil raw materials used to manufacture surfactants with others from renewable sources.8 Also looking at surfactants, L'Oréal, Unilever and Kao are investing in a venture led by the biotechnology company Genomatica, intending to develop biosurfactants from the transformation of plant sugars by microorganisms.9
Read the complete article in the C&T July/August 2023 digital edition.
References
Sustentabilidade 2030 (2022, Oct 5). Grupo Boticário. Available at https://www.umabelezadefuturo.com.br/compromissos-2030/
Cosméticos Sustentáveis: Uma Alternativa Para diminuir O Impacto Ambiental (2020, July 27). Polen. Available at https://www.creditodelogisticareversa.com.br/post/m-cosmeticos-sustentaveis-uma-alternativa-para-diminuir-o-impacto-ambiental
Análise de Ciclo de Vida, Avaliação do Ciclo de Vida, Rotulagem Ambiental. (accessed 2023, May 18). ACV Brasil. Available at https://acvbrasil.com.br/
Serpa, L. (2022, Aug 8). Skinimalism: Uma Das Principais tendências de Beleza para 2023. Boa Forma. Available at https://boaforma.abril.com.br/coluna/boa-beleza-larissa-serpa/skinimalism/
Ledesma, A. (2023, Feb 17). Sustainability in Natural Cosmetics: The key for Innovation. Natrue. Available at https://natrue.org/sustainability-in-natural-cosmetics-the-key-for-innovation/
Furman, A. C., et al (2022, Oct 16). Sustentabilidade no Processo Produtivo da Indústria Cosmética: Uma Revisão da Literatura. Research, Society and Development. DOI: https://doi.org/10.33448/rsd-v11i13.35852
Sociedade Vegetariana Brasileira (accessed 2023, May 18). SVB. Available at https://www.svb.org.br/
Sikaria, R. (2023, Jan 19). Henkel partners with Shell in "first-of-its-kind" deal scaling renewable surfactants in US. Available at https://www.personalcareinsights.com/news/henkel-partners-with-shell-in-first-of-its-kind-deal-scaling-renewable-surfactants-in-us.html
L'Oréal joins Unilever and Kao in biobased Surfactants Project (2023, March 21). Premium Beauty News. Available at https://www.premiumbeautynews.com/en/l-oreal-joins-unilever-and-kao-in,21739