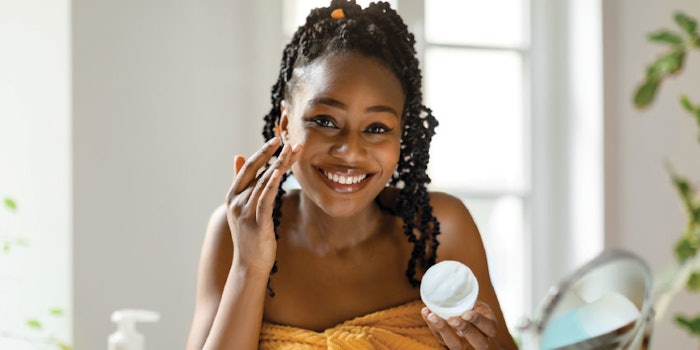 Some cosmetic industry experts believe the next adaptation of sustainability will be circularity. The challenge they've identified, however, is determining how to successfully build circularity into a company's larger strategies. According to research published in Business Strategy and the Environment, circular economy principles are often dissociated from strategic planning and there is little if any guidance to determine competitive strategies to establish circular business models.1 
As such, the authors outline a strategic planning decision framework oriented to circular business models (SPDF-CBM) that entails five stages. In stages 1-3, businesses assess their current circular status and define their desired future state. In stages 4 and 5, businesses define their competitive strategy and identify circular business models (and strategies) they can pursue.
CBMs are then recommended based on a scoring system, the company's vision and its chosen competitive strategy. Example CBMs include: promoting renewable options, extending resource value and product life (e.g, enabling multiple cycles, re-using, etc.), resource recovery (creating value from waste, industrial symbiosis, recycling, etc.) and others. The framework was tested in a Brazilian cosmetics startup as a case study. The authors concluded that using such a system can help companies to simultaneously increase their competitiveness and circularity at the same time.
From a business standpoint, larger strategies such as these will be important to moving sustainability toward circularity. From a technical standpoint, this means optimizing specific facets within CBMs to support the larger strategies; examples of this are featured in this month's C&T.
Gruber (Page 26) outlines fundamental aspects for formulating sustainable cosmetics, highlighting challenges and providing tips. Spicer (Page 22) describes current and potential future directions in the U.S. Federal Trade Commission's Green Guides for making eco-friendly product claims. Gerlach and Raza (Page 38) present CBD as a sustainable and natural solution for acne care, while Placa, et al. (Page 42), show how using upcycled olive oil fatty acids to produce PGPR can improve its performance for w/o emulsions.
Our Expert Opinions (Page 16) piece explores current and future directions for eco and ethical beauty, and this month's Industry Insight (Page 7) highlights how the EcoBeautyScore Consortium is developing a scoring system to communicate the environmental impact of products to consumers.
We hope this edition provides inspiration and closes the circle for your sustainable beauty formulating challenges.
References
https://onlinelibrary.wiley.com/doi/full/10.1002/bse.3074