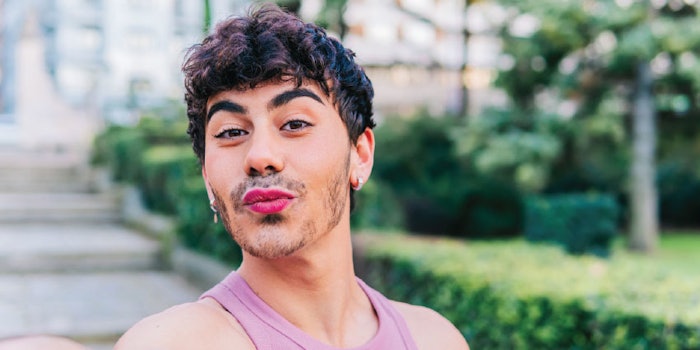 Most readers will have heard of the lipstick effect—but dopamine beauty is a newer concept. Younger readers or social media followers know that this trend exploded in 2022. According to The Star, dopamine beauty refers to wearing bold and colorful makeup to help lift your spirits.1 So in essence, it's the lipstick effect reinvented on a whole new level.
"Just type the hashtags #dopaminebeauty and #dopaminemakeup into TikTok, and you'll soon see a joyous riot of colors," The Star reported. "…The idea is to indulge all imaginable fantasies—within reason—with vivid, zesty colors, temporary tattoos, stickers and more. In short, it's about having fun."
In parallel, Glamour UK2 featured a story titled, "Dopamine beauty is about to be everywhere and it's guaranteed to boost your look and mood. Wear the rainbow." The source reported that dopamine beauty is about one thing: "injecting joy and color back into our makeup routines."
Cosmetics & Toiletries (C&T) touched on this dynamic a few years ago in an interview with board-certified dermatologist and psychiatrist John Koo, M.D., about stress, strain and cosmetics to improve mental wellness. "Instead of being worn down by the day-to-day stress of life, consumers can use cosmetics to provide an alternative experience," he said. "It might be a fragrance that partially transforms them into a more peaceful, agreeable, relaxing world; it might be cosmetics or even shopping for new clothes that makes them feel like a different person. So instead of looking at a product as just a cosmetic or lip balm or candle, these products can be tied to one's deliberate effort to mitigate stress."
The bottom line? Color cosmetics have a place in self-care and wellness, which is mirrored in this edition of C&T. Lionetti, on Page 46, provides a pigment primer, complete with formulating tips and tricks for color cosmetics. Shefer, et al., on Page 58, describe a novel polymeric matrix to improve color stay, while our Industry Insight interview, on Page 7, explores ultramarine blue for inclusive beauty with two up-and-comers from the University of Cincinnati.
In terms of self-care and wellness, Dell'Acqua, on Page 28, reviews the latest nutricosmetic innovations. Dai, et al., on Page 34, demonstrate the ability of a vegan fermented collagen to boost skin barrier health and impart anti-aging effects. And, our Expert Opinions, on Page 16, conveys ideas for self-care from industry insiders.
We hope this edition highlights the bright potential of color cosmetics beyond the skin surface and gives your wellness and self-care projects a boost.
thestar.com.my/lifestyle/style/2022/07/18/039dopamine-beauty039-how-
colourful-makeup-could-boost-your-mood
glamourmagazine.co.uk/article/dopamine-beauty