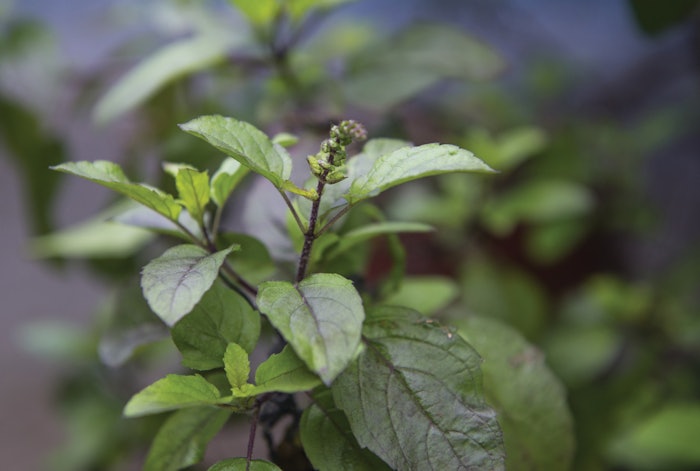 Read the full article in the January edition of C&T Magazine
The predominant cause of global morbidity and mortality is lifestyle-related chronic diseases,1 many of which can be addressed through ayurveda, with its focus on healthy lifestyle practices and the regular consumption of adaptogenic herbs. Of all the herbs used in ayurveda, Ocimum sanctum Linn, also known as holy basil or tulsi, is preeminent, and scientific research is now confirming its beneficial effects for health as well as beauty.
This article reviews the reported benefits of tulsi and proposes its use in anti-stress cosmetics, among other skin and hair care applications. It also considers the eco-friendly characteristics and sustainable certification of the ingredient.
History and Uses
Tulsi in Sanskrit means "the incomparable one,"1 and is said to have both medicinal and spiritual properties. It has a strong history in ayurveda,2 with use in approximately 300 treatment cases, demonstrating its importance. Ayurveda describes tulsi as the "mother medicine of nature" and/or "queen of herbs" and reveres the plant as an elixir of life. Throughout the world, tulsi has been used for centuries in forms such as dried powder, herbal tea or oil — the royal oil, in particular, is believed to strengthen the mind and heart.
Tulsi also has a rich history of uses in other societies.3 In ancient Egypt, is it believed to have been used as an embalming and preserving herb, as it has been found in tombs and mummies. Perhaps due to this application, tulsi became a symbol of mourning in Greece. In Jewish folklore, the plant was believed to add strength while fasting; in Portugal, basil plants are gifted to loved ones or for certain religious holidays.
Many Indian families today keep tulsi plants in their homes for medicinal, religious, spiritual and aesthetic values. It is found even in the slums of Mumbai, Chennai and other cities of India.4
Tulsi Plant and Phytoconstituents
Tulsi is a leafy, erect herb with tall and hairy stems belonging to the mint or Lamiaceae family. There are three variants: Rama tulsi is the most common type, with broad, bright green leaves that are slightly sweet; Shyama/Krishna or dark tulsi, with less common purplish-green leaves; and the common wild Vana tulsi. Each is used in the same way to treat ailments and has a similar taste.5, 6
Read the full article in the January edition of C&T Magazine
References
Cohen, M.M. (2014, Oct-Dec). Tulsi - Ocimum sanctum: A herb for all reasons. Available at https://www.ncbi.nlm.nih.gov/pmc/articles/PMC4296439/
Britannica. (Accessed 2022, Nov 11). Ayurveda. Available at https://www.britannica.com/science/Ayurveda
Indulgeo. (2020, Mar 1). Benefits of basil for skin. Available at https://indulgeoessentials.com/benefits-of-basil-for-skin/
Ibid Ref 1
Organic India. (Accessed 2022, Nov 11). Tulsi - holy basil. Available at https://organicindia.nz/what-is-tulsi-2/
Teri Nutrition Security. (Accessed 2022, Nov 11). Ocimum tenuiflorum. Available at http://wildedibles.teriin.org/index.php?album=Wild-edibles/Leaves/Ocimum-tenuiflorum