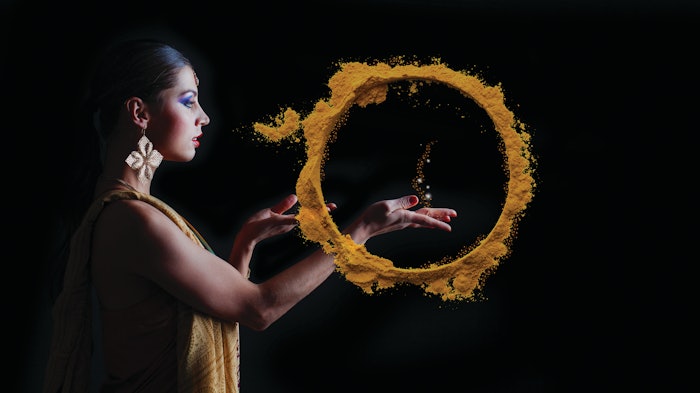 Curcuma longa, commonly known as turmeric, has been known as an herbal and complementary medicine for ~4,000 years in the ayurvedic culture in India.1 It was named in Atharvaveda, the first book on ayurveda (approximately 1,000-1,500 B.C), for mono-herbal use.3 Susruta's Ayurvedic compendium, dating back to 250 B.C., recommends an ointment containing turmeric to relieve the effects of poisoned food. It was also used by Buddhist monks to dye their robes, and there is evidence that turmeric was used in traditional Chinese medicine around 1,000 years ago – with a mention in the Pent-Sao of the 7th century.2
Traditionally, turmeric has been utilized in many ways, e.g., inhaling the fumes from burning turmeric to reduce congestion; using turmeric juice to heal wounds; and applying turmeric paste for various skin conditions. It is used as a spice and to both impart color and preserve food.1 In India, wedding brides and grooms are even smeared with a paste of turmeric and then given a bath, as turmeric is regarded as auspicious and holy.3
Since it is an antioxidant and has germicidal properties, turmeric has found extensive use in cosmetics. A long list of skin care benefits is associated with the ingredient, including the treatment of acne, blemishes, dark spots and hyperpigmentation, and to address skin conditions such as eczema and psoriasis. It additionally helps to heal and prevent dry skin, and to slow the skin aging process.1
The present article delves into these multifaceted benefits for beauty and offers formulating considerations for using turmeric. First, however, it reviews the phytochemical constituents and properties of turmeric that impart these effects.
Phytochemical Composition
A number of compounds have been isolated and characterized from turmeric. The main entities include curcumin, desmethoxycurcumin, mono demethoxycurcumin, bisdemethoxycurcumin, dihydro curcumin and cyclo curcumin. At least 185 compounds of terpenes have been isolated or detected from the leaves, flowers, roots and rhizomes of Curcuma longa, including 68 monoterpenes, 109 sesquiterpenes, five diterpenes and three triterpenoids.4
Turmeric yields a 1.5% essential oil upon steam distillation. This consists of 56% sesquiterpene ketones (turmerones) and 9% tertiary alcohol. An oleoresin containing all the aroma and flavor of turmeric can be obtained upon solvent extraction, followed by removal of the solvent.
Read the full article in the January edition of C&T magazine.
References
Shukla, V.K.S and Nielsen, S. (2013). Novel Introduction of Spice and Fruit Butters and Oils in Cosmetic Applications, Cosmetic Science Technology. Available at https://www.researchgate.net/publication/331935706_Novel_Introduction_of_Spice_and_Fruit_Butters_and_Oils_in_Cosmetic_Applications
Amanjot Kaur (2019). Historical background of usage of turmeric: A review. Journal of Pharmacognosy and Phytochemistry. 8(1): 2769-2771, E-ISSN: 2278-4136 P-ISSN: 2349-8234 JPP 2019; 8(1): 2769-2771
Shah NC (2021). Curcuma Longa (Turmeric): A Condiment of Great Therapeutic Value Tested with the Ayurveda up to the Modern Medicine. Journal of Natural & Ayurvedic Medicine ISSN: 2578-4986. DOI: 10.23880/jonam-16000291
Shiyou Li, Wei Yuan, Guangrui Deng, Ping Wang, Peiying Yang and Bharat B. Aggarwal (2011, July). Chemical Composition and Product Quality Control of Turmeric (Curcuma longa L.). Pharmaceutical Crops. 5(1):28-54. DOI:10.2174/2210290601102010028