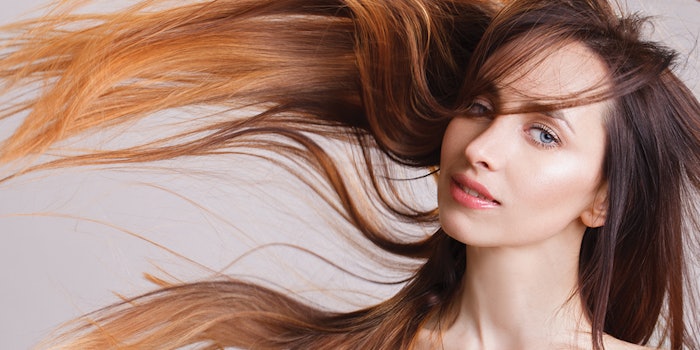 Read the full article in the June 2022 digital edition. . .
Grand View Research estimated1 the global hair and scalp care market to be US $80.81 billion in 2020, and projected it would expand at a CAGR of 6.6% from 2021 to 2028. According to the firm, consumer concerns driving this growth include: dandruff, dry and itchy scalp, dull hair, the harmful effects of pollution, excessive use of hair straighteners and curlers, increased UV exposure and the frequent use of shampoos with "harsh chemicals."
In relation, demand for nourishing products such as hair masks to treat damaged and frizzy hair are on the rise. In relation, Google Trends shows that between May 2021 and 2022, searches related to hair treatment were especially popular for the K18 brand, growing 800%.2 Based on "biomimetic hair science," its products are based on a peptide designed to repair damage caused by bleach, color, chemical services and heat.3 The Kelaya brand hair treatment also drew greater interest (+ 500%), as did searches including post covid hair loss treatment (+300%), hair loss after covid (+250%) and hair biology thickening treatment (+130%).
Grand View Research also added that the anti-dandruff hair segment alone accounted for more than 30% of the market share in 2020 and is expected to maintain this position. On the other hand, the hair loss segment is expected to be the fastest-growing. Hormonal changes, medical conditions, heredity and aging are cited as common causes of hair fall that, in recent years, has become a common concern.1 Indeed, Google Trends queries for how to stop hair fall after covid increased a whopping 1,250% within the past year; post covid hair fall also rose 750%.4
The firm also highlighted a rise in "complex hair and scalp routines among millennials," including the application of serums, hair masks and leave-in-treatments. Future growth is expected to arise from the "dry and dull hair product segment." Interestingly, in relation, Google Trends searches for dry and dull hair home remedies rose 60% in the past year.5
Healing and repairing hair to a healthier state is clearly at the forefront of consumers' minds, as these market indicators suggest. So how might product developers advance treatment options in this specialized space? We asked industry experts to weight in on current trends and future directions for hair. Following are their insights.
. . .Read more in the June 2022 digital edition. . .
References
Grand View Research (accessed 2022, May 11). Hair and scalp care market size, share and trends analysis report by product (anti-dandruff, hair loss, dry and itchy scalp, dry and dull hair, white and grey hair), by distribution channel, by region, and segment forecasts, 2021-2028. Available at https://www.grandviewresearch.com/industry-analysis/hair-care-market
Google Trends (accessed 2022, May 11). Hair treatment (search term). Available at https://trends.google.com/trends/explore?cat=44&q=hair%20treatment
K18 (accessed 2022, May 11). Hair like new no matter what you put it through. Available at https://www.k18hair.com/pages/consumer
Google Trends (accessed 2022, May 11). Hair fall (search term). Available at https://trends.google.com/trends/explore?q=hair%20fall