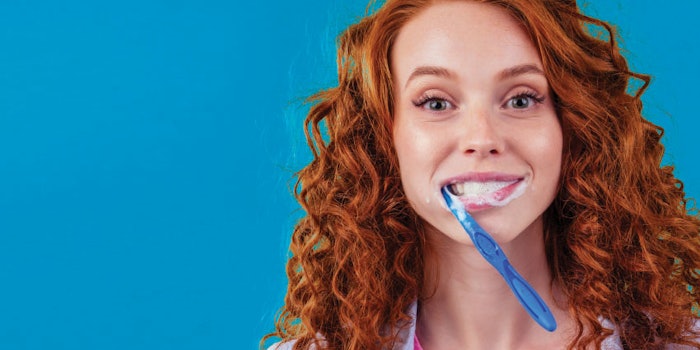 Read the full feature in the May 2022 digital edition. . . 
Editor's note: Reprinted from Elevating Oral Care, free e-book (Nov 2021). Available for download at https://bit.ly/3EmJ1Rg
The staple of bathrooms and medicine cabinets, oral care is essential in the eyes of the consumer. As a market segment, it helped to carry the personal care industry through unknown COVID-19 times, which escalated already-growing consumer demand. One report by Future Market Insights projects global sales of oral care will reach $96.1 billion in the United States by 2031. Here, toothpastes in particular are expected to emerge as top sellers, accounting for more than 50% of sales.1
Pre-pandemic, consumers turned to traditional toothpastes, mouthwashes, etc., for basic health, wellness and hygiene needs. Innovation in this segment was happening via, e.g., eco-friendlier packaging, novel product forms, beauty claims, integrated smartphone apps, etc., but oral care was not as front and center as it is today. Now, as consumers embrace health and wellness, oral care is viewed more as a protector of health.
This notion is illustrated by an independent study that revealed Unilever's cetylpyridinium chloride (CPC)-containing mouthwash could reduce the COVID-19 viral load by 99% in users in as little as 30 sec.2 These findings suggested mouthwash could become an important addition to other protective measures such as hand-washing, physical distancing and mask wearing.
According to Mintel GNPD,3 Europe, the Middle East and Africa (EMEA) are focused on premium and eco opportunities. Self-care, beauty and COVID-19-related themes will add value to oral care, including lines that tap into the "mask mouth" phenomenon and on-trend use of probiotics. Eco opportunities have generally focused on packaging and plastic waste, but also supply chain transparency and carbon footprint.
The Asia-Pacific (APAC) market is driven by disruptive benefits and again, the natural/eco-trend, according to NPD.3 Here, oral care is similarly blurring with beauty and tapping into the wellness space with scent, flavor and color, or by targeting conditions such as diabetes. To a lesser degree, here the eco-trend is driven by refill products and toothbrush concepts made from natural materials.3
Lastly, in the Americas, NPD reports luxury, on-trend and, again, disruptive natural and eco offerings are in demand. Premium products tap into self-care, mindfulness and empowerment trends, also blurring with beauty and anti-aging concepts. Disruptive products, e.g., those containing natural fluoride alternatives, or housed in refillable packaging are of interest.
Like almost every market category, oral care has been reshaped by changing global consumer demands—alongside product innovation. Several recent examples are given here.
Natural, CBD and Eco-minded Solutions
According to Mintel GNPD data, the top six fastest-growing oral care claims in Europe between 2020 and 2021 included: botanical, eco-package, recycling, eco product, sustainable and vegan.3 Consumers are reportedly seeking organic and herbal toothpastes, as well as those that do not contain added flavors and chemicals.1 The launch of the Colgate Zero portfolio offers consumers oral care without artificial flavors, sweeteners, preservatives and colors.4 Regarding the launch, Greg Ross, general manager of oral care for North America at Colgate-Palmolive, said, "As consumer preferences shift toward products containing less artificial ingredients, we wanted to ensure Colgate users had products that fit their lifestyles."4
. . .Read more in the May 2022 digital edition here. . .
References
Schlabach, J. (2021, Apr 15). Report: U.S. oral care global sales to reach $96.1 billion in 2031. Available at https://www.cosmeticsandtoiletries.com/marketdata/segments/Oral-Care-Global-Sales-To-Reach-961-Billion-in-2031-574196181.html
Behrens, M. (2020, Nov 25). Unilever reports CPC mouthwash reduces COVID-19 by 99%. Available at https://www.cosmeticsandtoiletries.com/testing/invitro/Unilever-Reports-CPC-Mouthwash-Reduces-COVID-19-by-99-573195241.html
Di Gesu, R. (2021, Sep). A year of innovation in oral care, 2021. Available with login at https://clients.mintel.com/report/a-year-of-innovation-in-oral-care-2021
Global Cosmetic Industry (2020, Feb 25). Colgate Zero portfolio embraces clean oral care. Available at https://www.gcimagazine.com/marketstrends/segments/oralcare/Colgate-Zero-Portfolio-Embraces-Clean-Oral-Care-568179271.html