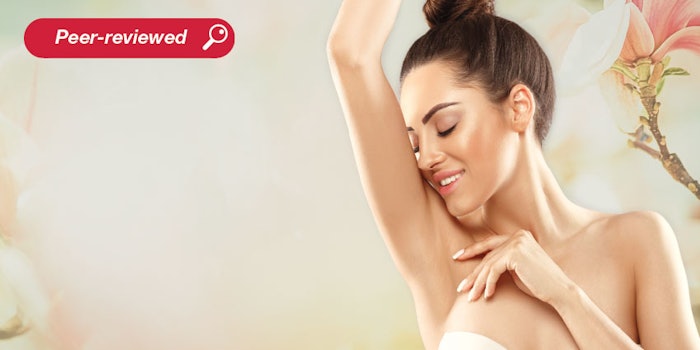 Read the full feature in the May 2022 digital edition. . .
Consumers are often confused about the differences between antiperspirants and deodorants and what they address; i.e., perceived wetness and odor, respectively. This is mostly caused by misunderstood marketing claims and product positioning. Regardless, from an R&D perspective, the primary solutions to address these needs for reduced wetness perception and malodor elimination in the axillae have included:
1. Antiperspirant actives, which temporarily block sweat exudation from the eccrine gland. Antiperspirants incorporate aluminum-based cationic salt chloride complexes as well as zirconium acid salt complexes, which are referred to as actives on the back label of consumer products. On a broader level, antiperspirants can be defined as finite distributions of various structures of polycationic protonated oxo-halides of aluminum and zirconium.
Once an antiperspirant is applied to the underarm area, the water-soluble active is dissolved into the sweat, which allows for the moderate transport of the active into the eccrine gland. This then complexes with proteins to form a temporary gelatinous plug. Additional details defining antiperspirant actives, their global regulation for safety and efficacy testing, and formulation applications have previously been described;1-4and
2. Deodorants, which either prevent bacteria from breaking down glandular (eccrine and apocrine) complex components and exuding more volatile components, or mask/disguise these odors so they are perceived as more pleasant, or not at all.
3. Esthetic performance is an additional consideration that relates to cosmetic improvements such as being non-whitening, reducing irritation and conditioning the skin; and providing the cosmetically appealing delivery of a product, e.g., feeling non-tacky/sticky and non-greasy upon application to the underarm area.
Historically, deodorant underarm products have focused on the use of fragrance and/or chemical antimicrobial agents. There is a recent movement away from petroleum-based and synthetic-based chemistries due in part to the consumer's concern about applying aluminum-based chemistries to the axillae underarm.5-7 An evolution toward plant-based, resource-renewable and environmentally sound technologies is transforming this category to greener ingredients.
As a result, the antiperspirant market share is decreasing at the expense of plant-based deodorant technologies, which will further influence changes globally and modify consumer habits and practices. In light of this transformation, formulation approaches to optimize these naturally focused, new age deodorants are outlined here. Current market examples also are provided.
. . .Read the full feature in the May 2022 digital edition. . .
References
Yuan, S., et al. (2015, Oct). Optimal aluminum/ zirconium: Protein interactions for predicting antiperspirant efficacy using zeta potential measurements. J Cosmet Sci 66 95-111.
Abrutyn, E.S. (2000). Antiperspirant and deodorants. Harry's Cosmetology 8(1). New York: Chemical Publishing Company, Inc.
Abrutyn, E.S. (1998). Antiperspirant and deodorants: Fundamental understanding. IFSCC Monograph Series No. 6. Weymouth, Dorset, UK: Micelle Press.
Food and Drug Administration (FDA). (2003, Jun 9). Antiperspirant drug products for over-the-counter human use; final monograph. Federal Register 68(11). Available at: https://www.federalregister.gov/documents/2003/06/09/03-14140/antiperspirant-drug-products-for-over-the-counter-human-use-final-monograph
Additional Reading
Standring, S. (2004). Gray's Anatomy: The Anatomical Basis of Clinical Practice 39. C.V. Mosby.
Mirick, D.K., Davis, S. and Thomas, D.B. (2002, Oct 16). Antiperspirant use and the risk of breast cancer. J Nat Cancer Institue 94(20) 1579-1580.
USP 42/NF 37. (2019). United States Pharmacopeial Convention. Rockville, MD. 83–91; 93–106.
Barron, M. (2021, Oct 16). That stinky armpit smell? It's your microbiome. Science: The Wire. Available at: https://science.thewire.in/the-sciences/that-stinky-armpit-smell-its-your-microbiome/
US Patent 11,090,237. (2021, Aug 17). Deodorant cosmetic compositions comprising calcium silicate and sodium bicarbonate.
US Patent 10,966,913. (2021, April 6). Cosmetic use of spiculisporic acid as a deodorant active agent.
US Patent 10,933,000. (2021, Mar 2). Aluminum-free antiperspirant /deodorant compositions (containing Zinc compound).
US Patent 10,722,435. (2020, Jul 28). Deodorant products (comprising ethylhexylglycerol, triethyl citrate and BHT).
US Patent 10,688,322. (2020, Jun 23). Use of polysaccharides in antiperspirant cosmetic agents for protecting textiles.