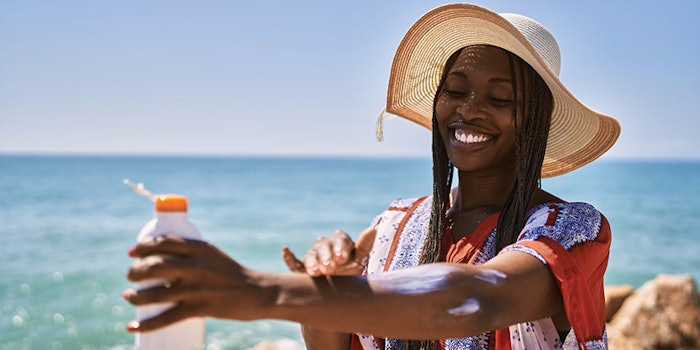 Read the full article in the April 2022 digital edition. . .
Sun care has been around for 80+ years, by some accounts, but for much of that, the industry seems to have created formulas with lighter-skinned consumers in mind; which a majority of times, leaves white residue on darker skin. Many people of color (POC) therefore sought different ways to protect themselves against the sun, such as umbrellas, or even tried to avoid the sun altogether. As formulation becomes more inclusive, insights have emerged in terms of what sun care means for POC; from myths and key ingredients, to diminishing white cast and more. Here, marketing coordinator Shannon Franklin (SF), of Black Girl Sunscreen, explains.
C&T: Many consumers have the idea that darker skin tones with higher melanin content also have a higher level of innate sun protection. Is this a myth or fact?
SF: Before Black Girl Sunscreen entered the space, common knowledge was that the more melanin in your skin, the less susceptible to UVA/UVB damage you are. We are finding that this is not always the case. The truth is: our skin may indeed actually be burning but because we cannot visibly see it (thanks to the melanin) or may not always feel the burning (again, thanks to the melanin); we won't know until later that our skin has developed damage. That's when, for some of us, it may be too late, especially when it comes to detecting early signs of melanoma.
C&T: What is the recommended SPF for formulations designed for darker skin tones?
SF: We encourage everyone to start with SPF 30 and then build up depending on the amount of time spent outdoors and the intensity of the sun. The same SPF rules that apply to lighter skin tones still apply to darker skin; for example, reapplication, upping the SPF for longer times spent in the sun, etc. Our biggest recommendation to darker skin-toned [consumers is that they] need sunscreen, period. 
C&T: How has Black Girl Sunscreen formulated products to diminish white cast?
SF: Our Make it Hybrid SPF 50 is a hybrid mineral formula, meaning it was created with both mineral and synthetic ingredients. It is very important to us that our formulas leave no white cast on the skin. This new formula gives our community the chance to experience the best of both worlds: the physical protection with zinc oxide and the ability to blend out the sunscreen [into skin] with synthetic ingredients. . .