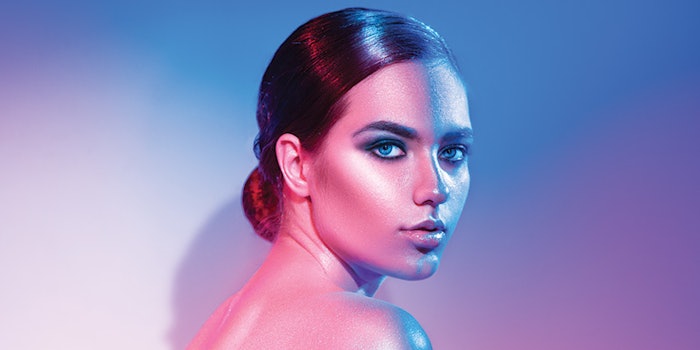 Glamour called it:1 2022 will be the year for makeup. That's good news considering the hit color cosmetics took in 2020.2 The source cites trends in recent months including graphic eyeliners, glossy lips and XXL fluffy brows—two out of three, not surprisingly, above the mask line. Lip gloss does seem surprising but this might be to improve our visibly chafed and dry lips from mask wearing. Going forward, makeup artists surveyed by Glamour project new looks will include: negative space eyeliner; contoured, diffused and glazed lips; detailed and laminated brows; blush draping; and double-winged eyeliner.
On the R&D side, color has seeped into traditional skin care and vice versa. Formulas are getting sustainable and vegan makeovers, and digital apps are continually iterated to better render real-life product likenesses on smartphones. New pigments, of course, are few and far between, although manufacturers are crafting visual effects in creative new ways.
Innovations in color are one of two key topics featured in this issue of Cosmetics & Toiletries. Dolchi and Goldstein, for example, demonstrate on Page 50 encapsulated iron oxide pigments that release color under mechanical pressure. Baltazar, et al., on Page 38 explore plant-derived binders as alternatives to silicones in pressed powders. Dobos paints us an insider picture of current and future color cosmetic innovations on Page 7. Finally, this month's formulary on Page 62 is focused on color.
In contrast to color—and reflecting the dichotomy of the market—the second key theme this month is skin minimalism, or skinimalism. This, of course, refers to minimizing product routines, ingredient lists, packaging waste, etc., and a subtler, natural and healthy look. Neumann and Steventon start us off on Page 30 with a survey of skinimalism and the microbiome. Lochhead, et al., delve into micellar waters on Page 26. Also, our crowd-sourced Expert Opinions piece on Page 16 shares tips and ideas for minimalist formulating.
As a bonus this month, Laden stirs up controversy on Page 18, questioning whether APs/deos are essential. Lionetti outlines how to formulate products to improve imperfections and skin health on Page 42. Finally, Meredith, on Page DM5 gives us the scoop on European regulations including the Green Deal, packaging, sustainable and microbiome claims, and more.
We hope our latest issue delivers bright and bold ideas to minimize your product development dilemmas.
Rachel L. Grabenhofer Managing Scientific Editor
1. https://www.glamourmagazine.co.uk/article/makeup-trends-2022
2. https://www.cosmeticsandtoiletries.com/research/consumers-market/article/21835894