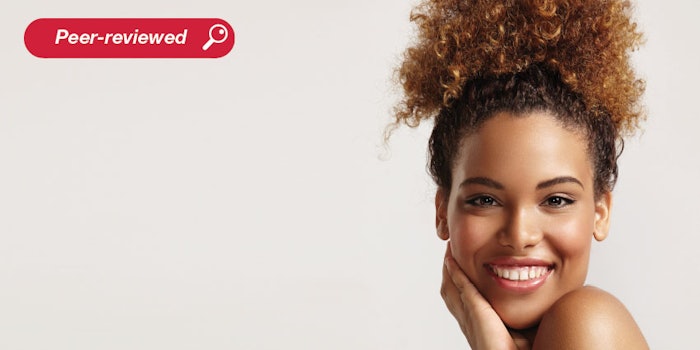 Read the full article in the January 2022 digital edition. . .
Economic development and aesthetic needs have driven demand for skin-brightening products around the world, especially in non-white cultures. 1 Skin brightening is defined as, "the practice of using chemical substances or any other products with depigmenting potential in an attempt to lighten the skin tone or improve skin complexion by lessening the concentration of melanin to obtain a reduction of the physiological skin pigmentation."2, 3
The key mechanism of action for skin-brightening agents is to reduce melanin, which is the main source of skin color. Melanin is responsible for pigment deposition in the human skin, eyes and hair, and is produced by epidermal melanocytes in a ratio of 1:36 with basal keratinocytes.4 Melanin is synthesized through the process of melanogenesis, which is mediated by melanocytes once the skin is exposed to UV irradiation.5 Under normal physiological conditions, pigmentation has a beneficial effect for the photoprotection of human skin against harmful UV damage; however, excessive production of melanin can lead to skin blemishes such as freckles and melasma,6, 7 as well as cancer and melanoderma.8
To date, a variety of cosmetic brightening agents targeting melanin have been developed and their corresponding brightening mechanisms have been emphasized; these are examined here. First, however, given its complexity and array of potential targets for brightening agents, the biological process of melanin production is reviewed here.
Melanogenesis
Melanogenesis is a complex pathway involving a combination of enzymatic and chemical catalyzed reactions. Melanocytes produce two types of melanin—eumelanin, which appears as a brownish/blackish color; and pheomelanin, which appears as a reddish/yellowish color—formed by the conjugation of glutathione or cysteine.9-11 The melanogenesis process is initiated with the oxidation of L-tyrosine to dopaquinone by the key enzyme tyrosinase. The resulting quinone will serve as a substrate for the synthesis of eumelanin and pheomelanin.12, 13
. . .Read more in the January 2022 digital edition. . .
References
Łopaciuk, A. and Łoboda, M. (2013, Jun). Global beauty industry trends in the 21st century. Active Citizenship by Knowledge Management & Innovation. Available at: https://www.semanticscholar.org/paper/GLOBAL-BEAUTY-INDUSTRY-TRENDS-IN-THE-21-st-CENTURY-%C5%81opaciuk/c7bc0b3d86f7245829db20b64f0531c942f12c6c
Olumide, Y.M. (2010). Use of skin lightening creams. BMJ 341(7793):c6102.
Alanzi, M.E., Alghamdi, R.A., Alsharif, O.M., Alghamdi, K.S. and El Sayed, S.M. (2018). Health knowledge, cosmetic interests, attitude, and the need for health education regarding the use of topical bleaching agents among women in West Saudi Arabia: A cross-sectional study. J Cosmet Sci 1 69(2) 101-20.
Solano, F., et al. (2010). Hypopigmenting agents: An updated review on biological, chemical and clinical aspects. Pigment Cell Res 19(6) 550-571.
Tsatmali, M., Ancans, J. and Thody, A.J. (2002). Melanocyte function and its control by melanocortin peptides. J Histo Cyto 50(2) 125-133.
Ahn, S.J., et al. (2006). Regulation of melanin synthesis by selenium-containing carbohydrates[J]. Chem Pharm Bulletin 54(3) 281-286.
Li, G., et al. (2003). Melanin biosynthesis inhibitors from the bark of Machilus thunbergii. Biol Pharm Bull 26 1039-41.
Brenner, M. and Hearing, V.J. (2008). The protective role of melanin against UV damage in human skin. Photochem Photobiol 84 539-49.
Pillaiyar, T., Manickam, M. and Jung, S.H. (2015). Inhibitors of melanogenesis: A patent review (2009-2014). Expert Opinion on Therapeutic Patents 25(7) 775-788.
Schiaffino, M.V. (2010). Signaling pathways in melanosome biogenesis and pathology. Int J Biochem Cell Biol 42 1094-104.
Slominski, A., et al. (2004). Melanin pigmentation in mammalian skin and its hormonal regulation. Physiol Rev 84 1155-228.
Hearing, V.J. (1987). Mammalian tyrosinase-the critical regulatory control point in melanocyte pigmentation. Int J Biochem 19 1141-1147.
Halaban, R., et al. (2002). Abnormal acidification of melanoma cells induces tyrosinase retention in the early secretory pathway. J Biol Chem 277 14821-14828.