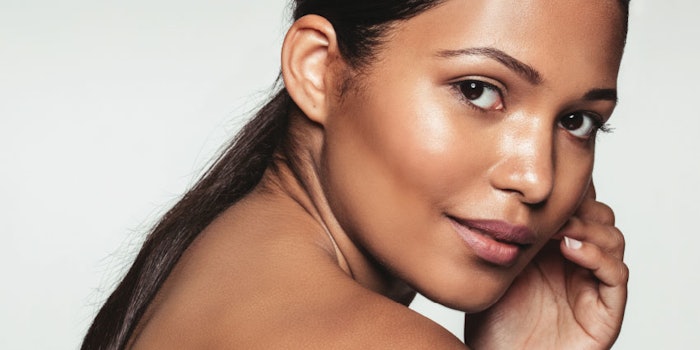 Read the full article in the January 2022 digital edition. . .
Consumer chatter about beauty is at the core of Skai's recently released market report1 predicting 2022 product trends. According to the source, the effects of COVID-19 are still at the forefront and many popular discussions are directly related to changes in habits during the pandemic. For example, acne caused by long-term mask-wearing is still the biggest skin concern, with conversations around this problem reportedly doubling since 2021. Also, since the beginning of 2021, expressed concerns around issues in skin aging have increased: wrinkles and sagging are up 136%; fine lines increased 185%; and general aging concerns rose 125%—all of which the firm predicts will continue trending upward in 2022.
Furthermore, the use of skin care to combat stress is a trending discussion on social media. Skai predicts this topic will remain popular in 2022; in relation, brands are marketing products that emphasize stress-reduction capabilities.
In 2021, consumer chatter around long-lasting cosmetic coverage increased by 41.7%. Since December 2020, sunscreen discussions have grown 24%. Skai attributes the latter to the desire to be outside more frequently after stay-at-home restrictions in 2020.
Looking to ingredients, Skincare Hero highlighted the most-searched, globally, in skin care based on Google data.2 Aloe vera was the most popular skin care ingredient of interest across 37 countries in 2020—which is perhaps not surprising considering its known healing and soothing effects, and natural origin. Following aloe vera, vitamin C, retinol, hyaluronic acid, salicylic acid and glycerin were next. Some of the most-searched questions alongside these ingredients included inquiries in terms of safety, effects, proper application and use instructions.
From a regional view, Skincare Hero suggests variations in ingredient popularity are likely due to different climates as well as localized marketing. In the United States, Canada and Trinidad, for example, hyaluronic acid was the most-searched ingredient whereas interest in retinol was most prevalent in Mexico, the Dominican Republic, Honduras and Puerto Rico. In Central America, aloe vera was the most-searched ingredient.
Ingredients of interest were more evenly spread across Europe. Retinol and aloe vera were the most popular in Western Europe while retinol, vitamin C and aloe vera were equally searched in Central Europe. In Eastern Europe, aloe vera, vitamin C and hyaluronic acid were the most-searched.
Aloe vera was also the ingredient of highest interest in South America but some of the continent's most prominent countries, including Brazil, Colombia and Peru, searched for retinol more than any other ingredient. Finally, hyaluronic acid rose to the top in Australia and New Zealand, while neighboring Fiji's consumer focus was on vitamin C.
From a product standpoint, the skin cream drawing the greatest consumer interest and containing aloe vera was Aveeno's Oat Repairing Cream. The Ordinary had the most-searched vitamin C product, while CeraVe's Skin Renewing Serum was the most-searched retinol product. Other commonly searched products included Paula's Choice 2% BHA Exfoliant, SkinCeuticals Resveratrol B E and Dr. Jart+ Cicapair.
From these market indicators, one thing is clear: consumers are concerned with skin's health and wellness, and are seeking safe, soothing, reparative products and ingredients. In relation, we asked industry insiders to weigh in on how skin health and immunity fit into today's skin care market and future directions for this category. Following are their responses.
. . .Read more in the January 2022 digital edition. . .
References
Scianna, T., (2021, Nov 30). Skai: 2022 beauty trends. Available at https://www.gcimagazine.com/consumers-markets/news/21927870/skai-2022-beauty-trends
Scianna, T. (2021, Oct 20). Most searched skin care ingredients globally: Skincare Hero. Available at https://www.skininc.com/home/news/21863626/most-searched-skin-care-ingredients-globally-skincare-hero
Combining personal care products and supplements can holistically improve the skin barrier, enforcing this first line of defense.
Adaptogenic actives with a long history of use, e.g., in traditional medicine, can serve the desire for naturally effective, health-promoting cosmetic products.