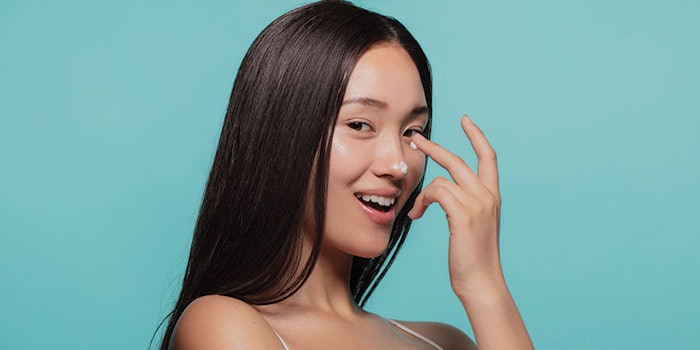 Mesotherapy is attracting consumer attention, according to market analyst firm Spate. In the United States, Google searches for it average a moderate 14.9 K per month but this has increased 38.9% over the prior year.1 Mesotherapy consists of a series of micro injections into the superficial layer of skin to deliver vitamins, enzymes, hormones, plant extracts, etc. These actives slowly diffuse into the underlying tissues to impart their various benefits.2
Body care—body butters, in particular—are another trending area. Spate reports that U.S. searches on the word body average an impressive 193.9 K per month. This number grew 9.4% over the previous year. Related top-searched terms include eczema, stretch marks and dry skin; also, whipped texture, whose searches increased 19.1% within a year.
Spate interprets these observations as indicators that consumers want products to address specific skin health and beauty concerns, rather than, e.g., general moisturizers. This edition of Cosmetics & Toiletries aligns well with this market mindset, with a focus on targeted solutions for unique skin issues.
For example, PPARs are described on Page 20 to improve aging skin and a weakened barrier while supporting skin health. For psoriatic skin, a holistic approach from Traditional Chinese Medicine (TCM) is outlined on Page 42. Also from TCM, horny goat weed is considered for effects against acne thanks to its suppression of C. acnes biofilm formation and inflammation (see Page 50).
A review on paths and ingredients to treat hyperpigmentation is featured on Page 28. In addition, on Page 58, the virtues of bioferments are explored—another hot topic in beauty,3 as they aim to improve bioavailability and efficacy in skin; not unlike mesotherapy. Industry experts also weigh in with their views of skin health and immunity in today's skin care market on Page 12.
Finally, on Page 16, the newest addition to our regular editorial lineup makes its debut: "Keeping Cosmetics in Check," by Karl Laden, Ph.D. Here, Laden will share light-hearted, constructive criticisms of industry practices to make us think. This month's theme is on SPF in anti-aging products.
We hope this first issue of the New Year offers targeted, inspired solutions to your product development concerns.
https://www.gcimagazine.com/consumers-markets/news/21866026/spate-us-consumer-trends-on-body-care-lipstick-and-mesotherapy
https://www.dermatoljournal.com/articles/intradermal-therapy-mesotherapy-in-dermatology.html
https://www.gcimagazine.com/consumers-markets/news/21940399/2022-beauty-trends
Rachel L. Grabenhofer, Managing Scientific Editor
rgrabenhofer@allured.com