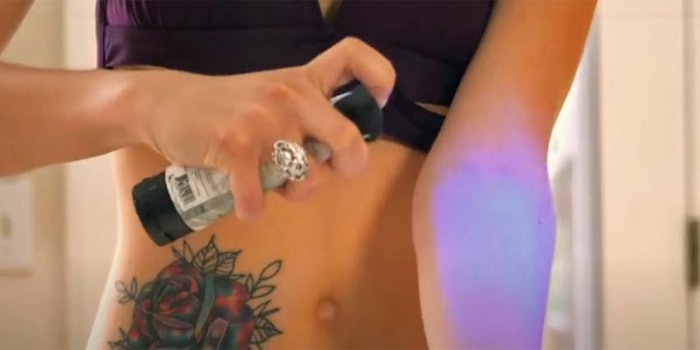 YouV SPF 30 is a broad spectrum mineral sunscreen developed to fluoresce under black light.
A black light is built into the packaging for convenience and when used indoors or in shade, it illuminates product applied to skin. This reveals to the user where they have applied the product—and what spots they have missed. It also can be used to determine when the sunscreen has been washed off or rubbed away.
See related: Feel and Function; Attuning Attributes in Mineral Sunscreens
According to the product patent, the light-activated sunscreen product may include a zinc-oxide-based lotion and a fluorescent substance such as fluorescein dye, causing the lotion to glow in any available color when applied to the skin and illuminated by the light source. The light source may comprise one or more ultraviolet light-emitting diodes disposed in a cap with top and side surfaces and the switch is preferably a momentary contact switch. See the video below for more product information and a demonstration.
Active ingredients: Titanium Dioxide, Zinc Oxide. Inactive ingredients: Acrylates Copolymer, Aloe Barbadensis Leaf (Aloe Vera Gel) Juice, Aluminum Hydroxide, Aqua (Deionized Water), Ascorbyl Palmitate (Vitamin C), Beeswax, Butyloctyl Salicylate, Caprylic/Capric Triglyceride, Carica Papaya Fruit Extract, Cetearyl Olivate, Cetyl Alcohol, Cocos Nucifera (Coconut) Oil, Dimethicone, Ethyl Vanillin, Ethylhexylglycerin, Fluorescent Brightener 230, Glyceryl Stearate, Helianthus Annuus (Sunflower) Oil, Laminaria (Algae) Extract, Linoleic Acid, Norbornanediamine/Resorcinol Digylcidyl Ether Crosspolymer, Olea Europaea (Olive) Oil, Phenoxyethanol, Polysorbate-20, Rubus Idaeus (Raspberry) Extract, Sodium Hydroxide, Sorbitan Olivate, Stearyl Alcohol, Tocopheryl Acetate (Vitamin E).