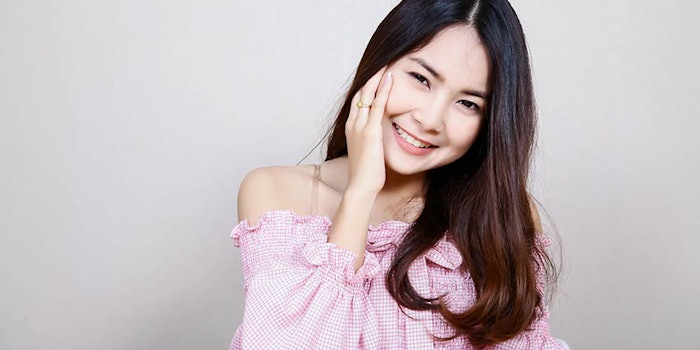 K-beauty maintained its reputation as an incubator for innovative concepts and ingredients in 2018, in spite of the rise of other distinctive segments such as Australian and J-beauty. Its focus has expanded from its emblematic multistep routines to meet consumer demand for gentle, "safe" formulations. 
Mintel identified three ingredients that met these standards and stood out most in 2018 in a recent report; the report also describes how some South Korean consumers are now identifying with the label "no-chemi-jok," a term for those who reject "harmful, chemical"-containing products. 
The report's highlighted ingredients are detailed below.
Pink Vitamin (B12)
Meant to target uneven skin texture and brighten dull skin tones, vitamin B12 has experienced a wave of popularity in South Korea. There, product launches that feature the ingredient tripled between January 2017 and August 2018, according to Mintel. 
In addition to skin-soothing properties, the "pink vitamin" also gives skin a rosy tint, which is desired by some South Koreans. Pink products and branding are also visually appealing to many younger consumers, which provides an additional boost for this ingredient. Brands are reportedly marketing these rosy formulations as providing "#pictureperfect" and "selfie-ready" results.
Cica (+)
Consumers are craving cica complexes—formulators are now combining Centella asiatica extract, an antioxidative ingredient meant to calm inflammation and cure physical wounds, with other actives to create enhanced complexes.
One popular addition is azulene, a chamomile extract that reportedly provides a calming and gentle solution for sensitive skin when combined with cica. It is gaining traction in anti-pollution formulations and may overtake cica's popularity, according to Mintel.
Glutathione
Glutathione has become popular in K-beauty due to its use in white jade products, which utilize it to brighten skin. The ingredient itself is meant to provide antioxidative and brightening benefits, which can also be used to achieve trendy transulcent skin.
Mintel reports that new product launches containing glutathione have more than doubled between January 2017 and August 2018, and include the aforementioned brightening products, dark-spot correctors and more.
For more insights on these ingredients, visit www.mintel.com.