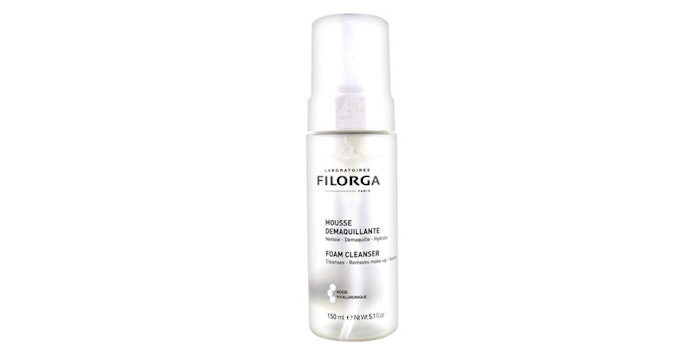 Filorga's refreshing and lightweight foam cleanser is said to dissolve traces of dirt, makeup and excess oil while infusing skin with moisture. Fortified with high-molecular-weight hyaluronic acid, the product is designed to address the premature signs of aging by smoothing the appearance of fine lines. In addition, antioxidant-rich Madonna Lily is touted to combat free radical damage.
Suitable for all skin types, the soothing facial wash aims to clarify, soften and revitalize the complexion, ideally making skin receptive to further treatment. Users are instructed to gently massage the product onto wet skin, then immediately rinse thoroughly with water.
This column will review the ingredient listing for claims substantiation and functionality.
Cleansing Base
The formula is a water-based system with the solvent butylene glycol and PEG-8. The surfactant mixture comprises sodium laureth sulfate, cocamidopropyl betaine, sodium methyl cocoyl taurate, sodium cocoyl isethionate and caprylyl/capryl glucoside.
Caprylyl glycol is a skin-conditioning agent with added antimicrobial activity and 1,2-hexanediol also acts as a skin-conditioning agent. Maltodextrin is an emulsion stabilizer while citric acid serves as a buffer and sodium chloride is a viscosity-increasing agent.
The preservatives include phenoxyethanol, methylisothiazolinone and ethylhexylglycerin. The formula also contains perfume.
Active Ingredients
The active ingredients are sodium hyaluronate, the salt of a hygroscopic macromolecule with well-known hydrating properties as well as white lily flower extract. The latter has shown anti-inflammatory and antioxidant mechanisms.
Conclusions
In my view, the ingredients support the product claims for dissolving dirt, makeup and excess sebum with additional hydrating and antioxidant properties. Due to the choice of surfactants and preservatives, however, sensitive skin types should use the formulation with caution.
Ingredients: Water (aqua), Sodium Laureth Sulfate, Butylene Glycol, PEG-8 Caprylyl/Capryl Glucoside, Coco-Betaine, Sodium Chloride, Sodium Methyl Cocoyl Taurate, Fragrance (parfum), Phenoxyethanol, Sodium Hyaluronate, 1,2-Hexanediol, Caprylyl Glycol, Ethylhexylglycerin, Citric Acid, Sodium Cocoyl Isethionate, Maltodextrin, Methylisothiazolinone, Lilium Candidum Flower Extract