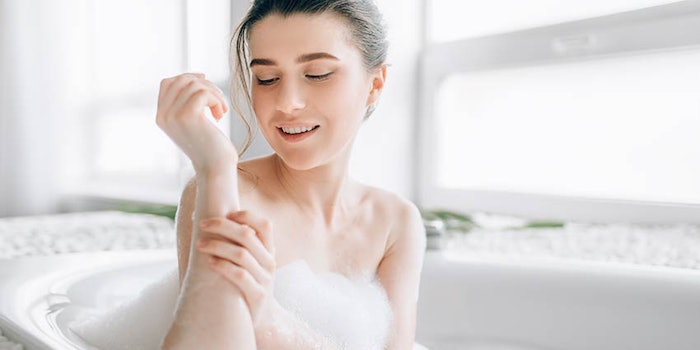 The use of a cosmetic product draws off of many senses—is it visually captivating? Does it smell pleasant? And, of growing importance, How does it feel?
Increasingly, a finished product's texture is part of what keeps consumers coming back for more; a satisfying sensory experience can convey efficacy, along with contributing to product benefits and fostering a long-term appreciation in consumers. In this installment of the Cosmetics & Toiletries Supplier Roundtable, experts shared their thoughts on how to "hit the rheology bullseye"—in other words, how to create the pleasing textures that consumers crave. 
Their responses are as follows:
Jens Müller, Global Marketing Manager—Nouryon
The cosmetic industry is a highly dynamic environment, and getting consumers' attention has become increasingly difficult. While packaging remains important, it provides limited space for true differentiation. Given this, creating novel textures and application forms has become an essential part of product innovation and these are necessary to spark the interest of adventurous consumers. Whether used for emulsion stabilization, aesthetic enhancement in high-salt or low-pH environments, foam boosting in cleansing systems, or superior sensory properties, modern rheology modifiers are very versatile and play an important role in creating those unique textures or applications.
Nouryon offers a wide range of natural and synthetic polymers, targeting even the biggest formulation challenges and creating more opportunity for innovation. Amaze XT (INCI: Dehydroxanthan Gum) is a great example. It is a 100% renewable, multifunctional polymer with thickening and suspending capabilities for use in a wide range of personal care applications. Insoluble functional materials can provide visual appeal, deliver active ingredients and exfoliate. In addition to a high zero shear viscosity, the polymer must have a high elastic storage modulus (G') to show stable long-term suspension, even at elevated temperatures. Shear thinning behavior provides good flow properties and spreadability.
Starch-based rheology modifiers, such as our Structure XL (INCI: Hydroxypropyl Starch Phosphate), offer effective thickening over a wide pH range, while being readily biodegradable. The use in hair conditioner formulations allows for the reduction of alkyl alcohols, enabling weightless claims while still providing rich, creamy textures. Initial aesthetics of skin creams also rely on the emulsifier system. Starch-based thickeners reduce the droplet size in emulsions, which allows for the reduction of emulsifier levels while maintaining viscosity and improving the feel of skin.
Once a specialty niche, sulfate-free shampoos have become mainstream. For mild cleansing and color protection, sulfate-free surfactants provide the answer. These difficult-to-thicken systems often lack foam; but high-performing polyalkylene glycol derivatives (i.e., Elfacos GT282S (INCI: Ceteareth-60 Myristyl Glycol)) thicken efficiently between pH 2-12 while providing good foam, high salt tolerance, clarity and fragrance retention.
Danielle Prima, Global Marketing Specialist Hair Care;
Lindsay Lipp, Global Marketing Specialist Bath & Shower; and
Joseph Shieh, Global Marketing Specialist Skin Essentials—Lubrizol
Mechanism
Rheology is the study of the flow of matter, which is the basis of all movement, stability and texture of a formulation. High molecular weight acrylate-based thickeners such as anionic homopolymers or copolymers are commonly used rheology modifiers in shampoos, cleansers and lotions. Protonated polyacrylic acids initially exist as collapsed coils when dispersed in water at low pH. The acidic groups of the polymer begin to become ionized upon neutralization, imparting strong electrostatic repulsive forces that expand the collapsed coils into extended structures, providing a rheological adjustment to the aqueous phase. While intermolecular interactions with the surrounding medium, such as hydrogen bonding, can play a role, hydrodynamic space filling driven by charge repulsion and the Donnan equilibrium is the primary thickening mechanism.
Products to Address Rheological Challenges and Specific Applications
Carbopol SMART 2000 (INCI: Acrylates (and) Beheneth-25 Methacrylate (and) HEMA Crosspolymer-2) is a liquid hydrophobically-modified, nonionic polymer that enables pH independence, cationic compatibility, clarity, suspension and ease of formulating an array of cleansers.
Carbopol Aqua SF-1 polymer (INCI: Acrylates Copolymer) is a lightly cross-linked acrylic polymer dispersion that provides efficient rheology modification, suspension and clarity in cleansing and shampoo systems.
Carbopol Aqua CC polymer (INCI: Polyacrylate-1 Crosspolymer) is a liquid hydrophobically modified cationic crosspolymer designed to provide suspension, rheology modification and clarity, and is suitable for shampoos and conditioning systems.
Pemulen EZ-4U polymeric emulsifier (INCI: Acrylates/C10-30 Alkyl Acrylate Crosspolymer) is a fast-dispersing powdered polyacrylate offering universal HLB independent emulsion stabilization over a broad pH range (pH 4-9). Its effective rheology modification provides low viscosity particle suspension at use levels as low as 0.05% w/w with a fresh, quick-break sensation on the skin.
Future Roundtables
To participate in a future Supplier Roundtable, contact Cosmetics & Toiletries assistant editor, Brooke Schleehauf, at bschleehauf@​allured.​com. Upcoming topics will cover:
Balanced Skin Care Solutions (January)
Formulating Sustainable Products (February)
New Approaches to Anti-pollution (March)
New Concepts in Sun Care (April)
Microbiome Care and Protection (May)