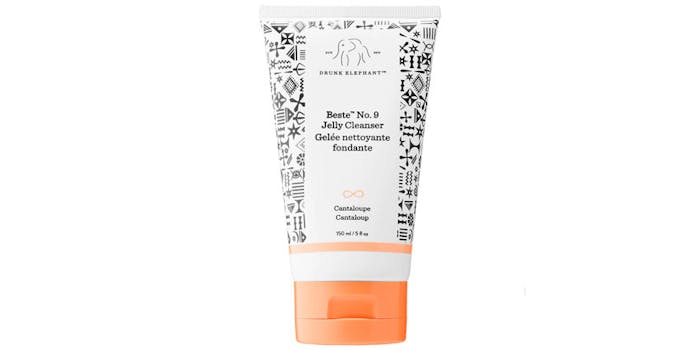 Drunk Elephant's Beste No. 9 Jelly Cleanser is an innovative jelly formula said to remove all traces of makeup, excess oil, pollution and other grime from the day. Free from SLS, fragrance and essential oils, the product is designed as a nonirritating, nonsensitizing cleanser, appropriate for every skin type.
A unique blend of mild surfactants and makeup-dissolving emollients, this gentle formula claims to be rinsed away without remaining residue, leaving skin clean and soft. It is formulated at nonstripping pH level of 5.9, and promoted as cruelty-free, vegan and gluten-free.
Highlighted ingredients and functions include:
Mild surfactant blend: A mixture of mild cleansing agents—including coconut-based surfactants, rich in fatty acids—that work together to create a rich foam to effectively dissolve makeup, sunscreen and oils while supporting the healthy barrier of skin.
Virgin marula oil: High in antioxidants and omegas 6 and 9, this nourishing oil boosts the cleansing and makeup-removal power.
Glycerin: A skin-identical humectant, helps replenish hydration levels that are normally lost in skin during the cleansing process.
Cucumis melo cantalupensis (cantaloupe) fruit extract: Rich in antioxidants, helps soothe and hydrate.
This column will review the ingredient listing for claims substantiation and functionality.
Water Base
This water-based formula contains a surfactant blend comprising: sodium lauroyl methyl isethionate, cocamidopropyl betaine, cocamidopropyl hydroxysultaine, sodium methyl oleoyl taurate, coco-glucoside and lauryl glucoside.
In addition, propanediol acts as a viscosity-controlling agent; citric acid serves as a buffer; and sodium chloride is a viscosity-increasing agent. The formula is preserved by phenoxyethanol and sodium benzoate.
Active Ingredients
The active ingredients include glycerin, a humectant; aloe extract, with anti-inflammatory, skin-soothing and antimicrobial properties; and cantaloupe melon extract, with refreshing and antioxidant effects.
Marula oil has shown antimicrobial effects, and with oleic acid being the major fatty acid in the oil, followed by palmitic, linoleic, palmitoleic and stearic acids, it adds nonirritant and moisturizing properties. The oil also has occlusive effect in normal skin.
Finally, licorice extract is known for soothing, anti-inflammatory, lightening and anti-aging properties.
Conclusions
In my view, the ingredients support the claims for a mild and non-irritating cleansing gel with hydrating properties for all skin types. The small amount of marula oil, containing a high percentage of oleic acid, is unlikely to disturb the barrier in oily and sensitive skin types. Lastly, the active ingredients are supportive of the overall calming cleansing effect.
Ingredients: Water/Aqua/Eau, Sodium Lauroyl Methyl Isethionate, Glycerin, Cocamidopropyl Betaine, Cocamidopropyl Hydroxysultaine, Sodium Methyl Oleoyl Taurate, Propanediol, Aloe Barbadensis Leaf Extract, Coco-Glucoside, Lauryl Glucoside, Cucumis Melo Cantalupensis Fruit Extract, Sclerocarya Birrea Seed Oil, Dipotassium Glycyrrhizate, Citric Acid, Phenoxyethanol, Sodium Benzoate, Sodium Chloride
Source: Drunk Elephant