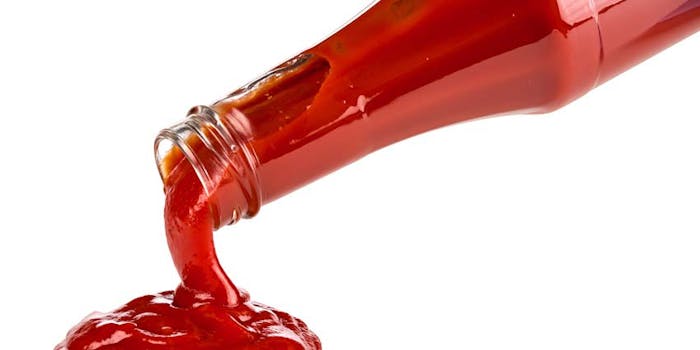 In December 2019, Tali Erickson-Gini of the Israel Antiquities Authority reported the discovery of an ancient Roman garum manufacturing site near Ashkelon on the southern coast of Israel.1 
Garum was a well-known and widely used condiment sauce throughout the Roman Empire. While this was the first garum manufacturing site found in Israel, other sites were found throughout the Roman Empire; it was considered an important item of commerce.
Garum was made by fermenting fish intestines with spices and herbs. After the proper degree of odor was obtained, the mixture was filtered and the liquid obtained was condensed to yield garum. Apparently, the process smelled so bad that some places required factories to be far-removed from towns.
However, the end product was extensively used to flavor various foods. There was even evidence found of the production of kosher garum. While fish intestines were the protein source fermented by the Romans, other civilizations (e.g., China) used other proteins like soy beans.
Over the centuries, garum production was abandoned and replaced with other fermented protein condiments. Ketchup, for example, a sweetened tomato based sauce, only dates back a couple of hundred years; and the most widely known brand, Heinz, 150 years.2
While the ingredients and taste of ketchup bare no resemblance to ancient garum or other fermented protein condiments, its widespread use on all manners of food is similar. One reporter, in fact, called garum antiquity find an "ancient ketchup factory."
Cosmetic Formula Complexity
Upon this discovery, I thought about it in comparison with cosmetics; to which I have dedicated my last 60 professional years. Garum (and ketchup) add enjoyment to your sense of taste, and cosmetics add enjoyment to your sense of sight. Both products have a history of use dating back through the millennia.
However, while garum/ketchup has remained relatively simple in its formula (i.e., < 10 ingredients), cosmetic formulas have expanded from simple formulas to highly complex ones, often with more than 50 different ingredients. This increase has not been gradual; it has exploded in the last 50 years. In my opinion, most of this increase is not the result of technological improvements but rather initiated by regulatory changes and marketing, with the major turning point being the introduction of required cosmetic ingredient labeling in the 1970s.3
See related: Words from Wiechers, Less is More
At that time, laws mandating cosmetic ingredient labeling were enacted in spite of strong opposition from the cosmetic industry. The industry claimed the ingredients and formulas were trade secrets resulting from highly technical and complex formulation studies. In anticipation of this requirement, and to harmonize the ingredient names to be used, the then-Cosmetics, Toiletries and Fragrances Association (CTFA), now Personal Care Products Council (PCPC), authorized the preparation of a cosmetic ingredient dictionary.
The first CTFA Cosmetic Dictionary was published in 1973, shortly before the U.S. Food and Drug Administration (FDA) published the proposed ingredient labeling requirement.4 The law did not become effective until 1977.3 The first dictionary was 253 pages long and listed 5,000 ingredients. This represents the best estimate of the number of cosmetic ingredients being used at that time. This dictionary is now more commonly referred to as the PCPC's International Nomenclature for Cosmetic Ingredients (INCI) Dictionary.
Over the last 47 years, new cosmetic ingredients have been added to the formulators' palette at an average rate of more than one new ingredient every day. This is a tribute to the creativity of cosmetic ingredient suppliers. 
While I have no definitive way of knowing how many ingredients were being used in cosmetic formulations before ingredient labeling became required, if we consider just beauty creams and lotions, my guess would be in the range of 15: water, 2-4 emulsifiers, 1-3 thickeners, 2-3 emollients, 2-4 preservatives, fragrance and 1-3 miscellaneous "actives." Once the ingredients were required to be on the label, however, I believe formulators made an effort to ensure they sounded more complex. This was assisted by ingredient suppliers as well as marketing, which required certain claims—and I, too, have been an active participant in this process.
Number of Ingredients
Below is an ingredient label from a skin cream I have arbitrarily taken from the internet. In terms of the number of ingredients, this is not unusual compared with many others that can be found. This one has > 45 different ingredients.
Ingredients: Aqua (Water/Eau), Glycerin, Butyrospermum Parkii (Shea) Butter, Cyclopentasiloxane, Steareth-21, Caprylic/Capric Triglyceride, C12-15 Alkyl Benzoate, Cyclohexasiloxane, Dimethicone, Steareth-2, Glyceryl Stearate, Cetearyl Alcohol, Polyacrylamide, Butylene Glycol, Alcohol Denat., C13-14 Isoparaffin, Phenoxyethanol, Dimethiconol, Caprylyl Glycol, Ascorbyl Glucoside, Laureth-7, Parfum (Fragrance), Propylene Glycol, Sodium Benzoate, Tocopheryl Acetate, Sodium Hyaluronate, Pentylene Glycol, Hibiscus Abelmoschus Extract, Ethylhexylglycerin, Retinyl Palmitate, Phyllanthus Emblica Fruit Extract, Hydrolyzed Rice Protein, Tetrasodium EDTA, Sorbitan Laurate, Panax Ginseng Root Extract, Carbomer, Dipropylene Glycol, Dimethylmethoxy Chromanol, Xanthan Gum, Polysorbate 20, Hydroxyethylcellulose, Acetyl Dipeptide-1 Cetyl Ester, Morus Alba Leaf Extract, Tocopherol, Palmitoyl Tripeptide-1, Palmitoyl Tetrapeptide-7.
The current online edition of the INCI Dictionary lists more than 22,600 ingredients (cross-referenced to 70,200 trade and technical names; and 4,919 suppliers located in 148 countries.5 Over the last 47 years, new cosmetic ingredients have been added to the formulators' palette at an average rate of more than one new ingredient every day. This is a tribute to the creativity of cosmetic ingredient suppliers. These ingredients have contributed to improving the quality and performance of products—but they cannot account for the explosive growth in the number of ingredients used in any one cosmetic formulation.
Having more ingredients to choose from does not mean you should use more of them in each product. After all, ketchup still uses about the same number of ingredients as it did 100 years ago, even though the FDA currently lists more than 4,000 ingredients that can be added to foods.6 It isn't that food scientists aren't developing new ketchup technology,7 but rather that listing many chemical names on a food label is not an incentive for consumers to buy the product. Apparently the opposite may be true with cosmetics.
Enter: 'Clean Beauty'
The recent trend for what is called "clean beauty" has turned some attention to this issue. However, I believe the real motivation behind "clean beauty" is environmental. By only farming or manufacturing ingredients that contribute to a product's functionality, we are saving resources and lowering pollution. There may also be unproven benefits of more beautiful skin (and hair) resulting from less exposure to unneeded ingredients.
See related: Simple and Safe, Formulating 'Clean Beauty' 
It is too early to predict whether "clean beauty" will reverse the formula ingredients explosion. I am not optimistic. Perhaps we need a more confrontational approach: a brand that asks consumers to count, on the label, the number of ingredients in their beauty creams and asks them if they really think 30, 40 or even more than 50 different ingredients need to be applied to their skin 2-3 times daily. That's far more ingredients than what's in a multivitamin tablet.
And have you ever made a food recipe with more than 30 different ingredients? Well, maybe if you are using an expensive new wave, multinational fusion cookbook. But even then, I bet you omit the ingredients to be added in very small quantities that you don't have in your pantry.
It is too early to predict whether 'clean beauty' will reverse the formula ingredients explosion. I am not optimistic. 
You can be sure that for a product that lists more than 30 ingredients, many of them will be used at well less than 1%; some at less than 0.1%. Evidence of real functionality at these concentrations is often lacking. To be clear, here, I am not implying these are unsafe—only that they are not needed.
A New Approach
As I expressed, what we need is a new brand that advertises, "None of our products contain more than 20 ingredients. Your skin deserves less." A couple of years ago, in a commentary in Cosmetics & Toiletries, I suggested limiting ingredient labeling only to "essential" information, with the complete ingredient disclosure available on a web site. My objective then was to simplify for the consumer information made available at the store shelf, yet have complete information available if desired. I had hoped it might start a discussion on ingredient labeling. It did not.
See related: Why We Should Shorten Cosmetic Ingredient Labeling
Perhaps I am approaching the issue from the wrong prospective. Unless it can be shown that applying too many different ingredients to the skin has a deleterious effect, maybe it is just an element of cosmetic hype that we should accept. But the scientist in me is not happy.
I like it that ketchup still tastes the same to me as it did when, as a child, I poured it on almost everything I ate. I feel reassured that many unnecessary ingredients have not been added. As a cosmetic scientist, I appreciate when new ingredients and technologies improve the products we make. However, I would feel better if we crafted them without unnecessary additions.
References
1. Laden, J. (2019, Dec 18). Ancient Roman garum factory discovered at Ashkelon, Biblical Archeological Society, Bible History Daily.
2. Heinz (accessed 2020, May 18). The Complete History of Heinz. https://www.heinz.com/Heinz-Timeline
3. FP&L Act [secs. 5(c) and 6(a); 15 U.S.C. 1454 and 1455] and FD&C Act [sec. 701(e); 21 U.S.C. 371(e).
4. Estrin, N.F. (1973). CTFA Cosmetic Dictionary. Cosmetics, Toiletries and Fragrances Association, Washington, D.C.
5. Personal Care Products Council (accessed May 18, 2020). wINCI web based ingredient dictionary. https://www.personalcarecouncil.org/science-safety/winci/
6. US FDA (accessed 2020, May 18). Food additives status list. https://www.fda.gov/food/food-additives-petitions/food-additive-status-list
7. Aoyama, et al. (2017, May 23). Tomato ketcup. http://patft.uspto.gov/netacgi/nph-Parser?Sect1=PTO1&Sect2=HITOFF&d=PALL&p=1&u=%2Fnetahtml%2FPTO%2Fsrchnum.htm&r=1&f=G&l=50&s1=9,655,379.PN.&OS=PN/9,655,379&RS=PN/9,655,379