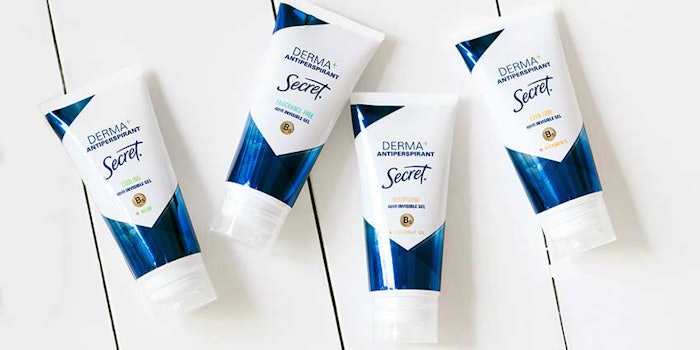 Business Wire
P&G's Secret brand introduces clinical-level sweat and odor protection with skin conditioners and a soft-touch applicator in its DERMA+ Antiperspirant. The antiperspirant is available in different formulas such as Cooling, Fragrance-free, Nourishing and Even Toning.
Related: Naturals, Zinc and Aluminum Safety in AP/Deo: Literature Findings
Secret DERMA+ Antiperspirant features ProVitamin B5 (INCI: Panthenol) and DERMA-Shield (INCI: Not Provided), a combination of skin conditioning ingredients. Filled in a squeezable tube, the antiperspirant conditions the skin to help prevent visible signs of underarm shave irritation such as redness, bumps, dry skin, nicks and discoloration, for healthier and smoother underarm skin.
According to the company, this formula has been "in the making" for a decade and was designed in response to women experiencing noticeable underarm shave irritation, as reported by research firm Fractal. This company noted that 60% of women want skin care benefits in their antiperspirant and deodorant products. Reports such as these and other consumer research drove Secret's ambition to create underarm care by combining sweat and odor protection with skin-friendly ingredients such as coconut oil, aloe and vitamin C.
The product's squeeze tube packaging is different from the standard deodorant stick and has a rounded, soft-touch applicator to minimize friction points against the skin and make the application experience "as smooth as the formula itself." To apply, users simply give the tube a light squeeze and apply it to their underarms.
Previously: A Closer Look at P&G's Paper Deodorant Packaging
"Visibly healthier, smoother underarm skin is at the heart of Secret DERMA+ Antiperspirant's innovation," said Nilima Shenai, senior director of global antiperspirants and deodorants R&D at P&G. "In collaboration with female dermatologists, our team designed a new formula, application and experience that addresses women's underarm skin care needs while still delivering the sweat and odor protection."
"We talked to hundreds of women of color who also want a solution for underarm skin discoloration," shared Maiysha Jones, Ph.D., senior scientist at Procter & Gamble. "Secret DERMA+ Antiperspirant provides clinical-level sweat and odor protection as it was designed to visibly improve skin health and promote visibly even skin tone."
Secret DERMA+ Antiperspirant is accredited by the Skin Health Alliance, a global organization of independent dermatologists and skin scientists who have verified the product as safe and effective.
Ingredients (Secret DERMA+ Antiperspirant, Nourishing): Active ingredients: Aluminum Zirconium Octachlorohydrex Gly (20.0%); Inactive ingredients: Water (Aqua), Cyclopentasiloxane, Dimethicone, Propylene Glycol, Calcium Chloride, Petrolatum, PEG/PPG-18/18 Dimethicone, Dimethiconol, Fragrance (Parfum), Cocos Nucifera (Coconut) Oil, Panthenyl Triacetate.
Featured: Mind Your Microbes: Gentle Malodor Protection Supports the Axillary Microbiome