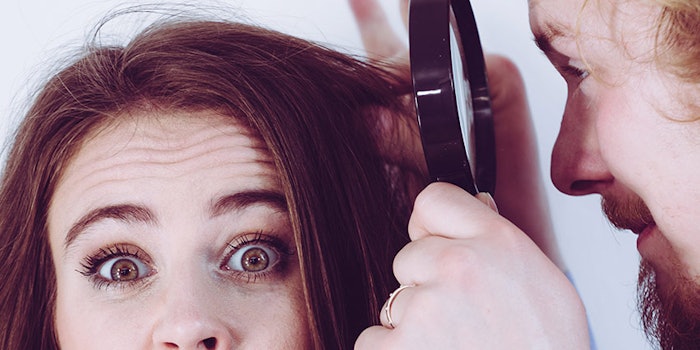 Read this article in its entirety in the June 2020 digital edition. . .
The global shampoo and conditioner market, of all the cosmetic sectors, has experienced some of the greatest growth in recent years. These hair cosmetics are mixtures intended to contact the hair and scalp for the purposes of cleansing, altering appearance, styling, protecting, imparting pleasant sensory experiences, and above all, maintaining hair and scalp in good condition. While most benefits of hair protection are evident, the role of the scalp as an incubating environment for emerging hair fibers has often been overlooked. Indeed, a good amount of epidemiological data on dermatological problems of the scalp provides evidence of its role and condition in supporting the development and maintenance of healthy hair.1
There are a great number of variables to take into account on this body site, which makes formulating products a real challenge and requires continuous research. Furthermore, numerous product types may be developed, including topical hair growth stimulants, photo-protectors and anti-aging compounds. However, today's advances in molecular technologies provide a means to study the molecular basis of hair growth and its deviations, as well as of the scalp aging process.2
The industry also has witnessed a surge in multi-step skin care rituals, and this approach could be adopted in the hair care market with special focus on scalp regimens. Additionally, new studies are evaluating the effects of UV rays and pollution on the scalp, as well as the composition of the scalp microbiome in both healthy and compromised conditions.
This column is focused on the scalp. It considers the biological characteristics of this specialized body site, then describes formulating approaches for scalp treatment products.
Scalp Hygiene, Conditions and Actives
To start with the basics, the scalp is the anatomical area bordered by the face at the front and by the neck at the sides and back. It is characterized by an unusually high density of terminal hair growth with numerous sebaceous glands. These contribute to a specific micro-environment, with significant differences from other districts of the skin.
The scalp is a rich environment for microbes. Ecologically, sebaceous skin areas are richer in microbial species than drier skin areas, with implications involving both skin physiology and pathological conditions.3 More specifically, dandruff and seborrheic dermatitis, psoriasis, atopic dermatitis and ultimately alopecia represent pathological conditions—in which, importantly, oxidative stress is commonly detected.4
Surely, the basic prerequisite for healthy hair is the maintenance of a healthy scalp. An irritated and itchy scalp is often negatively associated with hair quality, as the root is anchored inside the scalp. Several factors can affect the physiological function of the scalp: beauty and cleansing rituals such as shampooing, bleaching, dyeing; the environment, including UV rays, urban pollution, etc.; and even physiological stress. Unpleasant conditions on the scalp, such as burning, itching, dryness, erythema and other inflammatory reactions, can also negatively impact hair appearance, making it frizzy, thin and fragile, with a consequent loss in smoothness and shine.5-10
A good hygiene routine is necessary in order to remove dead scalp cells and any unwanted materials that have accumulated on the hair and scalp surface, which will correct any unpleasant odors and reduce the bacterial and mycotic flora. Although studies of the skin microbiome represent a new emerging science in cosmetics, and have identified new solutions to skin problems, publications on the microbiome composition of the scalp are still very limited and mainly related to the role of scalp microbiome in dandruff.11
If nothing else, one thing that is known about the influence of cleansing routines on the scalp microbiome is that effective shampoo treatments manage hair and scalp disequilibrium conditions. Dandruff and seborrheic dermatitis, psoriasis and atopic dermatitis of the head-and-neck type frequently take advantage of the combination of salicylic acid and piroctone olamine. Furthermore, in numerous studies, the least common denominator seems controlling Malassezia spp. levels on the scalp.12
The use of piroctone olamine apparently remains unaffected by new safety restrictions or classifications. On the contrary, the limits for use on salicylic acid, which is an ingredient classified as a CMR2 in the EU, have recently been reviewed. As a consequence, it has been introduced to various famous black lists as a "problem" ingredient since many companies are unlikely to use it in order to avoid consumer rejection. As the possible alternative, triclosan or others, which are frequently included on the same lists, are being researched.
Tannins are another consideration. These water-soluble polyphenols are commonly found in higher herbaceous and woody plants, and they are generally recognized as safe (GRAS) food additives.13 As might be expected, tannins extracted from different plant species have specific physical and chemical properties. One of these is antimicrobial activity; tannins have positive effects on different bacterial strains. Such antibacterial activities of tannins have been evaluated in vitro and interesting MIC values against fungi, bacteria or yeasts have been found.14
Saponins and sapogenins also have bioactivity for cosmetic formulations, with claims related to delaying skin aging and preventing acne. Oleanolic acid, one of the most common triterpene saponins' aglycone, has been reported to possess anti-viral (anti-HIV), anti-inflammatory, liver-protective, anti-ulcer and antibacterial activity. The same properties have been demonstrated for betulinic acid and its derivatives.15, 16 And, in the absurd world of homemade cosmetics, there are even reports that "applying aspirin mixed with shampoo to your scalp may help reduce the scalp inflammation that causes dandruff and may help exfoliate flakes on the skin."17
Scalp Treatments and Care
Returning to the serious aspects of scalp health, recent dermocosmetic developments include cleansers as well as topical hair growth stimulants, hair and scalp photo-protectors, and anti-aging compounds. And, just as serums have become the fulcrum of face care, since they efficiently deliver high concentrations of ingredients for healthy facial skin, scalp serums could do the same.
Gel for damaged scalp: There are already a number of hair serums on the market containing minerals, vitamins, plant extracts and proteins to improve microcirculation in the scalp and promote healthy hair growth. Formula 1 provides a general example although here, a gelled solution is obtained thanks to a polymer characterized by a silicone touch so as not to load the hair. In order to restore damaged scalp skin and impart hair benefits, the formula is enriched with the following active ingredients:
Creatine to improve the volume and appearance of damaged hair;
Niacinamide and asiaticoside, which regulate blood circulation and activate oxygen transport to hair follicles, in turn improving hair growth;
Oryza sativa (rice) seed protein, to protect hair from oxidative damage generated by solar radiation. This property is also supported by antioxidant ingredients hydroxytyrosol, tocotrienol, tocopherol and ascorbyl palmitate.
In addition, hair restoration and conditioning activities are enhanced by the presence of polyquaternium-55. This cationic conditioner is an excellent heat- and color fade-protectant, with good film-forming properties.
Scalp care oil: In case of dry scalp skin, it is now relatively easy to find lightweight hair oils to nourish hair and scalp while also providing protection from oxidative stress, photo-aging, keratin depletion and environmental aggressors. Formula 2 provides an example. This oil is indicated for all types of skin scalp. The formula imparts nutrition without making the hair greasy and sticky. It is also suitable for daily applications.
This formula is mainly made of vegetable oils such as sunflower, wheat germ, almond and argan, which are also used in skin care treatments to restore dryness. The presence of volatile/light hydrocarbons helps to give it a drier feel and to decrease the heavier feel of oils.
Scalp exfoliant: Parallel to what happens skin, regular exfoliation of the scalp is key to keeping this skin active and functional. Exfoliation of the scalp prevents the accumulation of residues and impurities and prevents dandruff, which can obstruct the hair follicles and cause itching. Moreover, it keeps sebum production under control.
. . .Read more in the June 2020 digital edition. . .
References
Schwartz, J.R., Henry, J.P., ... Redman-Furey, N., et al. (2018). Incubatory environment of the scalp impacts pre-emergent hair to affect post-emergent hair cuticle integrity. J Cosmet Dermatol 17 105-11.
Baratto, G., Caviola, E., ... Pieraccini, S., et al. (2018, Dec). Hair strengthening evaluation of anisotropic osmolite solutions (inositol + arginine): Cross-talk between dermal papilla fibroblast and keratinocytes of the outer root sheath using a µhair follicle 3D model. Cosmetics 5(4) 56.
Reichel, M., Heisig, P. and Kampf, G. (2011). Identification of variables for aerobic bacterial density at clinically relevant skin sites. J Hosp Infect 78 5-10.
Bickers, D.R. and Athar, M. (2006). Oxidative stress in the pathogenesis of skin disease. J Invest Dermatol 126 2565-75.
Piérard-Franchimont, C., Xhauflaire-Uhoda, E., Loussouarn, G., Saint Léger, D. and Piérard, G.E. (2006). Dandruff-associated smouldering alopecia: A chronobiological assessment over 5 years. Clin Exp Dermatol 31 23-6.
Piérard-Franchimont, C., Xhauflaire-Uhoda, E. and Piérard, G.E. (2006). Revisiting dandruff. Int J Cosmet Sci 28 311-8.
Pitney, L., Weedon, D. and Pitney, M. (2016). Is seborrhoeic dermatitis associated with a diffuse, low-grade folliculitis and progressive cicatricial alopecia? Australas J Dermatol 57 e105.
Kim, K.S., Shin, M.K., Ahn, J.J., Haw, C.R. and Park, H.K. (2011). Investigation of hair shaft in seborrheic dermatitis using atomic force microscopy. Skin Res Technol 17 288-94.
Kim, K.S., Shin, M.K., ... Park, H.K., et al. (2012). Effects of atopic dermatitis on the morphology and water content of scalp hair. Microsc Res Tech 75 620-5.
Kim, K.S., Shin, M.K., Ahn, J.J., Haw, C.R. and Park, H.K. (2013). A comparative study of hair shafts in scalp psoriasis and seborrheic dermatitis using atomic force microscopy. Skin Res Technol 19 60-4.
Rinaldi, F., Pinto, D., ... Giuliani, G., et al. (2018) Human microbiome: What's new in scalp diseases. J Transl Sci 4.
Trueb, R.M., Henry, J.P., Davis, M.G. and Schwartz, J.R. Scalp condition impacts hair growth and retention via oxidative stress. Int J Trichol 10 262-70.
Chung, K.T., Lu, Z. and Chou, M.W. (1998). Mechanism of inhibition of tannic acid and related compounds on the growth of intestinal bacteria. Food Chem Toxicol 36 1053-1060.
Scalbert, A. (1991). Antimicrobial properties of tannins. Phytochem 30 3875-3883.
Rigano, L., Lionetti, N. and Otero, R. (2009, Nov). Quillaja triterpenic saponins can act as a natural emulsifier and dispersing agent to offer a real alternative to synthetic surfactants. SPC 82(11).
Rigano, L., Bonfigli, A. and Walther, R. (2012). Bioactivity evaluations of Quillaja saponaria (soap bark tree) saponins in skin and scalp sebaceous imbalances. SÖFW 138 3-2012.
Mencel, A. (2014, Jul 29). 5 Surprising Uses for Aspirin.