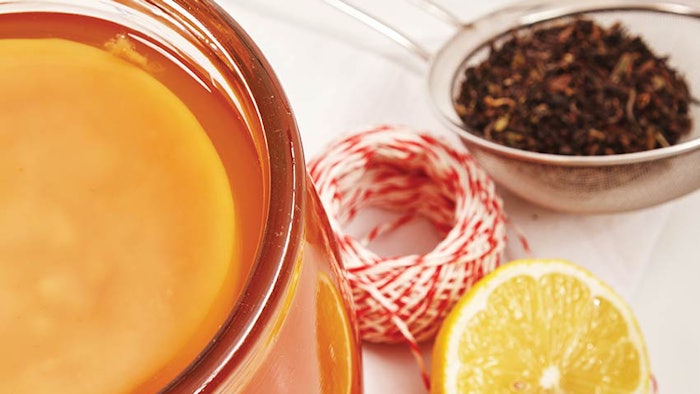 The ancients have gifted us with the knowledge of fermentation, which has brought us beer, wine, bread, kimchi, yogurt and more.1 Kombucha is another example; this fermented drink, often created using black or green tea, according to WebMD,2 has been around for nearly 2,000 years.
Kombucha originated in Northeast China around 220 B.C. and was initially prized for its healing properties. According to a report in Forbes, the drink's name may have derived from a Korean physician, Dr. Kombu, who brought the fermented tea to Japan as a curative for Emperor Inkyo.3 Others attribute it to the incorrect use of the Japanese words kombucha or kobucha, i.e., "tea made from kelp," by English speakers who confused the drink for seaweed due to the appearance of the thick film of bacterial culture on it.4
Kombucha reached Europe with trade route expansions in the early 20th century, notably appearing in Russia as kambucha and Germany as kombuchaschwamm.3 It has gained more recent popularity in the United States thanks to its reputation as a health and energy drink;2 although initial interest may have inadvertently been sparked due to its misregulation as an alcoholic beverage, landing it amidst scandal in 2010.2
Kombucha Contents
The basic ingredients in kombucha are yeast, sugar and typically black or green tea, which are mixed and set aside for a week or more during which bacteria and acids form on top in the process of fermentation. The symbiotic colony of bacteria and yeast (SCOBY) produced can be used to ferment more kombucha.2
The microbial populations in a SCOBY vary, Wikipedia reports. The yeast generally includes Saccharomyces cerevisiae, among other species, and the bacteria almost always includes Gluconacetobacter xylinus, which oxidizes yeast-produced alcohols to acetic and other acids. The sugar in the drink serves as a nutrient for the SCOBY to support the bacterial growth. The resulting kombucha typically contains B vitamins and lactic acid bacteria, the latter of which acts as a probiotic.2
Reported benefits of orally administered kombucha include aiding digestion, removing toxins from the body, boosting energy and the immune system, and encouraging weight loss; as well as staving off high blood pressure and heart disease and even preventing cancer; although WebMD reports there is little evidence to support these claims. Kombucha's digestive benefits are attributed to the probiotics created via fermentation, which aid diarrhea and irritable bowel syndrome (IBS) and may strengthen the immune system.2 Green tea-based kombucha, in particular, is also rich in bioactive compounds such as polyphenols that act as antioxidants and can reduce inflammation in the body5—as do green coffee and Yerba Mate kombucha, which are described below.
Skin Care Applications
Kombucha is said to support glowing skin; the ingredient has been highlighted in European and Chinese skin care products with brightening and shine claims. In relation, one U.S. skin care serum described kombucha as "a natural ingredient well-known for its brightening properties [that] helps to reduce sallow undertones in the skin."6 Another product features the ingredient to protect skin against air pollution, and make skin luminous as well as smooth;7 the ingredient also has been referenced as a skin-conditioning and anti-aging agent by at least one cosmetic raw material supplier.8,9
Continue reading about the skin benefits of avocado in the Skin Inc. Digital Magazine...