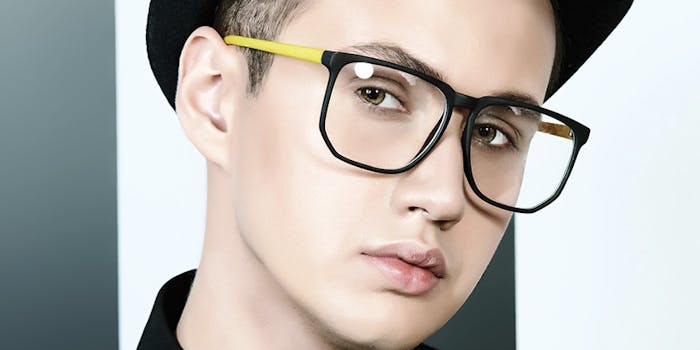 To some, male cosmetics appear to clash with conventional norms. Yet, cosmetics are used to enhance the beauty of a person, protect them from the environment, cleanse their skin and hair, hide blemishes, make them more attractive and, ultimately, boost their confidence. Thus, cosmetics, per se, do not differentiate between users; humans do.
The Financial Times reported1 in 2017 that the male cosmetics market, including moisturizers, pomades, hair removal products, concealers and more, is growing; although positioned more as an extension of the US$50 billion male grooming market. However, Mintel pointed out in a recent blog:2 "As the world strives for greater gender equality, the case for male makeup is gaining momentum."
Interestingly, the history of male cosmetics is a long one, which makes it surprising that the market is slow in accepting it as a norm, and instead treats it as a relatively new concept. The present article therefore provides some examples of male cosmetics from history. It also gives an update on today's male cosmetics, including essentials to the South Korean beauty regime and favorites from the European and American commercial markets.
Beauty, B.C.
While primitive men colored themselves to terrify enemies, particularly animals, the earliest records of men using cosmetics are in Egypt. Ancient Egyptians (circa 10,000 B.C.) are believed to have used oils and animal fats to protect their skin from the harsh heat, light and wind on the Nile River delta. These topicals would also be used to soothe aching muscles—in fact, employers commonly included them as part of a worker's compensation.3
In some cases, primitive scented moisturizers pressed into thick lotions were a part of an Egyptian man's health and hygiene regimen. Egyptian men also applied heavy eyeliner functionally, to help reduce the sun's glare and improve eyesight,4 as well as fashionably—e.g., upper class men were known to adorn their eyes with thick kohl liner, extending beyond the eyelids to the temples. This was in vogue during the New Kingdom when, interestingly, black replaced green as the shade of choice.5 In the Old Kingdom (2,650–2,134 B.C.), fashion had called for a crude emerald eye shadow made of malachite (copper carbonate). Both men and women also commonly used red ochre and henna to dye their lips, cheeks and fingernails.6
In 3,000 B.C., in China and Japan, both men and women applied tinctures of gum arabic, gelatin and egg to stain their fingernails, signifying their status in society.7 Much later, Roman men also were known to have painted their heads to disguise premature baldness.7
18th Century Cosmetics
In 18th century England and France, long, curled powdered wigs, white makeup, rouge and silk stockings were all key to maintaining a powerful appearance in aristocratic circles. These elaborate fashions were worn by kings, dukes and nobles—the most powerful men in society.8
Cinema Makes its Mark
A turning point in male cosmetics came with the arrival of the cinema. A side-parted Clark Gable in the 1930s film "Gone with the Wind" encouraged young males to take pride in their appearance. Elvis Presley and James Dean in the 1950s were rarely featured in films without a comb and grease to fix their hair. Advertisers quickly cashed in on this, and male-specific branding emerged, bolstering the male side of the cosmetics industry.7
This was arguably the beginning of modern men using cosmetic products, but it did not become the centerpiece of the male appearance until the 1970s, when pop culture was in vogue.9 Makeup was still feminized, however, so little attention was drawn—despite the fact that men were wearing cosmetics.9
Grooming Guise
Twenty years ago, for many men, it still would have been socially uncomfortable to buy under-eye concealer for the women in their lives, let alone themselves. Yet, at that time, market analysts valued the male grooming market in the United Kingdom alone at £1 billion, which included mascara, eye liner, bronzing powder, lipstick, tinted moisturizer, mattifying gel and concealer for men.10 In fact, in 2008, Yves-Saint Laurent launched a men's version of its Touche Éclat concealer.11 The difference was: men were adopting the use of these skin care products as a part of the grooming category, rather than considering them makeup. Today, attitudes are changing toward male cosmetics, albeit slowly.
Initially, men were adopting the use of skin care products as a part of grooming rather than considering them makeup.
South Korean Early Adopters
Besides being a powerhouse for cosmetic innovation in general, South Korea is regarded as the male makeup capital of the world, registering the highest sales in male cosmetics.12 Eager to achieve a beautiful, smooth complexion, South Korean men are increasingly turning to BB cream foundations and anti-aging products, and are spending $900 million per year on cosmetics, according to Euromonitor.13–15 In fact, South Korean men spent US $25.30 per capita on skin care in 2013—more than three times that of Denmark, the runner-up. Asian countries account for five of the top 10 countries in per capita-spending on male cosmetics.16 This is driven in part by a consumer attitude toward appearance; per Datamonitor, 54% of Asian males believe their look and appearance is important, compared with just 44% in Western Europe.
A Day in the Life
How might a typical 30-year-old South Korean male incorporate beauty care in his daily routine? He starts with meticulous efforts to perfect his face by applying toner, serum, moisturizing lotion, eye cream, facial oil and sunscreen.17 Then he puts on foundation and lip gloss for a brighter appearance, while using mascara to make his eyebrows appear thicker.
"The most important thing is to look natural so that others don't know you've put on makeup."18–20 Indeed, the first rule of men's makeup is you do not talk about makeup. This is because the word still holds a connotation that can be negative for men, who want skin care, toiletries and grooming products to retain a sense of "manliness."
Next, when he leaves home, the male cosmetic consumer carries a discreet pouch containing cosmetic aids—including vitamin oil and powder—to maintain his appearance throughout the day. At the end of his day, he undertakes a cleansing and moisturizing routine before bed.
The recent transformation of South Korean men from "macho to makeup" has, in part, been propelled by competition for jobs. As the BBC explained,21 a few years ago, an advertisement rolled out stating, "Your appearance is also your strategy"—meaning grooming yourself is a reflection of your competency and part of your value as a complete package. It gives you a competitive edge.22, 23
This driver is illustrated in the male skin care market in South Korea, which, despite world economic difficulties, grew 10% in 2012 per Euromonitor data.24, 25 The country's biggest cosmetics company, AmorePacific, estimates that growth is now even higher.
Must-have Male Cosmetics
According to consumer sources, the following are South Korean men's basic must-have cosmetic skin care products.26, 27
BB cream: Blemish balm, or BB cream, was originally formulated as a post-operation cream to help fire and burn victims and patients having undergone laser skin surgery.28 It aims to soothe and regenerate the skin while masking imperfections.
These products act like a tinted moisturizer can be seen as superior to foundation because they are lighter on the skin. Not only that, they serve as a makeup base, providing skin care benefits along with adequate coverage and protection from the sun; as a plus, they are also great for those living in tropical countries, thanks to their light format.
Facial mist: To keep the skin hydrated, this product is handy for a quick refresh during hot and humid days.
Luminizer or highlighter: For a porcelain-like, dewy look, these products impart a "baby face" appearance, which is a current trend in Korea.29
Facial mask: Used at the end of a nightly skin care routine, facial masks "seal in" all of the products used. Facial masks are offered in a wide variety, containing different extracts for various skin concerns or types. This is another product that hydrates the skin, leaving it feeling fresh and glowing.
The recent transformation of South Korean men from 'macho to makeup' has, in part, been propelled by competition for jobs.
Male Cosmetics Today
According to Mintel,2 as the world strives for gender equality, the case for male makeup is gaining momentum. Its emergence has also been boosted by social media, YouTube and beauty bloggers. In fact, male beauty influencers are drawing millions of followers, and are showcasing professional skills and creativity. As such, the industry is beginning to respond with a more relaxed attitude toward men wearing makeup.
For example, in the United States, Covergirl and Maybelline have appointed their first male brand ambassadors, James Charles and Manny Gutierrez, respectively.2 Snapchat also embraced the male makeup trend by launching a Discover channel called "Boy Beauty" in January 2017—a platform designed for male beauty bloggers to engage with Snapchat users about beauty care.
In Europe: In October 2016, the United Kingdom-based Independent reported30 on the "10 Best Men's Skincare Products." These included:
1. Neal's Yard Vitamin E and Avocado Night Cream, to nourish and soothe all skin types. It is said to "pack a punch" with vitamins and minerals;
2. Nivea Men Active Energy Fresh Look Face Wash Gel, designed to "replenish weather-worn skin";
3. Lavera Men Sensitive Smooth Shaving Foam, to soothe razor aggravation in already-stressed skin using organic vegetable ingredients such as bamboo and aloe vera;
4. Malin + Goetz Mojito Lip Balm, inspired by a favorite cocktail and offering both "style and substance" to keep the "chops" perfectly hydrated;
5. ClarinsMen Active Hand Care—a non-oily formula touting nutrient-rich bison grass, ginger and purslane. The product is described as leaving the hands plumped with a healthy shine since, "In many professions, a good handshake is key";
6. Kiehl's Age Defender Eye Repair for lifting, anti-wrinkle and dark circle benefits. The product utilizes rye seed extract to firm and smooth skin, along with omega 3-rich linseed extract and caffeine, which reduces puffiness;
7. Dr. Jackson's Face Oil, whose brand story portrays the adventurer/traveler, collecting natural ingredients for use in skin and hair care. The product also scored points for the simple, amber glass dropper bottle;
8. Aesop Elemental Facial Barrier Cream, to rejuvenate dry skin with essential oils and extracts. The cream is positioned for individuals who spend time outdoors, skiing and hiking;
9. Algenist Perfect Clarifying Pore Corrector Mask, with its reddish-brown color and clay texture, touting skin regenerating qualities from alga; and
10. Colbert MD Stimulate Serum, to stimulate new cell growth and reverse the effects of free radicals from external assaults such as smoking and car exhaust.
In the United States: In 2016, United States-based InStyle magazine described31 "Men's Makeup So Glorious, You'll Have to Check it Our for Yourself." Products listed were:
1. DTRT Boys Be Bold BB Cream, with a sheer tint providing an "extra armor" of SPF 25;
2. Tom Ford Concealer for Men, a stick designed to conceal blemishes or razor nicks;
3. The Brant Brothers for M•A•C Clear Brow Set, a clear styling gel in a tube and brush format, which is swiped onto the brows for a groomed look;
4. Clinique for Men Face Bronzer, delivering a natural back-from-the-beach glow;
5. Minerals Black Tie Lip and Cheek Balm, a cream compact that adds a subtle "whisper" of color; and
6. Evolution Man Pure Matte Nail Varnish, a completely translucent nail polish to impart a clean, refined appearance.
Conclusions
It seems that cosmetics really are for anyone. Preference, choice and use may be segmented into different categories but the main purpose of cosmetics will remain unchanged: to enhance the confidence of the user.
References
All websites accessed on Aug. 8, 2018.
ft.com/content/825e520c-c798-11e6-8f29-9445cac8966f2.
mintel.com/blog/beauty-market-news/male-beauty-gains-momentum
beautifulwithbrains.com/beauty-history-cosmetics-in-ancient-egypt/
ancientpages.com/2016/05/09/ancient-egyptian-men-used-eye-makeup-many-reasons/
blogs.discovermagazine.com/bodyhorrors/2012/04/20/ophthalmology-of-the-pharaohs/
purchasereq.tripod.com/id9.html
charlottetilbury.com/uk/blog/2013/04/a-short-history-of-men-and-make-up/
demodecouture.com/hairstyles-cosmetics-18th-century/
lifehacker.com/the-beauty-products-
men-should-try-1825387495
wsj.com/articles/more-men-are-wearing-makeup-than-you-thinkheres-why-1523626771
theconversation.com/why-more-men-are-wearing-makeup-than-ever-before-88347
mazurgroupla.com/south-korea-the-male-makeup-capital-of-the-world/
forbes.com/sites/thecut/2016/09/09/whats-next-in-korean-beauty/#493cba9314ad
blog.euromonitor.com/2015/05/asian-shades-of-skin-care.html
wsj.com/articles/in-asia-mens-skin-care-takes-off-1401320768
books.google.co.in/books?id=cVIMCgAAQBAJ
peachandlily.com/blogs/news/50557765-korean-regimen-kit-step-by-step-normal-skin
cbc.ca/news/world/korean-men-makeup-cosmetics-mainstream-1.4552761
telegraph.co.uk/men/thinking-man/should-men-be-embarrassed-about-wearing-makeup/
smh.com.au/business/south-korean-men-are-wearing-makeup-and-its-serious-business-20161228-gtivin.html
bbc.com/news/magazine-20522028
cs4160-charmian.blogspot.com/
bbc.com/news/av/world-asia-42869170/male-make-up-korean-men-have-started-a-beauty-revolution
blog.euromonitor.com/2013/06/south-korea-largest-market-for-mens-skin-care-globally.html
fungglobalretailtech.com/research/deep-dive-global-male-grooming-market/
nylonpink.tv/korean-cosmetics-for-men/
projectvanity.com/projectvanity/male-kbeauty
m.korea.net/english/NewsFocus/Culture/view?pageIndex=1&articleId=121626
vogue.com.au/beauty/skin/glass-skin-is-koreas-newest-skincare-obsession/news-story/b174abbbba430a2b655b56959f0d61f9?
independent.co.uk/extras/indybest/fashion-beauty/best-mens-skincare-products-9683927.html
instyle.com/beauty/makeup-men-beauty-products