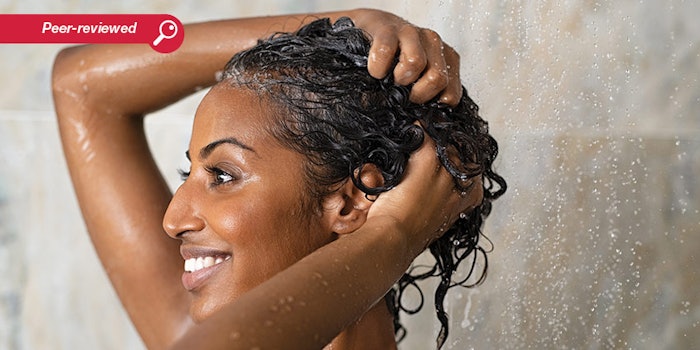 Read the full article in the February 2021 digital edition. . .
The textured hair care market is booming in the United States thanks in part to a movement in the African-American community fueling its growth: beauty fans are going back to basics and wearing their hair in its natural state.1 More specifically, this movement is associated with wearing afro-textured hair in its coiled, kinky or tight curly conformation.2
In addition, African-American individuals spend more of their disposable income on hair and beauty aids than other ethnic groups.3 The relative youth and increasing buying power of the African-American community is also expanding the influence of these customers—and African-American women, in particular, are spending more on hair care than ever before.
In parallel with the natural beauty trend, which continues to take hold, consumers are fully embracing their natural hair.4 And as those with curly or kinky hair increasingly see the beauty inherent in their hair, the use of harsh hair relaxer chemicals has decreased in popularity.5 These individuals are instead adopting maintenance habits and styles to achieve healthier hair as well as the desired look. For example, to maintain and beautify natural curls, textured hair care customers seek gentle and botanical-based products such as shea butter, olive oil or jojoba oil to enhance the healthy look of their hair.6
As is well-known, the structure of textured hair types, e.g., curly, coily and kinky, is quite different from straight hair. The curlier the hair, the higher the density; yet, while the hair appears increasingly robust, in fact the opposite is the case—it is increasingly susceptible to damage and breakage. This is due in part to the curled shape of the hair limiting the ability of sebum to migrate along the hair shaft to the tips to prevent the cuticle from being roughened. This leads to the hair feeling dryer and breaking more easily. Textured hair is also finer, thinner and more porous.7
Building a good hair care regimen is therefore key to healthy textured hair, and the goal from the consumer's perspective is to increase the sense of moisturization so hair feels softer while also decreasing damage and breakage. To prevent excessive dryness, for example, some curly-haired community sources and other experts recommend that textured hair be washed with shampoo only every 1-2 weeks.8 It also is recommended that conditioner be used instead of conventional shampoo, as it contains fewer surfactants and thus is milder to textured hair.9 Co-washing, i.e., conditioner-only washing,10 is also a gentle way to condition and cleanse the hair in one step, which makes the hair softer and less prone to breakage while defining curls.11
Furthermore, it is suggested by formulators and other experts12 that for textured hair, conditioner should be applied after every hair washing to smooth the cuticle, which prevents breakage and infuse textured hair with intense conditioning and moisturizing ingredients.13 And since textured hair is more prone to dryness, frizz and breakage, treatment with nutritive substances such as deep conditioning hair masks or leave-in products including natural oils or butters can lock in moisture and make the hair softer.13 When it comes to styling naturally curly and textured hair, definition and softness without frizz are desired, which can be achieved by products such as texture-defining butters, styling waxes or setting mists.
Hair product consumers in general expect products to address the needs of their given hair texture, specific hair issues and styling choices.14 This opens up excellent opportunities for the cosmetics industry since, to date, products for textured hair have made up only a small part of the global cosmetics market. In relation, formulators are charged with developing suitable formulations to meet these specific requirements.
The present discussion is focused on the sufficient preservation of these specialized products, which present unique considerations, e.g., based on their composition and pH values. Certain formula components are particularly prevalent in products for textured hair and require higher concentrations of antimicrobial actives. These include ethoxylated emulsifiers, natural oils or ester oils, which are used in styling products including ringing gels or styling waxes.
To illustrate the challenges of these materials, we must step back for a moment. Consider that a preservative is generally added to a cosmetic product to protect the water phase, which is particularly susceptible to microbial spoilage. Due to the structural properties of the preservative's molecules, however,it dispenses within the product and is therefore not only available in the water phase, but is also diffused into the oil phase. Just how much of that preservative is available in the water phase depends on the various components of the emulsion, such as the emulsifiers and oils (e.g., natural oil, ester oils). Depending on the structure and concentration of the emulsifier, it can form micelles in which the preserving molecules are trapped and therefore no longer actively available to preserve the formulation.
In formulations designed for textured hair, as noted, high amounts of ethoxylated emulsifier are used, and it can be assumed that a considerable amount of the preservative is enclosed in the micelles formed by the emulsifier. As a result, there is also less preservative available to protect the water phase, mandating higher usage levels.
In addition, parts of the preservative can migrate into the oil phase, and just how much diffuses into this phase depends on the oils used and their quantities. Therefore, once again, a higher amount of preservative is necessary to protect the cosmetic product. Considering these dynamics, the current study aimed to identify the optimal antimicrobial stabilization or preservation systems for a variety of different types of textured hair-specific products.
. . .Read more in the February 2021 digital edition. . .
References
Fashion Network (2017). Relaxer sales fall but Black haircare market is booming, thanks to natural hair movement. Available at: https://ww.fashionnetwork.com/news/Relaxer-sales-fall-but-black-haircare-market-is-booming-thanks-to-natural-hair-movement,870603.html
Wikipedia (Accessed 2021, Jan 8). Natural hair movement. Available at: https://en.wikipedia.org/wiki/Natural_hair_movement
Mintel (Accessed 2021, Jan). Market size. Available (with login) at: https://clients.mintel.com/report/new-approaches-to-black-haircare#workspace_SpacesStore_2a156ef1-b3a7-42d5-9c82-85091f0664b3
Mintel (2018, Oct 9). Naturally confident: More than half of the black women say their hair makes them feel beautiful. Available at: https://www.mintel.com/press-centre/beauty-and-personal-care/naturally-confident-more-than-half-of-black-women-say-their-hair-makes-them-feel-beautiful
Mintel (2013, Sep 5). Hair relaxer sales decline 26% over the past five years. Available at: https://www.mintel.com/press-centre/beauty-and-personal-care/hairstyle-trends-hair-relaxer-sales-decline
Saunders, N. (2020, Jun 29). Keep natural hair healthy and hydrated with these 25 expert-approved products. Available at: https://us.cnn.com/2020/06/29/cnn-underscored/how-to-get-healthy-hair/index.html
Davis-Sivasothy, A. (2011). In: The Science of Black Hair: A Comprehensive Guide to Textured Hair Care. Saja Publishing Co., Stafford, TX, USA.
Perkins, S. (Accessed 2021, Jan 8). How often should you wash your hair? Available at: https://www.naturallycurly.com/curlreading/wavy-hair-type-2/curlies-how-often-should-you-wash-your-hair
ThatSister.com (Accessed 2021, Jan 8). How to co-wash natural Black hair, what that means and should you do it? Available at: https://www.thatsister.com/co-wash-natural-black-hair-means/
NaturallyCurly (Accessed 2021, Jan 8). Type 2: Wavy hair. Available at: https://www.naturallycurly.com/hair-types/wavy
Siclait, A. (2020, Jun 23). 12 curl-loving deep conditioners that'll breathe life (and shine) back into natural hair. Available at: https://www.womenshealthmag.com/beauty/g32873194/best-deep-conditioner-for-natural-hair
American Academy of Dermatology (Accessed 2021, Jan 8). African American hair: Tips for everyday care. Available at: https://www.aad.org/public/everyday-care/hair-scalp-care/hair/care-african-american
Ibid Ref 6
Breyer, M. (2018, Mar 1). The holy grail of textured hair care. Available at: https://www.gcimagazine.com/marketstrends/segments/hair/The-Holy-Grail-of-Textured-Hair-Care-475582163.html