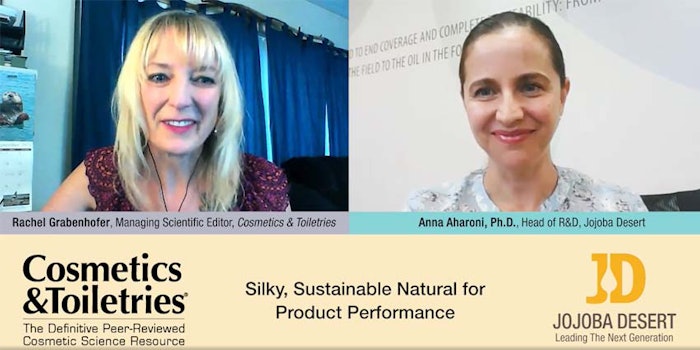 This video is sponsored by:
Jojoba Desert
In this video interview, sponsored by Jojoba Desert, Anna Aharoni, Ph.D., head of R&D for the company, describes the current market challenge of replacing traditional cosmetic ingredients with natural and sustainable alternatives.
"Natural products that combine excellent quality and sustainability are in high demand with self-educated consumers," said Aharoni. "Recently, surveys showed that almost 50% of consumers will always prefer a natural product that is also kind to the environment."
She added that as such, cosmetic manufacturers and formulators are constantly seeking natural and natural-derived raw materials that provide the desired effect, advanced sensory performance and also meet consumers' demand for clean and safe beauty. 
In response, Jojoba Desert has launched JD Lusteris, a premium emollient sustainably sourced from jojoba oil that according to the company, offers multifunctional performance with an extraordinarily light, silky sensory profile and good efficacy in formulations. The ingredient is biodegradable and can serve as an alternative to nonvolatile low viscosity silicones.
Learn more about the challenges of replacing traditional ingredients, as well as the benefits JD Lusteris has to offer, in this free videocast. Register to watch; it's free.