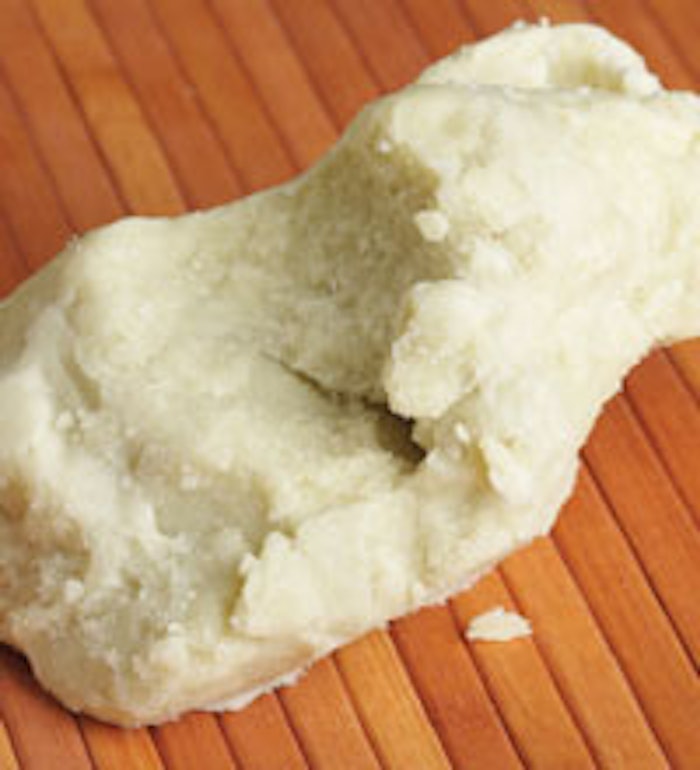 Offering vegetable oils and oil extracts, ingredient supplier Olvea Vegetable Oils introduced a line of shea esters that are designed to impart new sensory benefits to makeup, skin and hair care formulations. The Olvea Shea esters come in three forms: silky, creamy and glossy.
The Olvea Silky Shea (INCI: Shea Butter Ethyl Esters) product, like its creamy and glossy counterparts, is based on shea butter, a natural fat obtained from the fruit of the shea tree (Butyrospermum parkii). Shea fruit is collected from the bush exclusively by women who process it in several stages to obtain shea kernels. These are then pressed to obtain a butter.
The Silky Shea product is designed as a light-weight alternative to conventional shea butter. It imparts a velvety after-feel to skin and hair care formulations. This multi-purpose ingredient is rapidly absorbed into skin, providing an instant moisturizing effect and radiant glow. It leaves a soft and silky finish, smoothing and conditioning skin and hair.
The product is suitable for sensitive or compromised skin. It enhances slip, improves the glide of the final product, and reduces the tackiness of heavy formulations. The product contains an exceptional level of unsaponifiable compounds, i.e., tocopherols, phytosterols, triterpenes, etc., which gives it a number of cosmetic properties, including:
protecting against free radicals and oxidation,
encouraging epidermal regeneration and skin elasticity, and
imparting anti-inflammatory properties.
Also based on shea, Olvea Creamy Shea (INCI: Shea Butter Glycerides) is a co-emulsifier that helps achieve the perfect "cocoon" texture for cosmetic products. This emollient increases the potential of other emulsifiers and improves the stability of emulsions while having excellent nourishing and revitalizing properties. In addition, its unsaponifiable content helps to protect and improve skin condition, softening and calming irritated skin.
Finally, the Olvea Glossy Shea (INCI: Shea Butter Polyglyceryl-4 Esters) is an effective moisturizer that adds shine and playtime to makeup, skin and hair care formulations. Thanks to its emulsifying properties, this multi-purpose ester gives consistency to formulas and builds fine structure textures. It leaves a soft finish to skin and hair, smoothing and conditioning them. With its restructuring effect, this naturally based ester also improves hair gloss and combability.