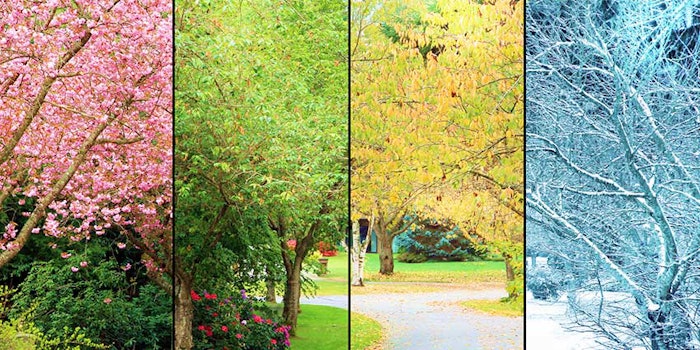 At in-cosmetics 2013, Indena is presenting a collection of different formulations that address the skin's during the four seasons differently with botanical active ingredients.
The skin is deeply affected by seasonal climate changes, as the body is similar to nature. Each soil has its specific needs and so does each type of skin.  Both moisturizing and cleansing are main needs of the skin. Less moisturization is needed for the skin in spring, which reflects the abundant rain in nature. Summer is the season of UV irradiation challenges, when nature also presents storms. In fall, nature prepares to rest again for the cold season by rationing resources, and so does skin, which stops producing sebum. Finally, in winter, moisturizing the skin is the main concern, as well as in the winter of life, old age.
This new concept from Indena aims at showing that different needs of the skin, originating both from different external environmental conditions and individual skin peculiarities, may be addressed by blending botanical active ingredients--it is possible to treat natural needs with the help of nature. All active ingredients are standardized and clinically tested and have been used in formulations designed not only for their active content, but also specifically realized to best meet the needs of skin, all year round. This formulation concept involves Bosexil (INCI: Lecithin (and) Boswellia Serrata Resin Extract (and) Microcrystalline Cellulose), an olibanum extract formulated with a phospholipid-based technology (launched at in-cosmetics 2012) that achieves lenitive, soothing and anti-photoaging efficacy on skin.