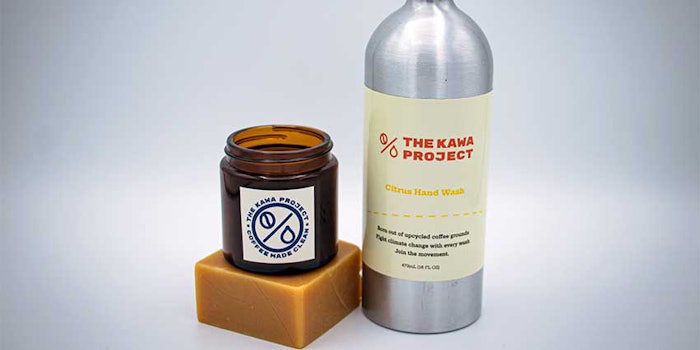 The Kawa Project
To address unnecessary food waste, The Kawa Project was born. Kawa is currently producing for-sale, upcycled coffee oil, refined coffee oil and coffee flour, all of which have edible, cosmetic and cleaning applications. 
Related: Midwest SCC: Upcycling in Personal Care and Red Maple Emulsifier
The idea for The Kawa Project was created at UCLA, where Aaron Feigelman developed methods for upcycling food waste. According to Feigelman, The Kawa Project's long-term mission is to create urban biorefineries in cities across the world, effectively diverting food waste away from landfills and into new materials and products. The first waste stream Kawa is focused on is coffee, due to it being rich in vegetable oil, fiber and protein.
The project first collects and dries used coffee grounds from coffee shops and industrial brewers. Then, it extracts and refines the oils in the grounds using a clean chemical process. Finally, the oil is fractionated and ready for use in personal care and food products.
The company's first two products are focused on personal care: an antioxidant-packed coffee oil and a multipurpose vegetable oil. The Kawa Coffee Oil contains caffeine, polyphenols, palmitic acid, linoleic acid and a coffee aroma. According to the company, scientific studies have shown that caffeine and polyphenols are known to provide benefits for the skin comparable to rosehip oil, such as wrinkle-prevention, moisturizing and cellulite mitigation.
The Kawa Carrier Oil's predominant fatty acids are linoleic and palmitic acid. After refining, the translucent, low-odor oil performs multiple functions and can be used as a quick-absorbing carrier oil, effective for acne-prone skin; and as a sustainable, resource-negative palm oil replacement in soap-based products.
Featured: Planting Ideas: Upcycled Rubber Seed Offers a Renewable Cosmetic Ingredient