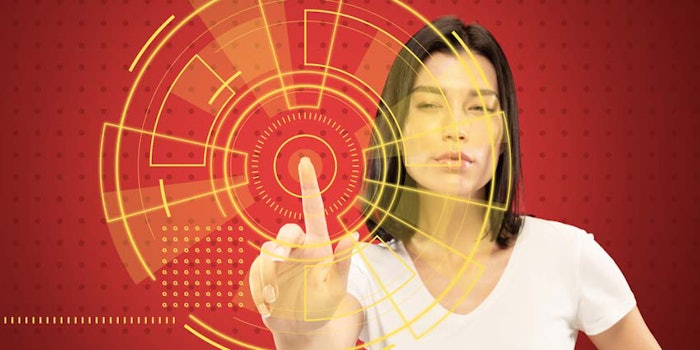 Debuting from Dow are two novel solutions in sustainability: a bio SPF booster and silicone gum blends.
"From different customers, we hear they want certified materials and technologies that are the right choice for consumers and for the planet, and are also traceable in their supply chain," said Isabel Almiro do Vale, global strategic marketer for Dow's hair care, home and personal care. She added that for Dow, having ingredients derived from corn, it was important to use the best non-GMO corn for its products.
"We always start with the consumer, and we're offering new hybrid products from what we've had in the past. ... It's also important for us to help our customers create brand stories that move the market." 
Bio SPF Booster
The SunSpheres Bio SPF Booster (INCI: Microcrystalline Cellulose) is designed to enable greater SPF efficiency in sun care and daily skin care by reducing the levels of UV filters required in formulations. The crystalline cellulose raises the UV protection over the whole UVA/UVB spectrum, reportedly working equally well with organic and inorganic actives.
Derived from Forest Stewardship Council (FSC)-certified wood pulp, the ingredient delivers multiple benefits beyond reducing formula dependence on UV actives. The product is said to feel aesthetically pleasing, to minimize irritation that actives can cause, and to support the market demand for natural formulations. Suggested applications include: sun care and daily wear products containing organic and inorganic UVA and UVB actives; oil-in-water, water-in-oil and water-in-silicone systems; cold- and hot-processable systems; cream and lotion formulations; and makeup (i.e., foundation, BB creams, etc.).
Silicone Gum Blends
Dowsil Gum Blends are presented as flexible new options for leave-on hair oils for benefits ranging from added shine, smooth feel, ease of combing and a natural look. In addition, there is flexibility to use bioderived and biodegradable carrier fluids.
The line comprises four products: Dowsil PMX-1504 Fluid (INCI: C11-13 Isoparaffin (and) Isohexadecane (and) Dimethiconol); PMX-1505 Fluid (INCI: Isododecane (and) Dimethiconol); PMX-1507 Fluid (INCI: Dimethicone (and) Dimethiconol) and PMX-1508 Fluid (INCI: C13-15 Alkane (and) Dimethiconol).
According to Dow, these ingredients can be used to formulate leave-in hair products for global markets including  Europe, and the INCI name is also listed on the China Catalog of Cosmetic Ingredients. In relation, Dow's Hair Academy offers a series of video tutorials to show customers how to formulate leave-in hair oils using the Dowsil gum blends.
"Our technology enables customers to create prestigious textures because it slips and adheres in unique way—and in hair care, oils, etc., it's really about applying it in the right way, with the right volatility and spreadability ... that's what our technology is doing," said Almiro do Vale.
TrendsLab 2020
In addition to solutions in sustainability, Dow's TrendsLab 2020 features a series of formulation concepts with "Holistic Beauty" as its overarching theme. And, by getting the sample kit, users can engage in new ways with products using an augmented reality App.
The concept formulations align with three key pillars in personal care:
Out & About, referring to busy lifestyles that demand multifunctional efficiency and protection; the formulations in this collection offer convenient sun protection and cleansing on the go.
Wholeness, reflecting the evolution of wellness; with this collection, Dow aims to help consumers of all demographics embrace their natural beauty to look and feel better.
Beauty Aces, including formulations that bring to customers the expertise and know-how to develop salon-quality products to give consumers professional-level results.
For more information, contact Dow Chemical.