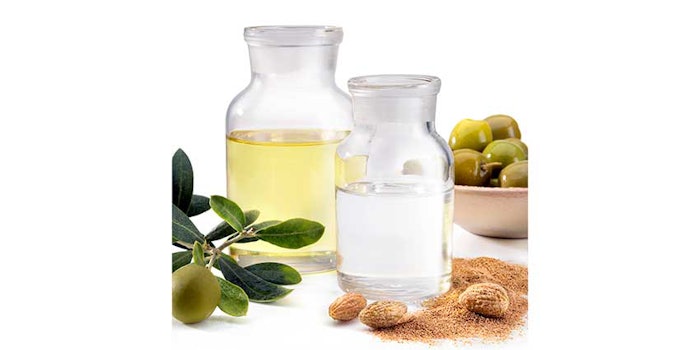 Praan Naturals
Praan Naturals has introduced two additions to its sustainable portfolio: Olive Squalene (INCI: Squalene) and Olive Squalane (INCI: Squalane), emollients meant to soothe skin. 
Commonly derived from shark liver, the new ingredients are instead derived from olives. First, squalene is produced—it is an unsaturated hydrocarbon with a natural affinity for the skin, and a precursor to the production of various lipids. This ingredient is then hydrogenated to produce squalane, which has similar benefits with increased stability.
Related: Ethical Beauty Meets Functionality in Natural Sourcing Brand
The lightweight, nongreasy ingredients reportedly incorporate easily into cosmetic emulsions while improving formulation spreadability. They are also meant to protect chapped and cracked skin; enable rapid transdermal absorption; restore suppleness; and create a moisture barrier. Recommended applications include skin, lip, hair and nail care, along with cosmetics.
"While much of the Squalene and Squalane on the market is derived from shark liver, we are pleased to offer Squalene and Squalane which are derived from olives - the richest plant-based source available. A cruelty-free source for these products is imperative as many deep sea shark species are being hunted to near-extinction for the high oil content in their livers," said Anáil Mitra, chief executive officer, Praan Naturals.