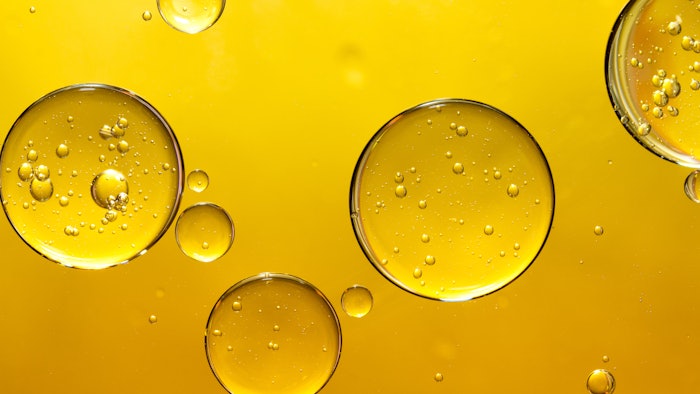 Active ingredient distributor SACI-CFPA offers its Korean supplier's, United Active Inc.'s, U-Oliosome (INCI: Candida Bombicola/Glucose/Methyl Rapeseedate Ferment (and) Prunus Armeniaca (Apricot) Kernel Oil (and) Pentylene Glycol (and) Butylene Glycol (and) Ascorbic Acid) that allows for the preservation of stable active ingredients and the penetration of poorly soluble or hydrophilic active substances into the skin. This delivery system uses nanometer-sized inverted micelles to deliver active ingredients more deeply.
Related: Calyxt, Evologic Technologies to Scale Up Sustainable Plant-based Ingredients
 Highlighted benefits of U-Oliosome include:
It is hydrophobic. Due to its hydrophilic inner layer and hydrophobic outer layer, U-Oliosome penetrates the lipid layer of the skin and delivers the active ingredients where they are necessary;
It is smaller than 50 nm. U-Oliosome has a small particle size, wherein the reverse micelle is covered by a single layer; and
It releases active ingredients: To release actives into the skin, the reverse micelle transforms into a micelle and opens when the environment changes from hydrophobic to hydrophilic (in the dermis).
U-Oliosome is developed with United Active's Biolipid HBG (INCI: Candida Bombicola/Glucose/Methyl Rapeseedate Ferment (and) Helianthus Annuus (Sunflower) Seed Oil), a blend of biosurfactants derived from oil fermentation. This allows for the encapsulation of active ingredients in inverted micelles by self-assembly.
The hydrophilic active ingredients, such as vitamin C, are first solubilized in butylene glycol and pentylene glycol of natural origin. This mixture is then added to Biolipid HBG, forming U-Oliosome.
This encapsulation allows for a W/O/W formulation and maximizes the whitening and antioxidant effects of vitamin C.